2008 Brisbane to the Gold Coast on the Kickbike
The now annual Brisbane to the Gold Coast Bike ride was this on the Sunday 12th of October, 2008. I had signed up to it - when entries first come out thinking, yep, good idea to get some training in and give this another go. With a week to go to the event, time had slipped by and I figured that I had been doing "enough" to give this another crack on the Kickbike (I had also completed this event a couple of years ago on the Kickbike, but was also training alot harder then!). Anyway, I figured I could always take it slow and see how we go. Although I hadn't ridden the Kickbike for some time (I would say....months), it's like riding a bike - you never forget. Upon arriving at the event, I met up with Bruce and Alan. These 2 guys are veterans at the event. Alan was there for a "good race time", Bruce was there to support us, and I was there, because I had already paid the entry fee - and I love a good endurance event! As usual, before the race, we get the cyclist with the banter, and the commentry about how we can't afford bike seats and how we are going to have one muscle leg and a puny leg...and the rest! It's a good talking point! We started off at the back of the second group. My theory was to start as early as possible to 1. Avoid the heat (although it was bordering on raining all day) 2. If I start early, I should finish at a reasonable time. The route took us from Southbank, along the busway (closed to buses of course) to 8 Mile Plains, then we ducked and weaved accross the highway south. Bruce and I rode together at a semi reasonable speed, manging to keep up with some cyclists, having a good chat, and even managing to overtake a few as well! Alan had already taken off to the challenge his record timing.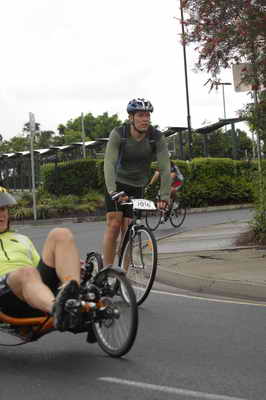 Lyn met us with the Kickbike van at Eagleby, a welcome treat, with some fruit! My 2l bladder was empty, but figured the fruit and stuff would keep me going to Coomera! We also realised that that the other 2 Kick Bikers (who were doing the 60km event), had already started! So we also had a mission to catch up to them. As we continued through Jacobs Well (love a suger cane field) we headed through the back of Coomera (where I had dinner the night before), the road was oh so familiar! Anyway, for what seemed an eternity, we finally made it to the next TA! Which was fantastic, as I was in a world of hurt with dehydration issues. Anyway, after 4 powerades, a staminade, 1l of water, and some fruit, we were off again! On the home straight with 30kms to go, this should be easy! Wrong, with about 20kms to go, I suffered a ripper cramp, one that physically stopped my leg from moving, and I had to hold it until I could pull over on the side of the road. I had taken off from the other guys, so I waited until they came (or I had to as I was on my back with a locked up leg). Finally the others arrived, and Bruce pulled out some black magic and gave my leg a shake and it seemed to unlock the cramp in my knee. Sweet. Anyway, after hobbling back on the bike, I finally found my 2nd wind, and I powered home to the end. Gotta love energy gels. So as I finished the event (I think we did it in around 5.30 hours), the others came in soon after. Alan was also there - he didn't break his record, but there is alway next year!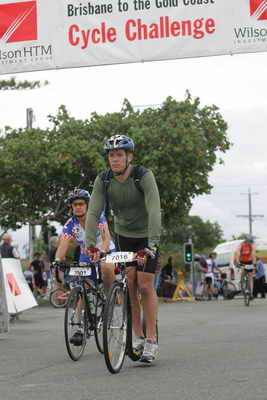 After that, I legged it back to the Bus -> Helensvale Station -> Central and drove home from there. One of the best things about the event was the commentry from the other cyclists! Thanks to all of you who cheered, encouraged, and offered your seats - only to ride off on us! It makes the event worthwhile.... I think it took me about 3 days to recover, but all good now, and looking for the next event to participante in! Thanks to Bruce and Lyn for looking after us all, and note to self - Get on the kickbike abit more! And yes, when we Kickbike, we change legs while kicking (I try to do it evey 15 kicks on the flat, and every 5 on an ascend). Give it a go, it's good fun!