2010 The North Face 100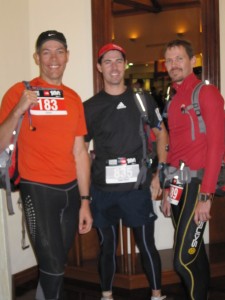 Over the weekend of the 15/16 May 2010  I participated in the 3rd,
The NorthFace 100
run by
AROC
. Having previously completed the 1st one back in 2008, I had a simple target of beating my previous time, and ideally finishing in under 20 hours. With a bit more preparation this time, and a better appreciation of the amount of stairs (both up and down) of the 2008 event, my preparation and training was more focused on the stairs and hills component, rather than pure distance. This year, I was running with Pete and Tim, Pete was also participating in the 100km solo, and Tim is doing 50km of the 100km as a Team - although Paul (the other 50km runner) pulled out prior to the event with injuries. It was unknown how we'd all go related to speed and keeping up with each other. During our training sessions, Pete has a faster pace, but I seem to have better endurance, so hopefully we can pull each other along where required.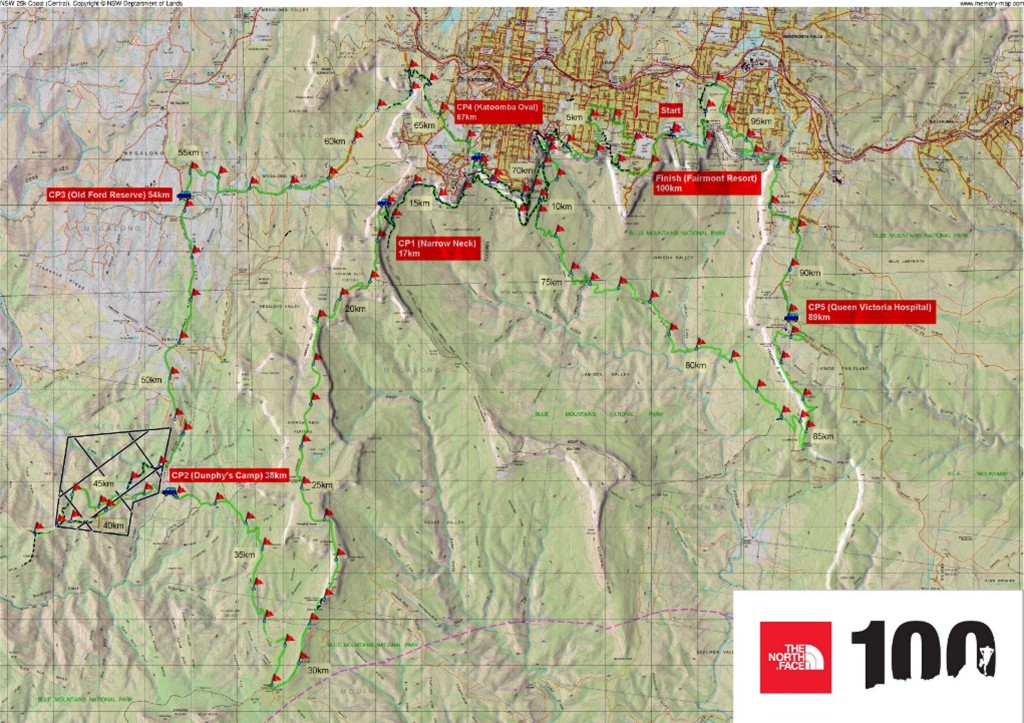 Leg 1: Fairmont Resort, Leura (Start) to top of Golden Stairs, Narrow Neck (Checkpoint 1)
Starting the race at 7.15am (bit late due to shuffling from the event briefing to the start line) we were all in good spirits, everyone was feeling good, waving at all the cameras and we were off. The first 1.5 kms was road, and a good chance to warm up, as it was quite chilli. Then we hit the first off road section, a single trail for about 900m, it seemed to go forever, as we were near the back of the competitors  and it was a slow single file to get through this section. Considering we still has a long way to go, we didn't mind walking abit. After the first section of track, it was a good section to warm up again, so we broke into a decent pace and got into it. At this point we waved good bye to Tim, and Pete and I continued at our slightly faster pace. The next track section reminded me of the awesomeness of this event, right from the moment of entering the track, we were presented with the magical Blue Mountain views and scenic shots. A tad difficult to stop and enjoy the scenery as you are also watching where you are running, but a very enjoyable section. The leg concluded with a long set of stairs to the top of the Golden Stairs. There was a lot of struggling runners going up this set, and everyone's joy and spark was soon diminished, as we realised that we still had a lot of hills and distance to go. In the usual AROC spirit, there was ample food to pick up at the First CheckPoint, refilled my bladder (drank 2l already), got slapped with sunscreen and we were off.
Leg 2: Top of Golden Stairs, Narrow Neck (Checkpoint 1) to Dunphys Camp (Checkpoint 2)
Feeling pretty good, and with the next section a dirt trail for the next 11km, it gave us a chance to find some rhythm and enjoy the scenery. After about 11kms we come to the top of the ridge, with the only easy way down was 3 sets of domestic building ladders, supported by rock-climbing ropes, it was a interesting change of muscles and a chance for some cramping, fortunately made it out of it feeling good, although the rest of the decent was steep and was basically stumbling down the hill holding onto trees to slow down. On approaching the next Checkpoint, the legs were feeling battered from the downhills but relieved to see the food and water station. Refilled my bladder (another 2l), drank about 1l of diluted Endura some nibbles and after a stretch, we were off.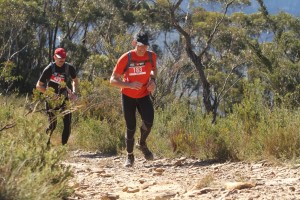 Leg 3: Dunphys Camp (Checkpoint 2) to Old Ford Reserve (Checkpoint 3)
Heading back out through some scenic farms, with the added struggle of going up and over the cattle grates, I managed to get some major cramping at the top of my calf muscle, slowing us down a bit, we still managed to keep up a walking pace but it wasn't a pleasant start to the section. A massive hill with scampering up, and with a fear of the leg cramping up it restricted my stretch and climbing ability. Once at the top, teh pain was dissolved again by the views, and started the "up and back" section to the ridge end. It's funny watching the runners who have been out the the point and coming back, they are all in high spirits, and I wasn't, but soon as I hit the turn around point, I found myself with newly found high spirits and was bouncing my way back on past the other runners. Going back down the hill, was a long dust slide, as the track was quite worn and with a steep decent it was quite slippery with the amount of traffic that had been through it. Finally running through some scenic farms, and along a dirt road up another hill, we hit the 50km mark (not at the Checkpoint), so Pete and I do some minor celebrations and keep on running. We both are feeling pretty good now, cramps are diminishing, and with being back on some gravel, it gave me a chance to get back into a stride. Finally reaching the top, and coming back down the hill to Checkpoint 3, it was a lovely downhill section to the halfway checkpoint where we would get to see our super support crew and get rested. Upon reaching the checkpoint, all pain was gone to hear the cheers of the crowd and knowing that we were over the half way mark. With some good loven and a change of socks, refill of the bladder (another 2l) and some ham and pineapple pizza (with the  chunky cheese topping scraped off - thanks Sally), we were off again.
Leg 4: Old Ford Reserve (Checkpoint 3) to Katoomba Oval (Checkpoint 4)
After leaving the checkpoint if fairly high spirits, we ventured along the road for a while. Soon into the leg, we took a slight slower pace as my leg was on the verge of cramping, nothing major, but if we were to any faster it could have got worse. With a lovely steep incline we finally hit the next checkpoint. Gorged on the bread rolls, refilled the bladder (another 2l), and we were off again.
Leg 5: Katoomba Oval (Checkpoint 4) to Queen Victoria Hospital (Checkpoint 5)
Probably the hardest checkpoint to leave, as there was a nice fire, and the milo and hot water (milk had run out) was going down a treat. After 3 cups of mile and refill of the bladder (2l) and a good stretch it was time to continue. Soon into the leg, we approach the Giant Staircase, the start of our very DOWN section of the event. Going from nearly 900m high to 200m in a very short distance. Lots of stairs and lots of downhill trekking. My knees were holding up ok, Petes were worse, but we continued strong. Every step down was a cringe that we were about to go back up! And that happened sooner than expected, pretty much 5km of straight up incline. Fortunately the track was easy but the incline went forever!  Once we hit the 85km mark it was at least a known distance to the next checkpoint. A tough 4km, but a doable 4kms.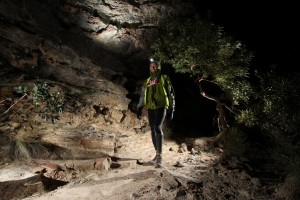 Leg 6: Queen Victoria Hospital (Checkpoint 5) to Fairmont Resort (Finish)
The finale leg, with time running short to get over the finish line in 20hours, we knew we had to keep a reasonable pace and we would be fine. This section was initially roads, then a decent down through Wentworth Falls and back out again. Finally when we think we are near finished, we realise that there is another drop into the bush. Pete was finding the downhill section a killer on his knees, so we decided that with 15 mins to go (before it was 20hours), and 2km to go, I would go solo and try to make the 20 hours. With a new burst of energy, I ran the last 2kms probably the fastest that any other section. It was uphill, but with my watch telling me I was cutting it very fine, I was not going to miss the 20 hour mark. So approaching the finish line through the "The North Face" flags I finished in 19.39.51 hours! I think the time was adjusted slightly due to the late start, and my watch was out of sync). Finally sitting down to grab a drink, and take the pack off, having a stretch and to celebrate with another runner who had just finished. The crowd was limited at 3am in the morning for some reason? Soon after I caught my breath, a tap on the shoulder revealed it was Pete - with a time of 19:42:32. I was in complete shock to see him so soon! It's amazing how your body can turn on when it has to, and you have a goal so close in front of you. Awesome result all round, and after a bit of celebrating (also collecting my Belt Buckle), it was time to hit the sack.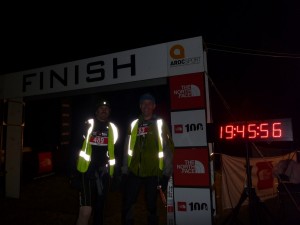 Official Results are
Here
Worst Injury: Tripping on the stairs at the 5km mark - nice bruise on the upper forearm and twisted, wait for it...... my pinky finger. My finger was probably the biggest pain coming out of the event.