2013 Review
2013 provided some diversity in organised and self guided events. Didn't manage any flagship endurance events, but lots of smaller ones that provided lots of highlights. As a quick snapshot of my running and cycling activities: Running (On and Off Road): [caption id="attachment_404" align="alignnone" width="655"]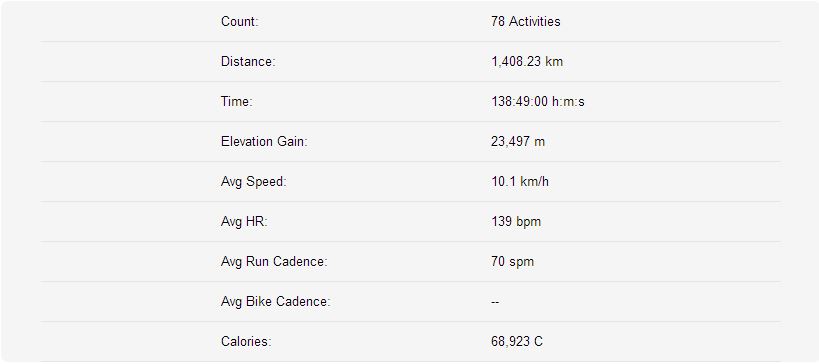 Summary of Running in 2013[/caption] Cycling (On and Off Road): [caption id="attachment_403" align="alignnone" width="657"]
Cycling distance in 2013[/caption] Interesting that I covered almost double the distance running than on the bike! Might need to get some more kms on the bike in 2014 Also, mid 2013, started tracking my sleep and steps via my
UP
. Love it (although I have been through 2 now) Still focusing on getting the distance running in barefoot style shoes (although not loving the vibrams in rocky / tree root terrain) with a couple of toe stubs over the year causing some time off the tracks. The NB neutral trail running shoes have provided a good alternative in the rocky tracks. Still terrible at stretching, but more conscious of stretching correctly after the events, and appropriate warm ups before getting out there. Have also found a good
Yoga for Runners
5 week course - although I wish it was weekly! A couple of the events, Pete took some footage with the Go-Pro...
Mt Coot-tha Fire Trail
Samford Valley - Cedar Creek Falls Circuit
Some of the highlight events of 2013 were:
Conondale Great Walk
 - with Pete
7 Hills of Edinburgh
 - Solo
Rogue 24h Adventure Race
 - end to end with Tom
Cure Fore Cancer - Waterfront Place Stair Climb 37 floors
 - Solo Also, have signed up again for the Brisbane stair climb (I think there are still spots left - also looking for training partners :), but if you want to support me, please sponsor via the everyday hero page, below:

Looking forward to 2014.... Planned events, so far:
21k Traq Mt Glorious Run (Feb).
24 Rogue Adventurgaine
One of the Big Glasshouse Mountain Runs
One of the 100km Bike Rides
Hope to see you at one of them!