2016 Mt Glorious 21k Trail Run
Back for a 3rd year and looking forward to the camaraderie of trail running and finally being able to run in an organised event again. It's been a while on the recovery treadmill but leading up to this, I have been able to do a few 21km type trail runs and confident that I could get through this with minimal discomfort. Opted for the bus, departing at 5.30am from The Gap bus carpark, the long road to the top gave us a good chance to share stories (up the back with the MGTRs), upon arrival we literally had to leg it straight to the start line for the first wave. I opted for the 3rd wave again. The start, with the traditional bagpipes began the race and off we went - straight into the first incline!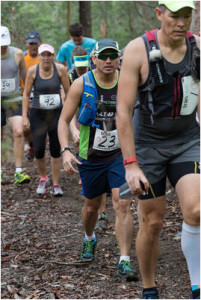 The first 4kms was an incline up 600m. Hence the walking happily photo :) Then the 4km - 9km, was relatively all down hill. Happy to be wearing my new shoes, being a size larger and trying to save some of my toe nails (as they are already on the edge of coming off) Then from 9km to 20km was a lovely grind back up Mt Glorious - there was a reasonable amount of "fast walking" up the hills here, but tried to main running the slight ups and downs as well. The last 2kms is my favourite of the course, with the deep rainforest feel about it, a nice drop in temperature and some actual single trails. Highly recommended if you want to visit some real QLD rainforest terrain close to Brisbane and the road. Finishing had me out of breath and happy to get off my heavy legs.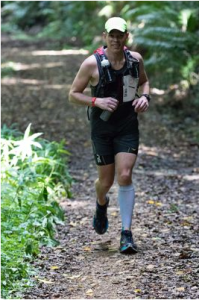 Nutrition: Avacado on Bread pre Bus trip. Arbonne PrePAre and Endure PhytoSport (about 30 mins before). Arbonne Complete Hydration during the run, with about 2 liters of water separately 3 Hammer Extreme Electrolytes tablets Post Event: 1.5 ft Subway Sandwich Banana Arbonne After Workout Phytosport
Official Writeup
Note for future events; 1. Unlike some previous years where I drank multiple liters of water - this one I would have got away with just a handheld water bottle and refilling it once or twice at the aid stations. 2. Still not sure of the optimal way of getting to and from this event. Taking the bus gets you there in real good time, but coming home, I was back at the Carpark at nearly 1pm (I think). It seem quite late anyway. But at least I didn't have to think about logistics at all! And yes, I would definitely recommend this , and do it again! Great work Hubertien and TRAQ!