2016 Coastal High 50k
Back in he world of Trail Running Ultras! After some time off, with an injury and a chance for it recover properly, the Wild Earth Coastal High 50 was a natural fit for getting back into it, and testing the body over the 50k distance. With also training / running / drinking with the Mountain Goat Trail Runners, providing an awesome teaming and support with getting into reasonable shape for this run. The course was new, completely new to me as well. I hadn't ever run around Binna Burra or Springbrook - so it was also fantastic to get to a part of Queensland I wouldn't normally get a chance to run. The night before, staying at Binna Burra Mountain Lodge, also home to the start of the event allowed me a 5.30am wake up (as opposed the others who were staying at the finish who were up at 3am ish), with a quick shake, some quinoa and change into gear I was on my way to the start.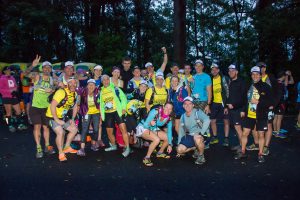 With a friendly and cheery crowd at the start line area, I think there was about 220 runners, while it was certainly easy to find the ~25 Goat runners, everyone was doing their thing in preparation for the start - mainly selfies and friends and team photos. Always great seeing everyone in high spirits of nervousness before any event. Before we knew it, Wave 1 had started, then 2 minutes later I was off, a slight decline start then a small track then reversing back up the hill up to Binna Burra Lodge to warm the legs and break up the crowd.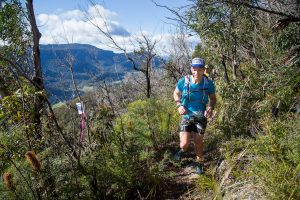 Once at the top of Binna Burra, on entrance to the Lamington National Park the start of the trails began, the first 25km was a spectacular loop around some of the lookouts around Binna Burra and free flowing single trails to match.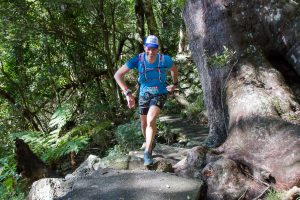 After the first Checkpoint at 24km I was feeling great. Topped up my front water flasks had a bit of a chat to the volunteers and kept going (with a mental note of trying not to stop long at CPs). Straight after this was a steep gravel decline heading down into the valley - not as nice a section but had to be done to get down to the valley. Then reaching the main road, there were 3? creek crossings (so we didn't go on the road) - each creek crossing was above the ankles in water - which was a coolant for the hot feet, but this was over about 4km of running along a bitumen road. Not sure why, but I found this section to be mentally hard, probably due to just having enjoyed so much single trails and stunning views - and wasn't expecting this as part of the event. Never the less, reaching CP2 was the end of the bitumen, with another flask top up (1litre) I was onto the next section, which I knew was the start of the incline back towards Springbrook. Next up was some grind up hills which was manageable but continual - the 2 initial ones, then the ever so talked about stairs. Apparently there were 900, a couple of people around me counted 817, but either way it was a long slow shuffle to the top. Feeling every step - there were a few breaks, but once reaching the top - a great bunch of supporters and CP3 - and Pete! After a little chat and some water refill, it was the final 8km to the end.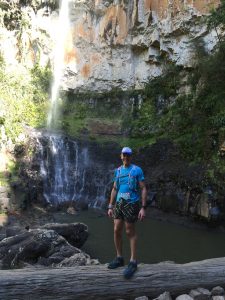 This section was again a gradual downward trail, feeling ok, but it was a more run / shuffle by this stage. Hotspots of pain were on my legs were left calf and right above the knee - but not too painful. With a quick photo of the magnificent waterfall, was the final 2km back to the the top. Another slow but walking with purpose speed and before I knew it there was a marshall advising it was 150m to go, stoked was an understatement. Turning the final corner was a decent crowd and lots of cheering - which was completely awesome! I think I got the medal and fell into the guys arms. Feeling delighted - but shattered.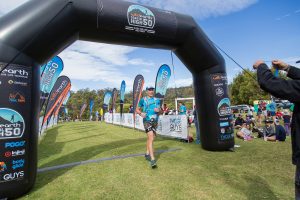 Itching to get the shoes off as there were quite a few hotspots, mainly a couple of blisters - but nothing too serious. An awesome event - wish I could have stayed longer at the post event party, and shared the stories, but had to head back to Brisbane for an event at 6pm (which I made). Highly recommended. Great organisers - Those Guys! - fantastic teaming by the goats and special appreciation to Pete, who was an awesome supporter by driving down and back - allowing me not to have to stress about the logistics of getting around with my tight turn around. Nutrition:
PreRace: Shake Drink with Milk (Vanilla Arbonne Meal Supplement), small quinoa porridge and some chia seeds in water
Hydration: 2 x 500ml bladders, one with Arbonne Phytosport Hydration (refilled at each checkpoint) - 4 in total, and the other was alternate water / Arbonne Fizz Sticks - 2 in total and the 1.5l water (which only 750ml was used)
Food on course: Small cubes of crystalised Ginger and glucose lollies and prepared boiled Potato with olive oil and sea salt (2 potatoes in total) and some handfuls of glucose snakes and potato chips.
The nutrition plan worked well for this length. Gear:
Salon s-labs pack (new from The Trail Co) - worked well - love the little bladders at the front and the food stash spots.
Tracking: Garmin Fenix2 - only turned off once.
Shoes: Brooks ASR13 (newish) - Great grippage and handed the wet / dry conditions well. Just need to wear them in better.

Also, just to give these ultras some context, here is the contours. It's like running over Mt Coot-tha 10 times while running halfway to the Gold Coast. Full details in the Strava link below;