2017 Gone Nuts 101 Tasmania
On announcement of this event, starting at Stanley on "The Nut" in Tasmania, I was instantly attracted to this event. Given this is where I started my first XPD race some 10 years ago at the same location. Training leading up the "Adventure Trail" (more on this later) event was mixed, only lots of small runs, a overseas work trip 2 weeks before and a busy week leading up to it didn't really help - but Pete and I had grand plans of finishing at a reasonable time, whilst enjoying the event as much as possible. The event started on Saturday morning, given its remoteness to a major airport, Pete and I decided to fly down on Thursday and climatise. Getting up at 3.30 from our motel at the finish, and then getting a bus at 4am to the start was probably the easiest option, I'd rather be on the bus before the event rather than end. 0-25km At the 100km start point there didn't seem to be that many starters, but either way we were all in relatively good spirit given the cold temps. But before we knew it, the starter gun had gone off and we were running up towards 'The Nut'. The running quickly turned to walking given the gradient and it was only 500m into the race. I managed to start with Pete and BJ (another QLD MGTR)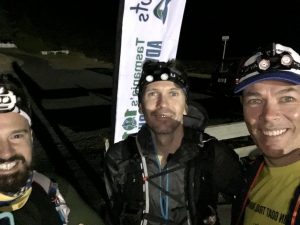 After 'The Nut' was a section through a town, trying to follow the markers (I think we took a wrong turn a couple of times) but managed to keep finding the right path. Then along a long section of beach running. Was a fast way to get some kms out of the way, and also appreciate the sunrise along the coast. Met a few running characters along this social section as it was a long and straight 15ish kms. We were warned of 1 creek crossing that might go up to our knees if we were early. I thought we we early enough, but managed to find approx 5 waist deep creek crossings. Nothing like a chilli Tasmanian deep water dip. Some went to the effort of taking shoes off, but gave up after the second crossing.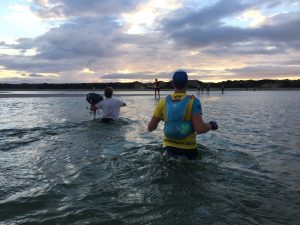 Alter this was a single rail section that was starting to get into some thicker bushland, more cheer squads and diversity of trails through this section.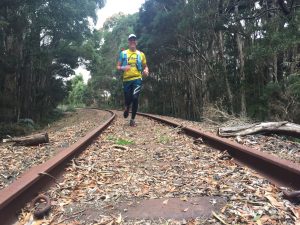 Managed to trip on a tree across the rail track, which started to flare up my hamstring (not that normally have problems with it), but enough to cause a solid twinge in the leg. The twinge gradually got worse from 20-25km, but happy to see the first checkpoint and food station. Probably my second favourite section of the course 25-50 Struggle street section. With my leg causing a little hobble, and running stride altered, the logging roads and their hills were giving me major grief. Cramps on the downhills but ok to keep going. There was a couple of steep downhills on slippery gravel that involved being on all fours, but once these steep downhills were gone the body felt better, but not fast. Thankful to see the halfway checkpoint. Appreciated Pete for staying with me, but let him go without me given that I was a bit slower than him.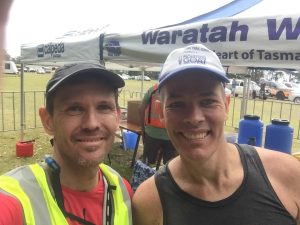 The medics think it was over hydration but I only had 3 litres since the start - and were encouraging me to reduce my water intake. If only they knew how much I had sweat! Logging Trails = worst section 50-75 Alter recharging, and now solo, took off again at reasonable jog and finally rejoined the coastline. This section was spectacular with the coastal edge and mountain lines of trails. Some sections were only walkable but that was fine by me for this section.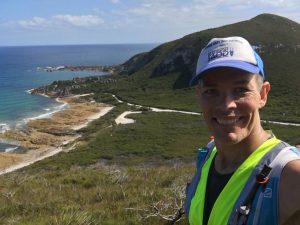 After the mountains was another beach section, and then some coastal rock hopping. So far the marking tape had been ok to keep us on the path, but now getting g dark, the reflective marking tape was NOT reflective at all. This made the rock hopping along the coast and trying to find where the next marker was - really tough. Fortunately I was with some other runners and we could share the search for the markers. After the coastal section, we ventured though private property which apparently had great views (not in the dark), but also had a welcome road section. With about 5 kms to the next checkpoint all was good. After being in the road a while, we were overtaken by some running at speed ladies, impressive. Although they also forgot to take the correct turnoff, and were forced to turnaround at the checkpoint to go on the correct track (I didn't see them again - I think they had to do an extra 7km on top). Reaching this checkpoint was a feeling of home straight and actually feeling good again. 75-100 From the lighthouse, along some roads and again in some private land, was a diverse almost urban off track path, with a lot of teamwork to find the next marker in the dark. One final lookout, and around the river the the bridge to get to the finish line. A dedicated small crowd cheering on the finishers. Got my medal and straight to bed. Gear: Shoes: Asics Fujitrabuco (first 50km) - Felt hard on feet at 40km+ (given all the logging roads), so I swapped to the Brooks Adrenaline GTS for the rest and felt better with these. Pack: Usual Salomon One
Overview
Overall a mentally challenging event for me (with the cramps) but with no idea of the course content - which was great. Enjoyed it all except for 25-50k logging trails and the non reflective marking tape. Good work Gone Nuts team and all the fantastic volunteers and supporters and medics! Hope to see this event being run again next year!