2017 Yarrabilba TrailFest 21k
Back again for my second run of this course, it was a no brainer given that it's somewhere different and a great relaxed and social event.
A chilli morning in preparation for this run, with a 50 min drive down to Yarrabilba from Brisbane. Managed to time it right and not having to wait too long before starting...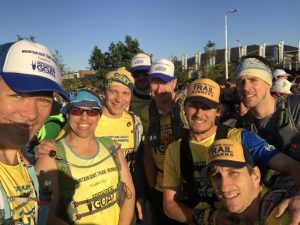 After a quick briefing, and appreciation of all the new runners with a quick casual briefing, we were at the start line and then we were off.
The course stated with about 700m of new estate roads, before getting into the start of the trails. We were warned of the creek crossing at 1.5km mark - which was very smart given the new runners. Personally I was happy to plough though it, and keep the feet cool. I think after about 5 km I finally got warmed up and found bit of a groove. At the 10km mark was the first of the hills, I managed to keep a decent pace up this hill, and disappointed that the scenic lookout point was not mentioned this year. Was a good spot for a selfie last year ;)
After descending this hill we ran the best bit of the course, the single trails for about 3km, and then back onto the fire-trails. With a couple short steep hills, then we had the rock hop down the ridge back towards the finish - via the creek crossing and the estate road.
Highlights was the single trails and chatting to the other runners in the different sections - making some of the hills so much easier.
Gear:
Solomon slab vest with 2 water bottles
Asics GT2000.
Mountain Goat singlet and trucker cap
Injinji socks
Lululemon pants
Nutrition:
Before:
Arbonne Preworkout
4 Dates
During:
1.2l of water with Phytosport Hydration
Clif blok chews - whole bar
After:
Beer
Post workout and a protein shake
Course:
Always trying to optimise my nutrition, I am happy with the hourly intake of sodium and carbs to to keep me feeling good for these 2 hours - with no cramping or lack of energy.
Thanks to the organisers - Those Guys, and looking forward to the next event with them as well - Coastal High 50 in 6? weeks... watch this space!