2017 Coastal High 50km Trail Run
Having this one firmly locked in the calendar (from last year - I can understand why it sold out in 4 hours) - the
Wild Earth Coastal High 50
is an awesomely social and tough course that provides tests all factors of preparation of trail runners. Having done it last year, and even wrote up a comprehensive
blog
on it, some things in the preparation this time were neglected which made it for a few different challenges that are always character building. With the lead up training / running / drinking with the 
Mountain Goat Trail Runners
, providing an awesome teaming and support with for logistics and comradery for the event. The course was very similar to last years. Only the last 3kms were different - the climb back up from the bottom of the Waterfalls. Check it out on
Relive
! The night before, staying at Settlement Camping area adjoining the finish area had it's benefits of convenience at the end, but the price was a 3.30am wake up to get the bus to the start line 
(although it was a 5.30am wake up staying at Binna Burra)
. Although apparently I had a bit of a snore / snooze on the bus, so at least I got some shut eye on the way to the start line. Sorry Andrew!
With a friendly and cheery crowd at the start line area, I think there was about 330 runners (up from 220 last year), while it was certainly easy to find and share jokes / selfies with the ~30 MGTR posse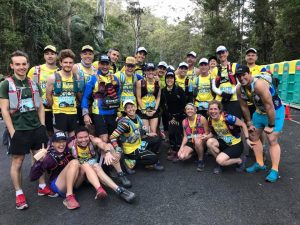 Before we knew it, Wave 1 had begun, then 2 minutes later I was off, a slight decline start then a small track then reversing back up the hill up to Binna Burra Lodge to warm the legs and break up the runners. Once at the top of Binna Burra, on entrance to the Lamington National Park the start of the trails began, the first 24km was a spectacular loop around some of the lookouts around Binna Burra and free flowing single trails to match.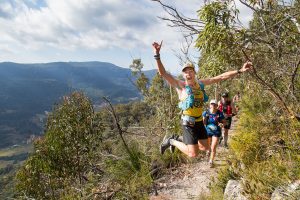 At the first Checkpoint at 24km I was feeling great, we just had undulating hills with a gradual down, all very easy - also had a great social group to be running with. As part of my nutrition plan, was to increase significantly my sodium intake, to reduce sweating and reduce the risk of cramps. The solution to this was to have a mixture of salt tablets and powders to assist. All was good, except for the inability to open the clip seal bags and pour the powder into my water flask. Bit of a rookie error, but didn't really test it after running a decent distance - and half of each ended up on the ground. Also wasted 5 mins trying to do this. Something to fix for next time....find a fast powder injection into a Salomon Flask (I used this so I could measure 600ml serves per hour) - as opposed to the bladder. Straight after this was a steep gravel decline heading down into the valley - just as bad as I remembered it -  but had to be done to get down to the valley. Then reaching the main road, there were a couple of creek crossings (so we didn't go on the road) - each creek crossing was just enough to get the shoes wet - which was a  coolant for the hot feet, but this was over about 2km of running along a bitumen road. Reaching CP2 was the end of the bitumen, with another flask top up (600ml - fortunately a lovely volunteer did the powder insertion for me) I was onto the next section, which I knew was the start of the incline back towards Springbrook. Realising we had a few Mountain Goats around - had to take a quick selfie.
Next up was some grind up hills which was manageable but continual - the 2 initial ones, then the stairs. 900 or so, which was made actually easy by a couple of school groups coming down giving us all encouragement to keeping going. This really helped, but either way it was a long slow shuffle to the top. After a little chat and some water refill, it was the final 8km to the end.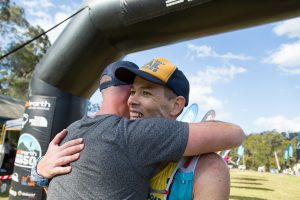 This section was again a gradual downward trail, feeling ok, but it was a more run / shuffle by this stage - then the last grind up the Settlement Camp ground, made easier with all the day trippers cheering us on - then turning the final corner was a decent crowd and lots of cheering - which was completely awesome! Reaching the finish line - Medal was put around my neck and fell into Those Guys arms. Feeling delighted - but shattered. An awesome event - wish I could have stayed longer at the post event party, and shared the stories, but had to head back to Brisbane as I had already been away all week for work and wanted to wake up at home for Fathers Day. Also happy to beat my time of last year by 20 mins. Highly recommended. Great organisers - Those Guys! - fantastic teaming by the MGTR! Nutrition:
PreRace (600ml of combined PhytoSport and Trail Brew)

3 hours before - 3 slices of thick white bread with jam / vegemite - In hindsight probably 2 would have been ok.
2 hours before - 1 banana
1 hour before - 3 majool dates

Running:

Every Hour - 600ml of Powders, mixture of salt tablets, Trail Brew and Hydration - giving me 900mg of sodium per hour.
Every 20mins - 1 clif blok chew.
The nutrition plan worked ok, really happy with the first 25kms, but needed more over the last 25km to cater for the inclines. Really happy I did the sweat test analysis for this, as I wouldn't have had anywhere near as much sodium as my body needs. Thanks to Kirrily from
AppleToZucchini
 for working through this with me. Gear:
Salon s-labs pack (from The Trail Co) - worked well as usual.
Tracking: Garmin Fenix 5X
Shoes: Asics GT-2000 Trail (ready to retire) - Not sure what happened to these shoes, but my arches was in pain the whole way. Maybe it's the recent runs in the other shoes with lower arch support and these are higher - but they are off the charity donation bin....
Clothes: Mountain Goat singlet and Lululemon shorts
Full details in the Strava frame below;