2018 Oscars 100 Hut2Hut
Oscars Hut2Hut was a relatively spontaneous decision to do it back in late 2017, with a bunch of other Mountain Goat Train Runners. Also being a team event, Pete was quick to accept to do this - again not really knowing what he was in for (either did I really). The lead up to this was the usual adhoc training. With some new focus on getting up and down hills with Poles and trying to run with a sleeping bag as part of my pack. Probably didn't help that I was also in Germany the week before this event, but I actually got some decent sleep leading into the actual start. We arrived in the start location, Mt Buller the day before the event, thinking this was plenty of time, but we had enough to do including the race gear check and the race briefing. The race gear check was pretty standard, and thorough which in hindsight was a blessing! Turns out to be one of the only events I have used all of my mandatory gear! Following the gear check was the race briefing, starting at 7.30pm and ran quite late - a little annoying as we all wanted to get an early night sleep! If you want a quick overview of the course terrain, check out the Relive Course: https://www.relive.cc/view/r9797193645 Course Elevation:

Bit More Details and Photos
FRIDAY 16th
SUNRISE 6.52am // SUNSET 8.16pm
RACE START: 5am
Gantners Hut - 50km - Cut off 5.00pm Friday 16th
From the Event Handbook:
"Beautiful she may be, the Hut 2 Hut course is, quite simply, a bit of a brute. Over 100km various GPS units will come up with different results, but our instruments recorded in the vicinity of 5700 metres of gain. Ten peaks will be bagged. Not big by world standards – indeed Buller itself is the highest at 1805m – but try knocking off ten of them in a row, with plenty of diving down to the valley floor before climbing back up and you will know you've worked hard."
PRERACE:
Getting up at 3.45am (Local Time) and having to travel up the mountain for the start we all made good time to get there, relax and before we knew it - it was 5am and we were off. Quite a low key start, but with the chill of the morning everyone was keen to get going.
LEG 1: VILLAGE START – MT BULLER
Begin at the Buller Resort Village we head straight up to the Buller Summit. A great way to get warmed up and socialise - while everyone is in high spirits. It's also a good segment to allow the teams work out where they are in the overall positionings - before the single trail downhills begins.
LEG 2: MT BULLER – EIGHT MILE
From the summit of Mt Buller, it's a bomb back down, scrambling down some super rocky and technical terrain as we made our way down Four Mile, a ridge that will lead go for 8km and approx. 1300 vertical metres down to the Howqua River. Lots of nice views with the sun coming up and scrambling over rocks, being careful not to get injured in this diverse terrain and from here we visit our first aid station - take off some warm clothes and get moving.
Cross paths with some of the MGTRs, unfortunately for Ben and Vic - they missed the first checkpoint at the aid station so were back trekking. I am sure we would see them again soon as they were travelling pretty fast. Also spent the River circuit run with Deb and Naomi and we continued together with lots of laughs (as you do when running with Deb)
LEG 3: EIGHT MILE – REFRIGERATOR GAP
The first the big climbs and the poles came out immediately. Poles were everywhere :) and they didn't leave my hands (pretty much the whole event) - not what I had planned - but they were an absolute blessing in taking the weight off the legs and moving it to the arms and upper body.
Through this section, Deb and Naomi took off and Ben and Vic also passed us. All still in high spirits - the steep climb was starting to flare up some calf cramps, fortunately I was prepared again for this (after the last 101km in Tassie), I came with some Cramp-fix. Something I had only sampled for taste beforehand, but I swigged the 10ml, and within about 2 mins, the oncoming cramp and completely gone! Love this stuff as a backup...
LEG FOUR: REFRIGERATOR GAP – BLUFF HUT
Great views from the top, and feeling ok, Pete and I shuffled along the ridge and up the Bluff for another short sharp climb.
LEG FIVE: BLUFF HUT – LOVICKS HUT
A relatively straightforward section, following 4WD Tracks over Mt Lovick (1684m) and on to Lovicks Hut, a major aid station.
Made it to Lovicks at about 2.20pm, and staying until 2.40pm (just making the cutoff) - and just as we were leaving Danni and Fridja arrived. We easily talked them in to continuing on - rather than staying the night at Lovicks (approx 37km) - which turned out to be a major blessing as part of the event!
We also had the chaser *forget her name* who was assigned leave just after us who we were meant to stay in front of - if you want to make all the cut-offs.
LEG SIX: LOVICKS HUT – AAWT – GANTNER HUT
Realising we were on the edge of the cutoff, we were really in 2 minds- to eithe push it, or take it easy and stay at Gantner Hut. This section while awesome views and novel track, with crossing paths with Horse Tours and lots of hills in-between, we had Danni and Fridja catch us, and made for some good new company. They were keen on trying to get through Garners Hut before the checkpoint, but seeing the other Goats at the intersection (on their way our from the Gartners Hut, I knew we wouldn't make the cut-off. I was actually fine with this, as it was getting dark and getting wobbly on the legs, so a good night sleep was always going to happen - it was just a matter of where.... So Gartners Hut it was!
Staying at the Hut was probably the highlight of the race. A great group of Mountain Goats to share antics with, a fantastic support crew, and a warm cabin to sleep in. Even received a massage as part of the recovery of the night! The only thing my body missed was some sort of proteins to help in the recovery of the muscles. I was craving it, but the aid station was ample in carbs and energy fuel. All good, considering it was only meant to be an emergency stop.
LEG SEVEN : GANTNER HUT – MT SPECULATION CAR PARK
We could leave from 5am, but we left at about 5.40am - probably enjoying chatting to the supports for too long! But now as a team of 4 Mountain Goats, we agreed to finish together, and this was a great decision to do this...
From Gantner, it's back out to the main trail and a right hand turn north up into the Viking Wilderness Area and the jaw dropping Crosscut Saw, a high, thin-wedge ridgeline that will have you hollering and whooping. Simply awesome. Even better for us - it was sunrise. I am sure we lost 30 mins taking photos and enjoying our time there.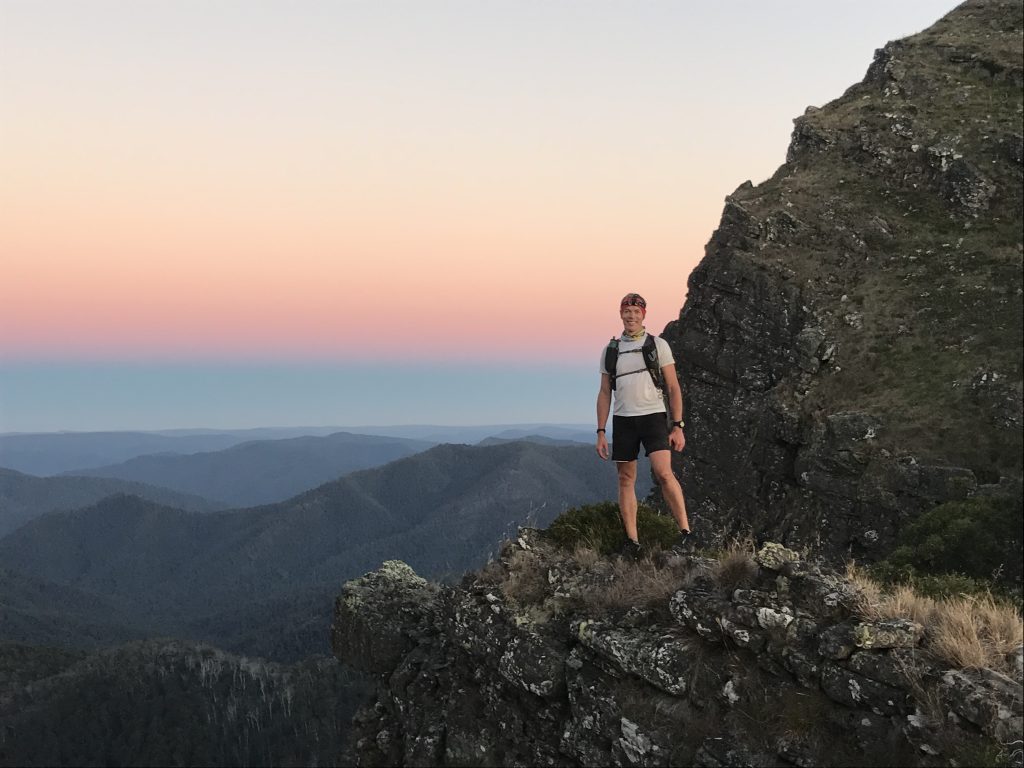 An example of why we were not running the course: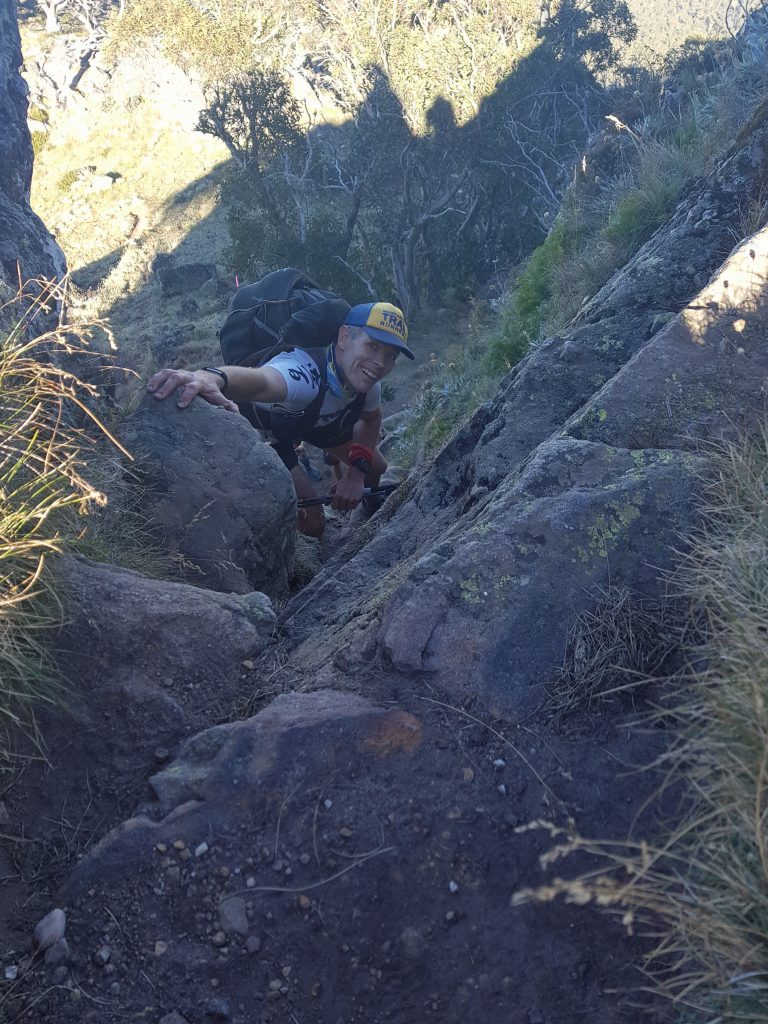 LEG EIGHT : MT SPECULATION ROAD CAR PARK – KING VALLEY HUT
From the campsite, it was unsealed road for about 7km, time to catch some teams, and we passed a few. All in good spirit, but we now wanted to get this done! From the nice road, we drop down Muesli Spur Track, it got fun and fast! This singletrack drops nearly 600 metres in 3.5km! Definitely scramble territory but down lower it's easier to run and turn the legs over on an awesome gradual descent.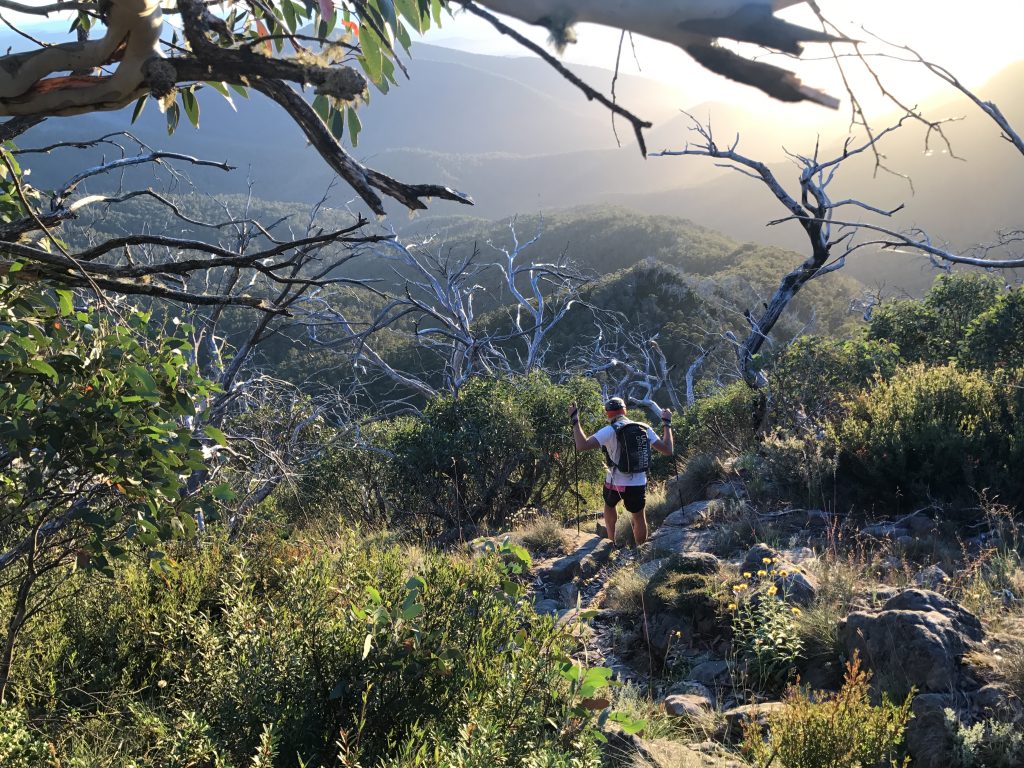 At the bottom it's a really long kilometre in to the major aid station at King Valley Hut. Again great volunteers and a positive push onto the next section.
LEG NINE: KING VALLEY HUT – CRAIG'S HUT
From King Valley Hut we pretty much cross an awesome knee deep river to freeze the legs - it was suprisingly refreshing, but then bang! Into a big climb.
Another climb that goes forever, fortunately some good conversations with Danni and team made the uphill go faster, but certainly didn't help the fatigue.
Finally hitting Craigs Hut at the checkpoint, and all wearing the Mountain Goats gear, the supports were also drinking the beer, so it was only natural that we had one to share!
LEG TEN: CRAIG'S HUT – MT STIRLING
A stunning track with some beefy climbs that goes all the way to the exposed Mt Stirling.
LEG ELEVEN: MT STIRLING – HOWQUA GAP HUT
A bunch of switchbacks and wash out mounds. Uncomfortable trekking as it is steep, especially given we've got more than 80km in the legs!
LEG TWELVE: HOWQUA GAP HUT – MT BULLER – VILLAGE FINISH
Only 12km to go. But not your usual 12kms, with a lot of kms under the legs, this section provided more than just the home straight.
With a lack of energy and lack of nutrition intake, I led the team up the awesome downhill MTB track called 'Trigger Happy', followed by Medusa, and then 'Clancy's Run'. Indeed the finish line is within cooee here but a mental killer of the return to the Summit from where it all started. Fortunately Simo was there, with a camera! And as always, with the camera lens on you, a smile must always try to come with it. At the top of the summit, something about ripping a page out the a book.
I just wanted to get down the hill and across the finish line! And that we did, we stumbled down the steepness of Mt Buller, hit the township, and with the last couple of hundred meters we all turn on the pace, the smiles the and complete satisfaction of finishing as a team, and all running arm in arm!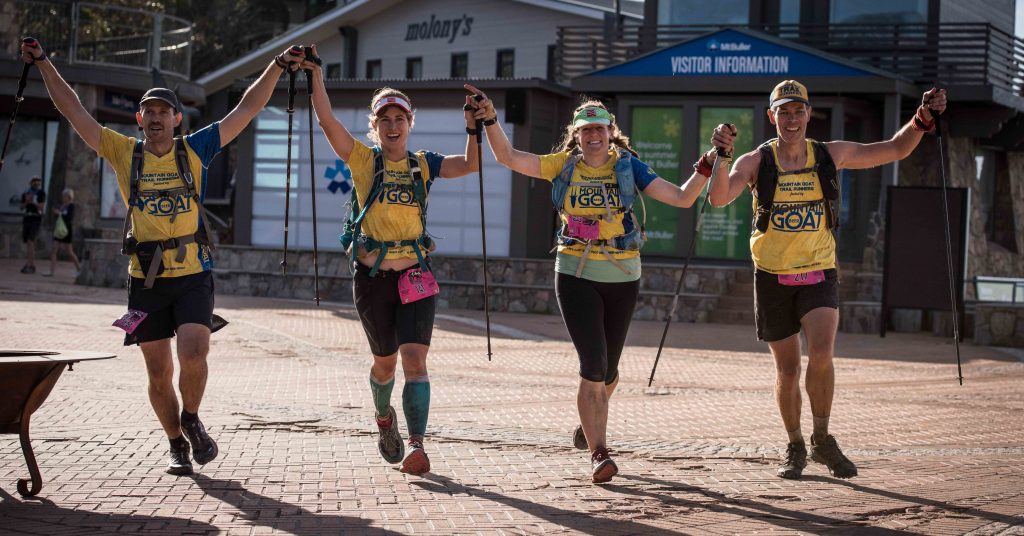 The End
Quick sit down at the end, get a beer, and try to have a stretch in the cool of the village - it was time to head pretty much straight back to the house.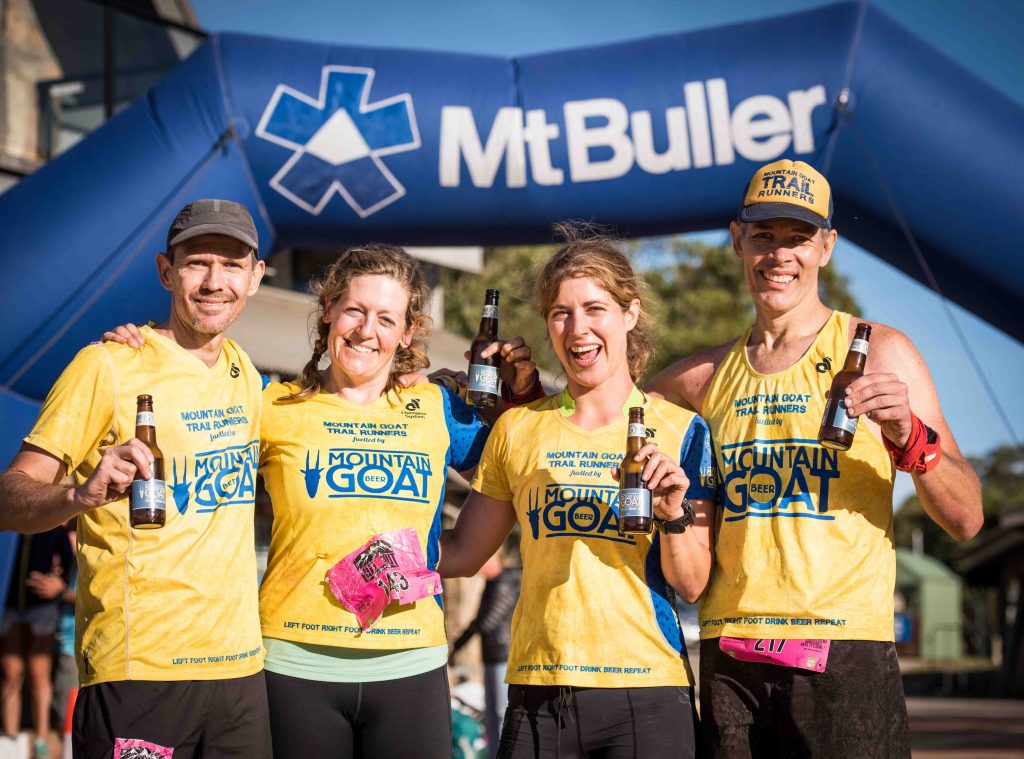 Fortunately we got a lift back, so none of us had to drive!
I pretty much crashed in bed on arrival after a quick shower, unfortunately didn't make it out of bed in time to see Sarah and Claire finish, but had a good chat when they made it back to the house!
Things to note for future Try to stay on the mountain near Start / Finish. As much as I loved the massive house we had, it would had saved alot of time (and the 4 trips back up the mountain) if we stayed up there.