2019 Tarawera 102km Ultramarathon
Deciding to commit to this event 3 weeks out, is a great way to bypass the usual long term stresses of preparing for an event. I knew my body was in great condition, no injuries and was fit enough to do it, and since I was training with a bunch of guys and gals who were doing another ultra - I'd thought I'd get one done in early this year.
Leading into it, I have been trying new things for the last few months. A new eating lifestyle (High Fat, Low carbs and no processed sugar) and the big one - trying out using power as a indicator - when I run.
The Tarawera Ultramarathon (TUM) is based out of Rotorua - about 3 hours east of Auckland by car (or 45 mins by plane). I managed to get a lift with Chilli and Gus from BTR, who pulled through last minute helping me with logistics! Legends.
Leaving Brisbane Thursday morning, getting to the Rotorua Events Centre by Thursday night was easy. Gave us Friday - to get used to the smell. Get absorbed by the pre-race events - hear some briefings, hear some well (and not so) known trail-famous runners - which was actually a really good session!
I also opted to stay at the lodge at the start line, so I was on the bus to the start line at 7pm on Friday night (I am not sure why more people didn't do this). Allowing me to roll out of bed at 5am, for a 6am start - as opposed to the others who were on a 4am bus from Rotorua (Plus it was only $50 for the night)
The Run:
6am starting in the dark for 10 minutes (wasn't worth putting on the headlamps) and once over the golf course - the sunrise was on, and all good for the start of the single trails. Must say I loved this section, taking it slow and enjoying the scenery of the flowing clear creeks and green lush environment.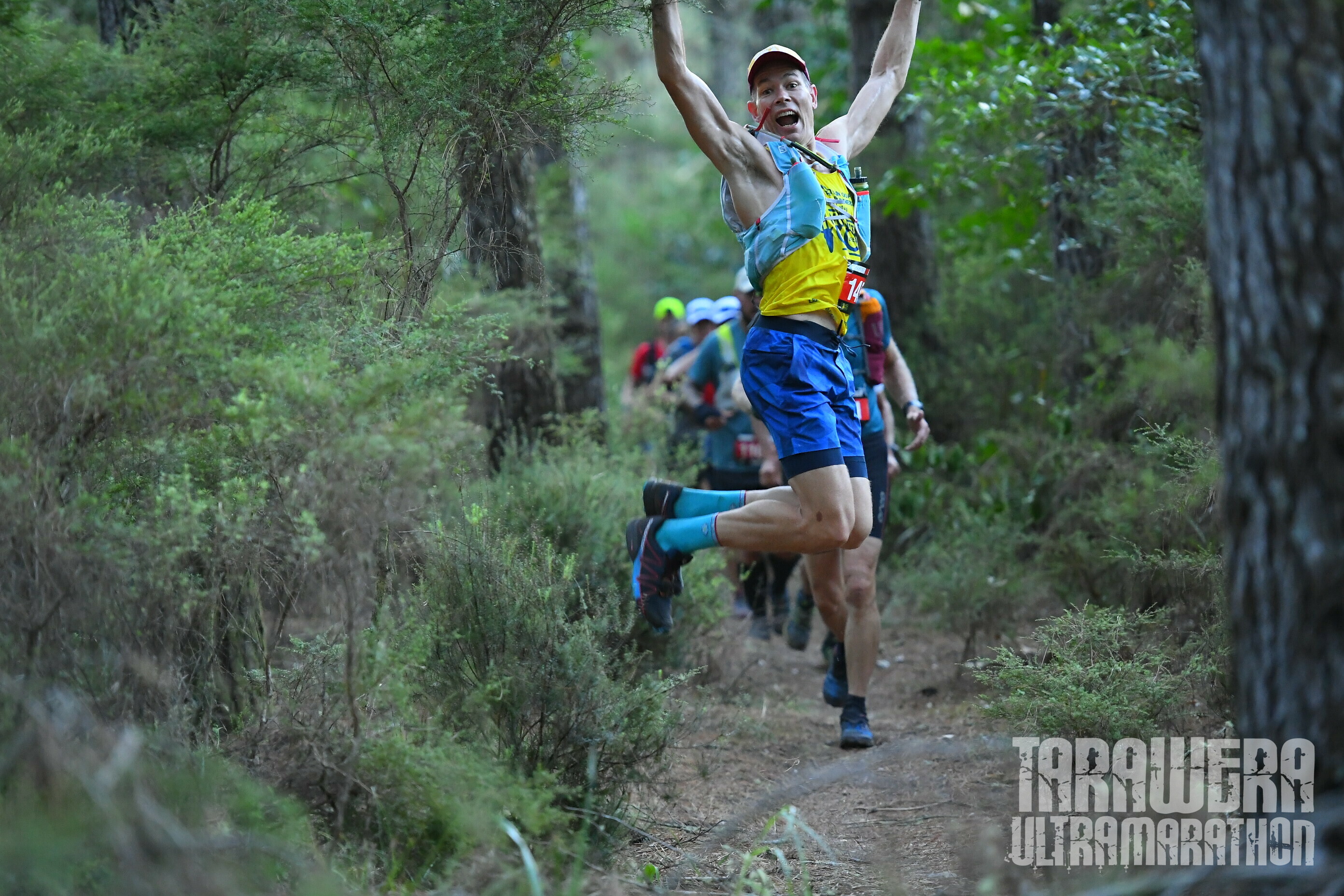 Sticking to my plan of keeping my power down to about 210W, I found a couple of others doing a similar pace - also a good reason to have a bit of a chat. After reaching the first checkpoint at Mangawhio (14km) - I still had plenty of water and food, so I kept going.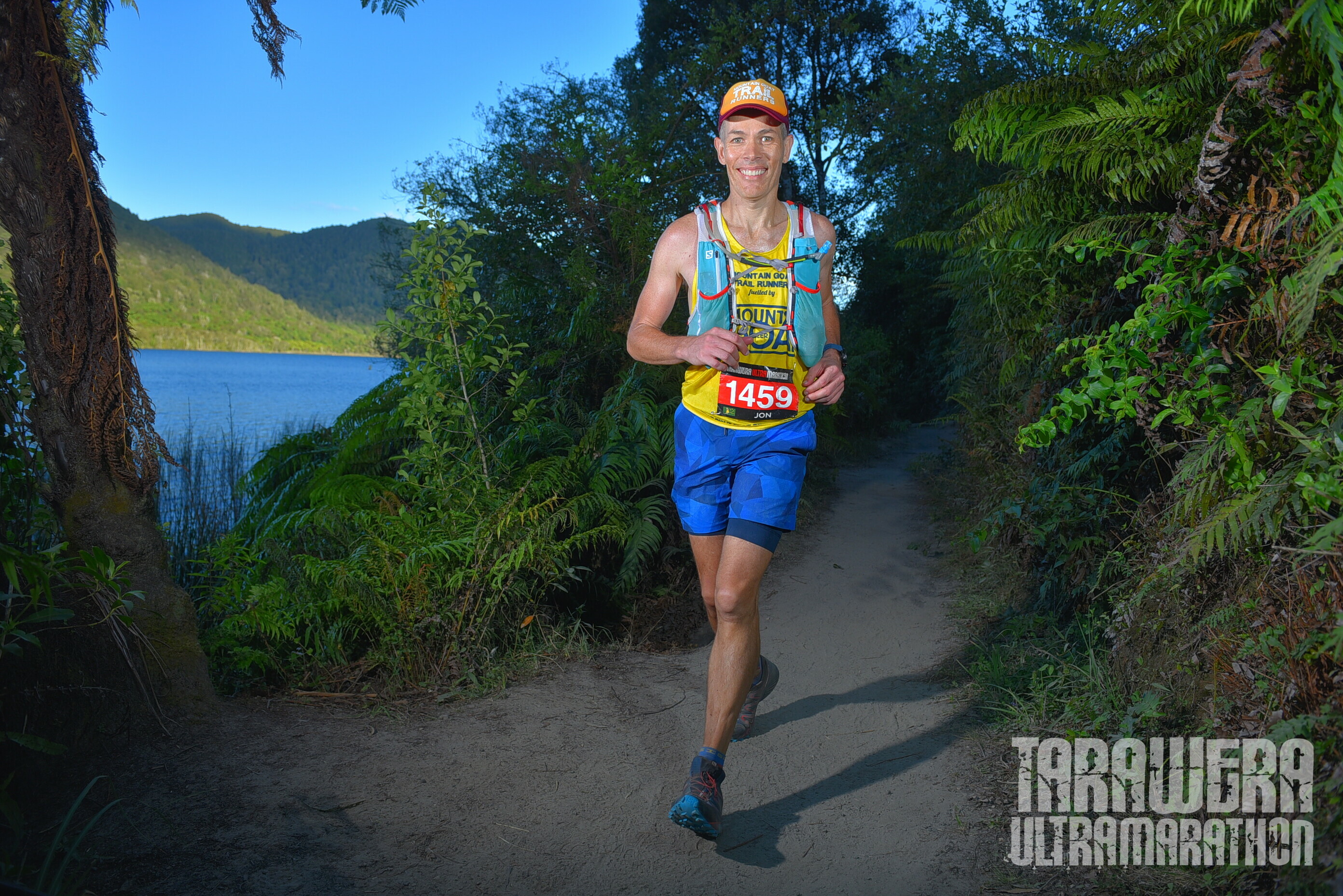 Enjoying the run and the technical trails between 40-60km, I was still feeling good and running steadily - keeping an eye on my power - most of the time.
Reaching the Okataina Checkpoint, and my first drop bags, I decided to stay in the same shoes - just change the socks. Restocked my food - which was a good thing because the checkpoint didn't have much substantial food, and I was off again.
This section had "the hill" on the map - again taking it at a sustained pace and for a hill that was only 450m high - if felt alot longer - but all good once at the top.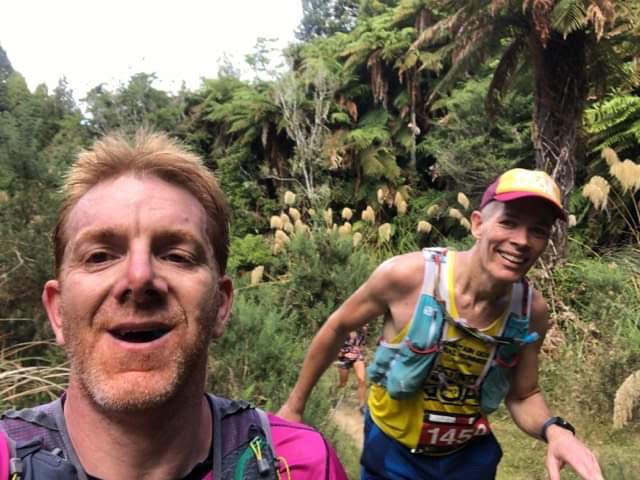 Coming down the other side, getting my pace up abit again, my ears were blocking from water - nothing major - just an irritation of a blocked ear and hearing yourself breathing. I decided to take it slower to try to get ride of it, but it didn't want to go. I took it slower and walked a bit around Blue Lake - really wishing I could jump in the water with all the Saturday afternoon families enjoying the water! But if I did - I know I would find it really hard to get out.
After the Blue Lake checkpoint was the final route to the Redwoods checkpoint, an undulating and technical section which also got dark for me. So headlamp came out and taking it easier along this section as well. A certain highlight was running through the Redwoods - and seeing the lights of some attraction in the dark - I thought I was halucinating - but was confirmed by others later that they exist. The entry to this checkpoint was also awesome - missed getting this CP with a video on entry - that would have been cool...
No real time to stop - just had a quick refill and back on the trail for the final section - a steady 7km flat section back to the Events Centre - with lots of cheering it certainly helped with teh run to the end. Special kudos for Andy Gray who ran with me for a bit at the end (after he already did the 50km) and got some video of the finish! A great reception and welcoming to a good day on the trails.
Interestingly I was put in the "special recovery" area as I had lost 6kgs of weight since the weigh-in the registration. Least I got to have my beer and a miso soup in a comfy area! Also really appreciative of Andy Gray other Brisbane Trail Runners (and Jackie Pova) who hung around until the end to see me finish and see how I was going.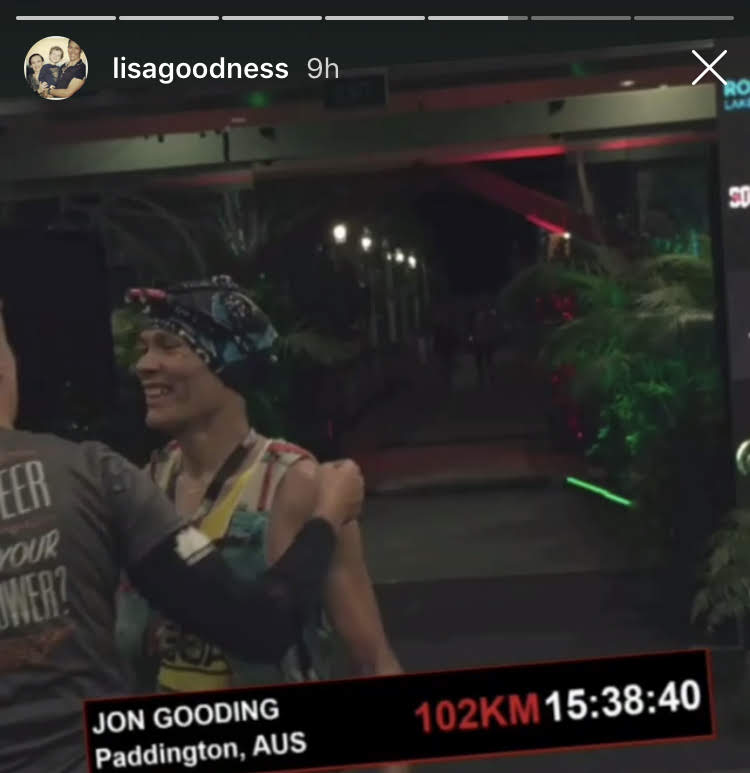 Such a great community feel and after about 30 mins, got myself together - and trekked 1.5km back to the hotel to get some proper sleep.
Thanks to;
Andy Dubios for the last minute tips on power.
Pete Trimble for buying me a future race (Coastal High), during this one - as it opened (and sold out ) while I was running
Chilli, Gus and the Toomeys for helping massively with logistics of transport and lodging.
All the legends at MGTR who made some of the longer runs trail running really enjoyable.
Nutrition:
1 x Clif Bloc square every 30 mins
Between every checkpoint 2 x Arbonne PreWorkout + at every check point and top up water to 1.2L for each leg - which I drank most of.
Variety of fruit at the checkpoints.
Was excited by the fact Dominoes NZ was sponsoring Blue Lake Checkpoint - unfortunately they didn't have any in the window I went through. Before and after apparently :)
Gear:
Mountain Goat TrailRunners singlet and Hat. I would say the course was about 80% protected from the sun (and the high UV in NZ). I applied 1 good coat of sunscreen pre-race, and had my long sleeve top in my bag - but didn't need it.
Lululemon Skins and Pants in 1. Just found these a week before - and a natural fit for me and also stopping any chaffing!
Salomon Speedcross 4 with Innersoles (because the standard Salomon innersoles are terrible)
Salomon 12l pack - the old faithful. No where near full, but has the front water bottle holders which I love.
Tips;
Get used to NZ timezone a few weeks before the event. It's actually pretty easy from the East Coast of Australia
Be prepared to use you your own Drop Bags for food. They had run out of good stuff by the time I went through.
Probably only need decent x-road running shoes. The trails are not too technical, and there is 1 main section of technical running - I would skip the full trail shoes next time.
If you don't know the course - don't listen to the volunteers who say - this is the last hill - I heard this soo many times - where it wasn't :)