2020 BVRT 100 MILE Run
2020 has given us all some false starts, but for me back in 2019 signing up to do the Ultra Trail Mt Fuji (100 miles) was my focused event of 2020. Given that didn't happen, and our restrictions have eased, I jumped on the opportunity to do a local 100 mile event - the Brisbane Valley Rail Trail 100s. Going from a planned hilly 100 mile event to a flatter 100 mile was going to be interesting.
Having completed 11 x 100km runs, I thought 2020 would be a great year to tick off the Miler (Approx. 160kms)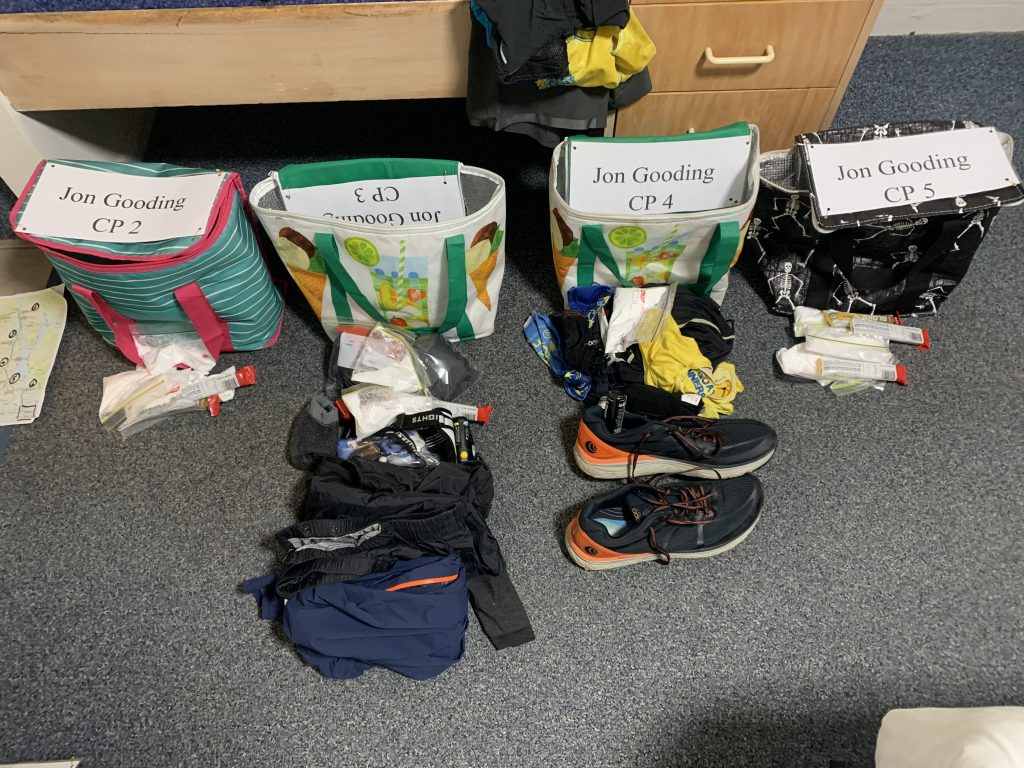 The event started in Yarraman, approx 160km north west of Ipswich, I elected to stay at Yarraman - near the start line. . Fortunately Nic and Emma gave me a lift to Yarraman making the logistics easier from that perspective - I just had to work out how to get home at the end - but that's a problem for another day.
Trying to be organised, mainly so I could remember what was in each drop bag, here's a pic of what was in each one.. mainly just hydration rations of TrailBrew, a lot of Clif Bloks and some variety of snacks in-between to break it all up. With also the mandatory night warm great in CP3 bag, as this was mandatory to be carried from 4pm.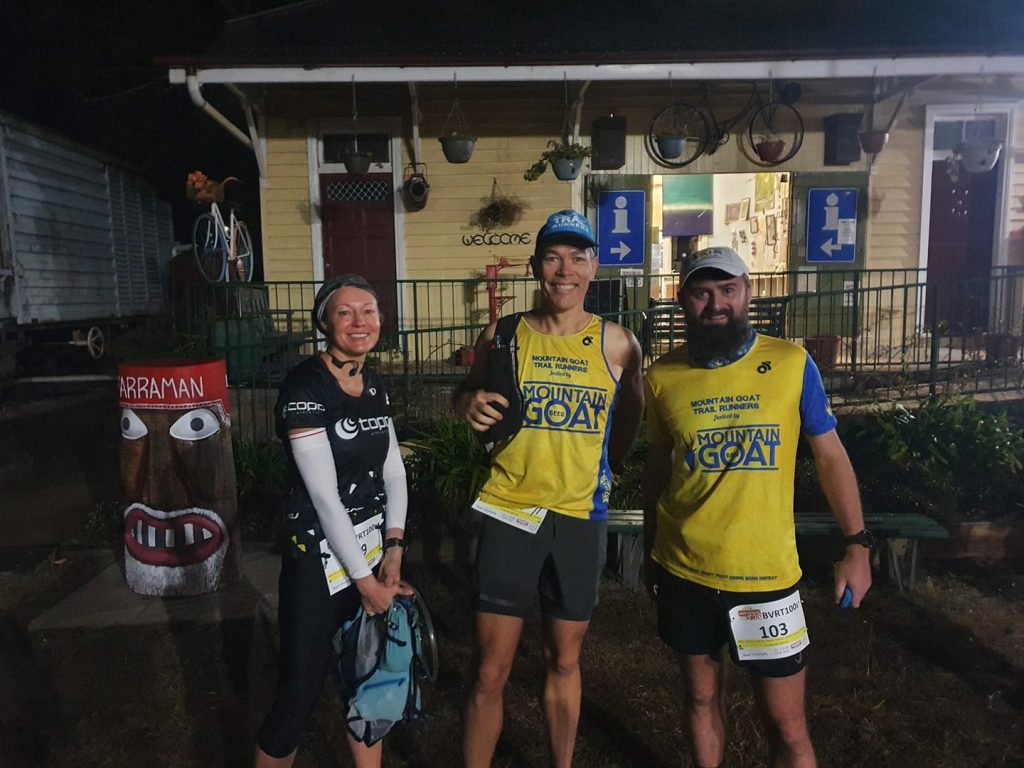 Checking out of the motel and walking the 700m to the start line in the dark with all my gear, it was a good warm up for the event. Although, I wasn't sure I was at the right place - there was only 10 or so runners when I got there, but things soon got crowded... I think in the end there was about 45 runners in the 100 mile course.
With the race starting at 6am, we gathered on the road at 5.55am, with a quick race briefing of "go this way and follow the rail trail" we were off at 6am sharp.
Yarraman to Blackbutt (CP1 - 19.6km)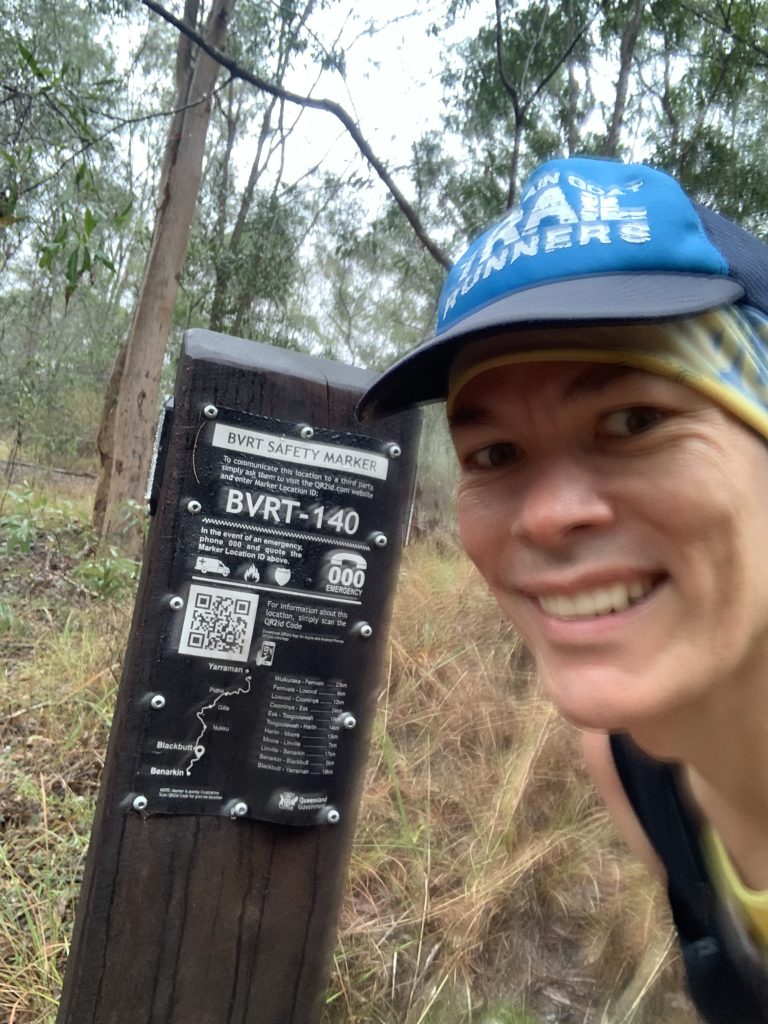 Enjoying the West to East route along the trail provided a gentle decline over the first section of the course.
With my training being based on Power, I wanted to keep it low, ideally at 200-220W for the first 30kms. Every other runner (except one) took off at a speed faster than I was prepared to go. So for the first 10kms or so I was dead last with Adrian, who wanted to go slower again so I was solo from about 2 hours into it.
Was great to see Kaney for a bit at a road crossing and his video skills in full force.
Also discovering these markers - note the small print marking how far to go until Ipswich (the end for me). Not sure if these are a good or bad thing...
Blackbutt to Linville (CP2 - 42.6km)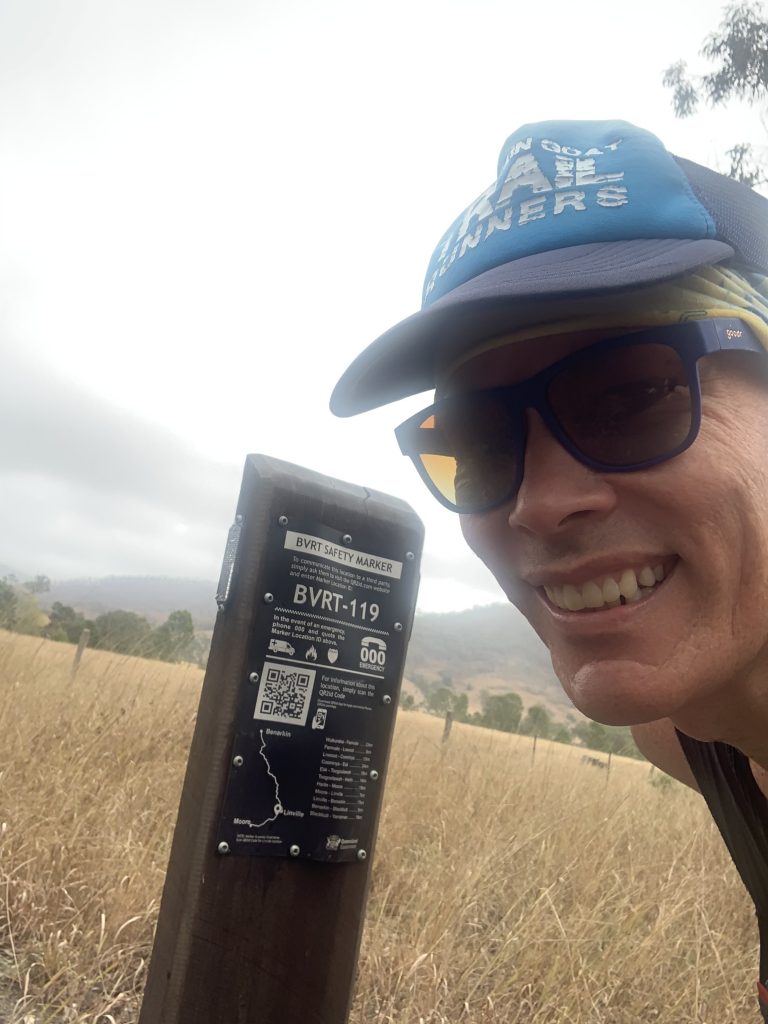 Probably my favorite sections of the course, and would be good to do it again. A lovely gradual decline, nice changes of scenery - even passing a couple of other runners with a few adhoc chats in-between.
Also at Moore (about 60km in), picking up my pacer, Hilly, was a welcome sight and a chance for a conversation again after some solo time on the course.
Linville to Toogoolawa (CP3 - 69.6km)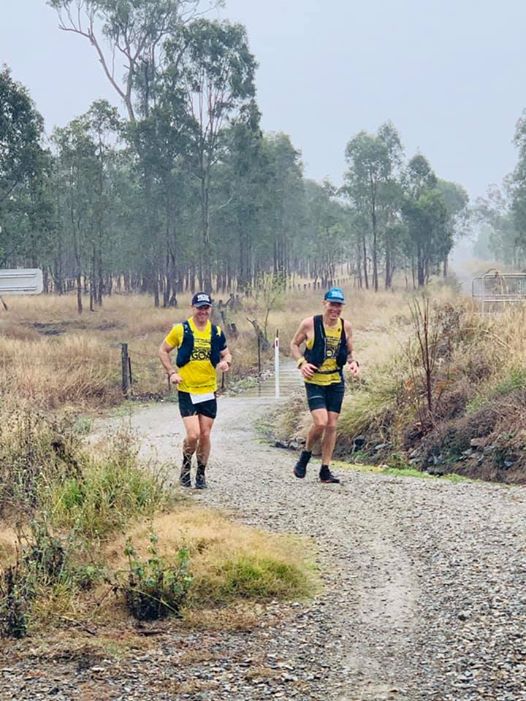 Still running at about 3pm, enjoying this section of the course - daylight with a bit of a drizzle. Still high spits and feeling pretty good.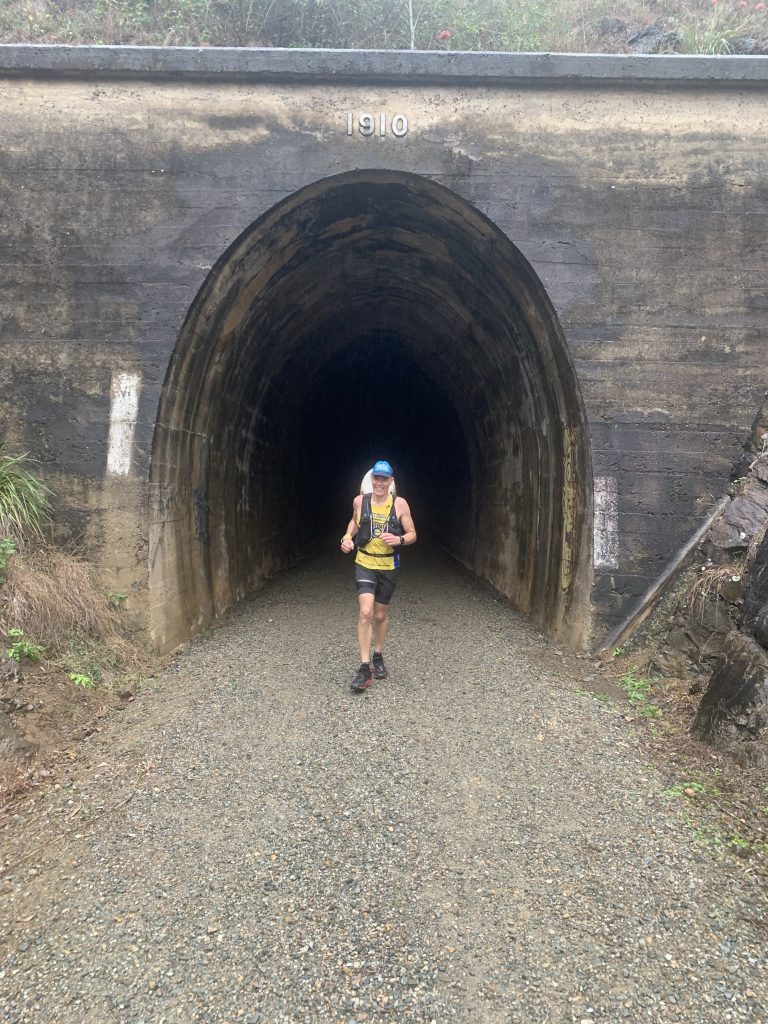 The one and only decent tunnel on the BVRT. It's no paranzana.
Let's do a jumpshot 100km to go!

Can't even get off the ground

Much better pose option..
Toogoolawa to Esk (CP4 - 94.6km)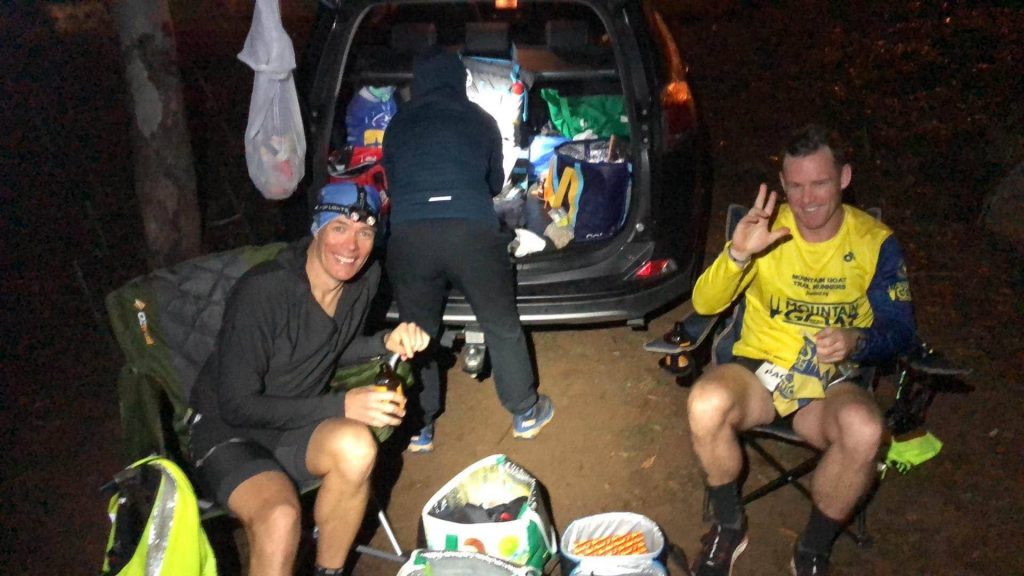 Getting dark coming into Esk exposed a few fake checkpoints for me! Although the people of Esk love a good party, I think we crossed paths with 3 big parties, before we finally made it to the CP! Great to have Jemma and Mitch there, with some requested hot chips!
Also changing shoes (not sure why as the ones I had on felt great, but I though it might give me a mental boost.
Esk to Coominya (CP5 - 119.1km)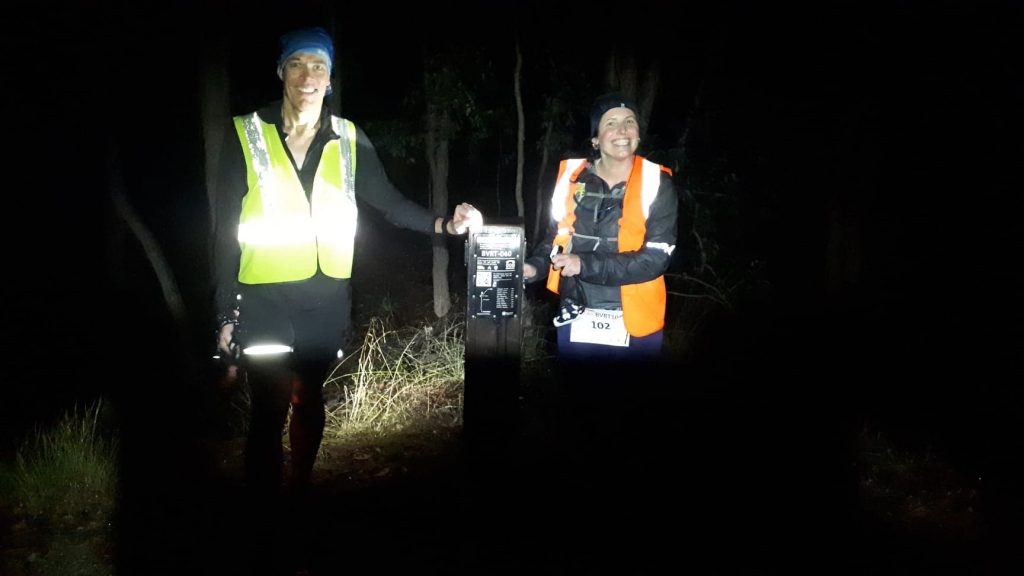 Bit of a tricky navigation (and mental fatigue) out of Esk back to the trail, fortunately the maps.me saved us on a few corners, which were not sure on the markers. We also picked up Steph, who was suffering the same navigation issues. So the 3 of us ventured to the next CP with some running and shuffling.
Having only run this section before, in the light - I thought with the new shoes it would be easy. Unfortunately with the rain and a bit of slip, the shoes gave me major grief. Fortunately, Jemma would have had brought the last pair with her - so I would only have to run the 30 kms in these.
Coominya to Fernvale (CP6 - 139.1km)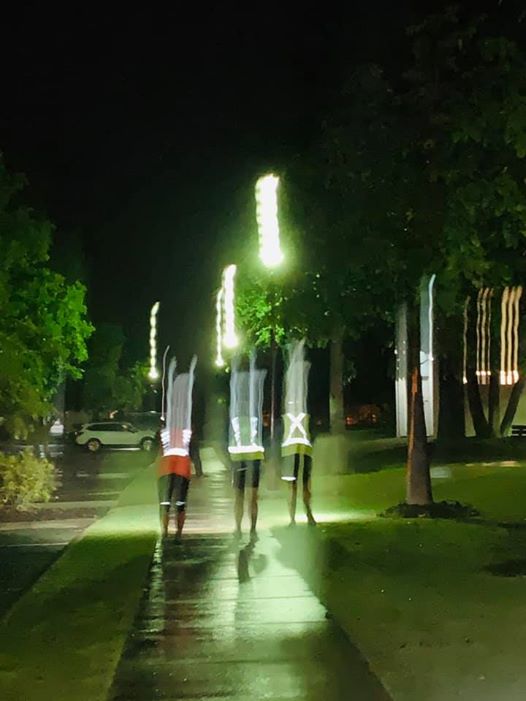 Here we are leaving Lowood - dark wet and a usual struggle out of the Jemma aid station. The first few steps are always a shuffle and it takes a good 50 meters to start pretending to run again.
Reaching Fernvale, provided the friendly faces of Brisbane Trail Runners and for me - a hot salty soup and of course Jemma to ensure that Steph, Chris and I had everything we needed. Fernvale was a relatively short CP, as we just wanted to get this done.
Fernvale to Ipswich - Finish (161.6 km)
Leaving Fernvale, was a mixed speed, bit of walking, bit of puddle hopping and a bit of running. Still dark, this was a hard section - fortunately we had Jemma who would meet us halfway - only 10kms away. Probably the hardest 10km with the rain and pre sunlight puddles.
Meeting Jemma, a quick ginger beer, with Chris taking a break from the last 10k (given he did a total of 91km with me - I was completely ok with that), Steph and I walked / ran into daylight. Lots of puddles and slippery trails, but 1 golden section downhill where it was dryish and we ran the whole way down - felt like kms but was probably on 500m. Soon after we were on the concrete of the final section - overtaking a few other runners (50 and 100), Steph and I actually had a reasonable speed all the way to the finish line.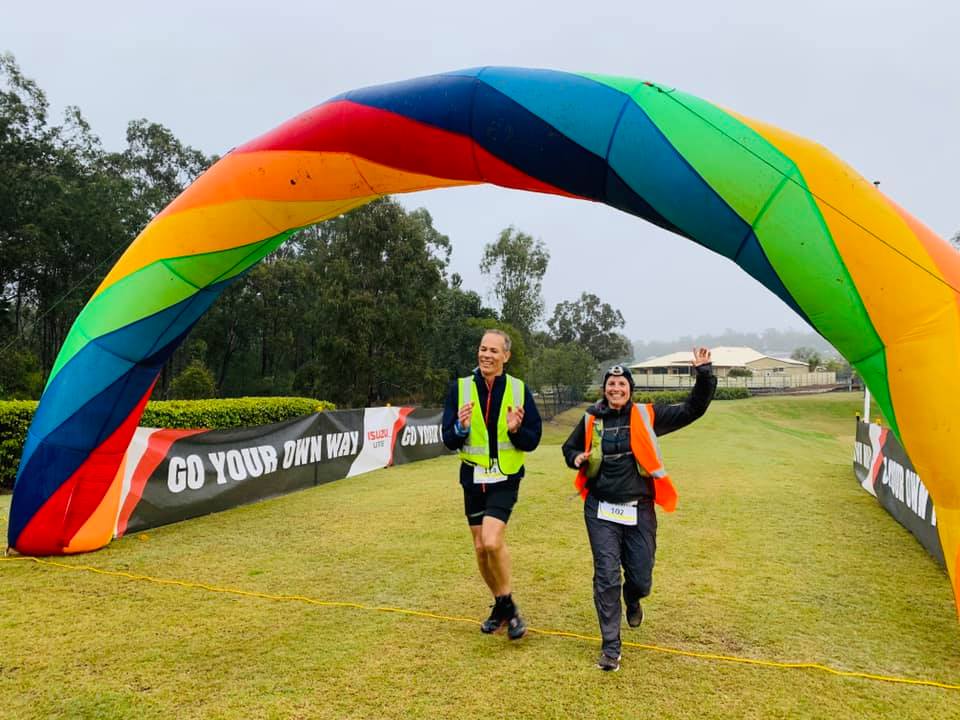 Solid run around the oval and through the finish line....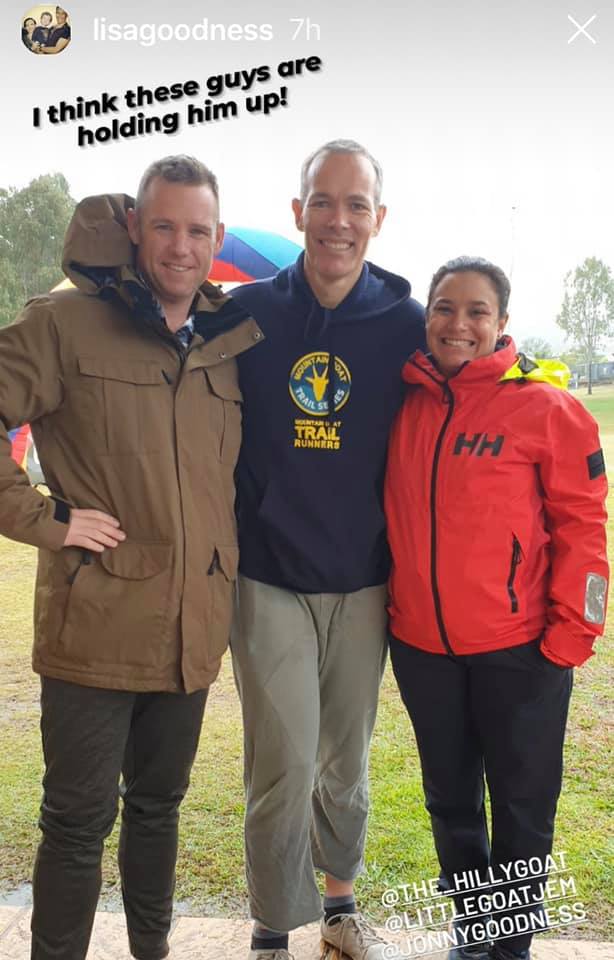 Finally seeing the finish and having Jemma and Chris at the end was awesome! Having helped me for nearly 100km and made the experience alot easier than it would have been solo.
As we were all reasonably shattered, I received an angel text from Lisa advising she was coming to pick me up in 20 mins which saved Jemma a longer driver - which was awesome.
Happily waiting for Lisa, gave me a chance to chat to a few other finishers and see some familiar faces that I ran sections of the course with. Always great to have a reflection of the course with fellow runners...
BVRT 100 mile Course
Gear
Garmin - for all weekends to get hacked and have downtime. Fortunately I could manually upload the fit file straight to Strava - also my Garmin 6S Solar was still at 54% at the finish - running normal mode, with notifications etc still turned on.
Nutrition
First event that I actually had a reasonable nutrition plan, which worked well. Probably too much Trail Brew allocated, but better to have too much than not enough. The Babybel cheese saved my stomach from all the electrolytes and sugars. Will definitely have these on future runs, and instead of every water flask refilled with Electrolytes probably every 3/4 would be a better option.
Clothes
Most importantly, loved my Topos - MT-3 shoes and Steigen socks - with Blistop protective spray beforehand. I had no blisters or real hotspots.
Loved my new Lulumon pants with inners, and plenty of squirrel nut butter to prevent the chafing. Although I didn't put it on the start and the armpits suffered.