2022 Yandina 5'O' 50k
Drawn to a new event, and a new run location - the Yandina 5'O' was tagged by a bunch of us, Mountain Goat Trail Runners as an event we could get behind and try out. Even better, it finished at a brewery - and encouraged everyone to stay and cheer everyone who finished.
In the few months leading up to the event, training was good, nothing special, but enough to know I would be ok. Leading up to event, 3 weeks out, I tore something in my calf - and after a few physio trips, took a full 2 week off running. Pretty much on the last day, there was a covid case in my house, so I spend another week at home. So having one, really slow test run on the Wednesday before - and not running for 3 weeks before the event was going to be interesting.
We stayed at Coolum - which had great facilities around but a little far, but at least we only had to do 2 trips to Yandina (1 to pick up the race gear and the other to actually do the run).
The course was fairly unknown - apparently some of the course is the same as the Blackall 100. But I did this section in the dark so I have no idea.
Starting off, I really wanted to take it super slow. Which I did. Probably in the back 1/4 of the runners, I figured I just needed to warm the injured leg up slowly and tackle the first 10km (which also had the big hill in it). So taking it super easy, except when there is a photographer....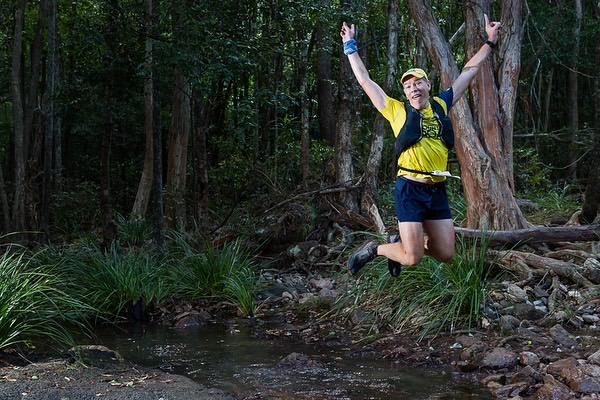 This photo was probaby about 5km into the run. I didn't take any other photos, as my phone / camera was cracked as, and needed to stay in the waterproof bag - as if it got wet - it wouldn't have made it out the other side.
The big hill at the start, did keep going for a few kms - but I managed to have some good chats and over take a few people on this section.
Over the next 20kms, I felt really good - overtaking a few, having some good chats with some MGTRs and enjoying the course.
Least favourite was the along the section of the dam wall - I seemed to time it with full sun beaming down.
Highlight was probably the dam, and running around that - all runnable and quite scenic and protected from the sun. The also seeing Jess and Scott for a mid race chat and some encouragement. Leaving them was the sign for the CP3, which was a welcome relief. Although it was probably another 7km before CP3 came around. Not cool putting these signs out so early, making you think the CP is just around the corner. Although probably my fault for not knowing the course at all.
Arriving at CP3, I felt pretty good, but needed to go to the loo (for the last 5kms), so they had a toilet, so I figured I would use these facilities.. coming out (about 5 mins later) - I started to try to run again.. but I had nothing left in the tank. So it was a solid walk until I warmed up again. But still, trying to get moving faster again - I had no energy.
Plodding though to the end, witch some charity running - I wasn't overly happy with the last 11km. But I got it done and finished. Managed to pull a little jumper at the end.
Still a great event, but having done it once, I am not sure if I would do it again. There are plenty more trails out there with new adventures!
In hindsight, my plan was to take, 1 bottle of Water with 2 scoops of Infinit each hour.
I decided that I would take aid station, Infinit instead. So I felt great for the first 30km, with my Infinit strong doses, but the aid stations provided ones were alot weaker, and I wasn't getting the same dosage of carbs etc. Hence the fail. Lesson for next time - don't rely on aid station for hydration mixture being strong.
Also, first decent run in the Altras - Lone Peak 6 - loved them and no issues with my feet.
Must say, the post event shirts is one that I will actually wear. Good work on that Run Queensland!