2022 Guzzler 100k
A relatively late cheap entry (about 1.5 weeks before) into the 2022 Edition of The Guzzler 100k. The bibs had been printed so I had to make my own version - as I am not a Mark.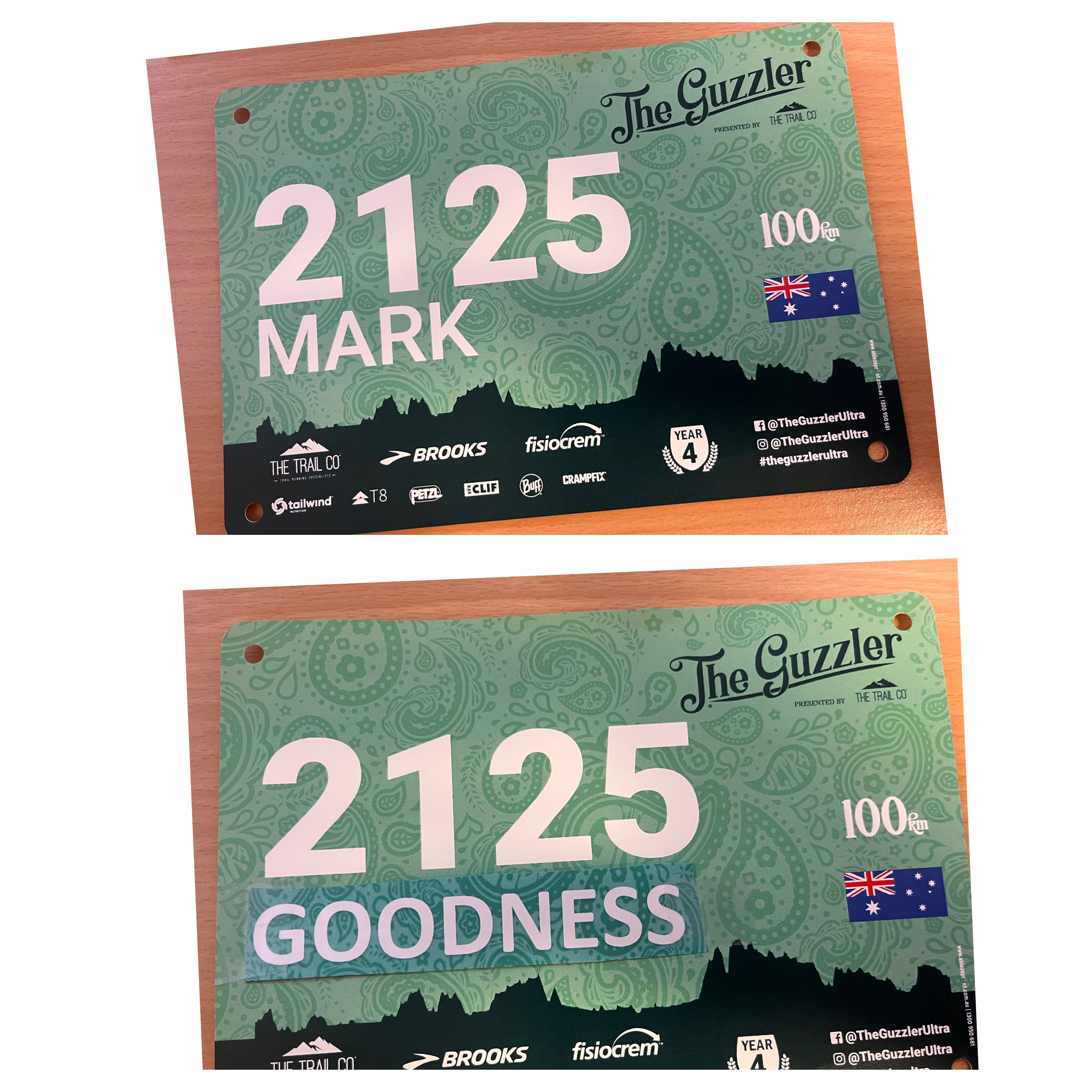 Going into this event, I was going to focus on Nutrition. Trying to keep my Electrolytes and Carbs up so the enegy levels can remain higher for longer. So stocking well in Infinit (Electrolytes) and Mauten (Booster Carbs) and no real other food.
Also, having solidly run in the Altras for a good year - it was time to given them a crack at a 100km event.
There was also a very last minute course change from the planned 100km to venture out to Nt Nebo and surrounds to now 2 x 50km loops of the 50km course. If I knew this when I signed up I probably wouldn't have signed up the 100km - but alas - there was a new mental challenge to add to the mix.
Start Line:
So good to see a few of the Mountain Goat Trail Runners doing a mix of the 50 and 100km.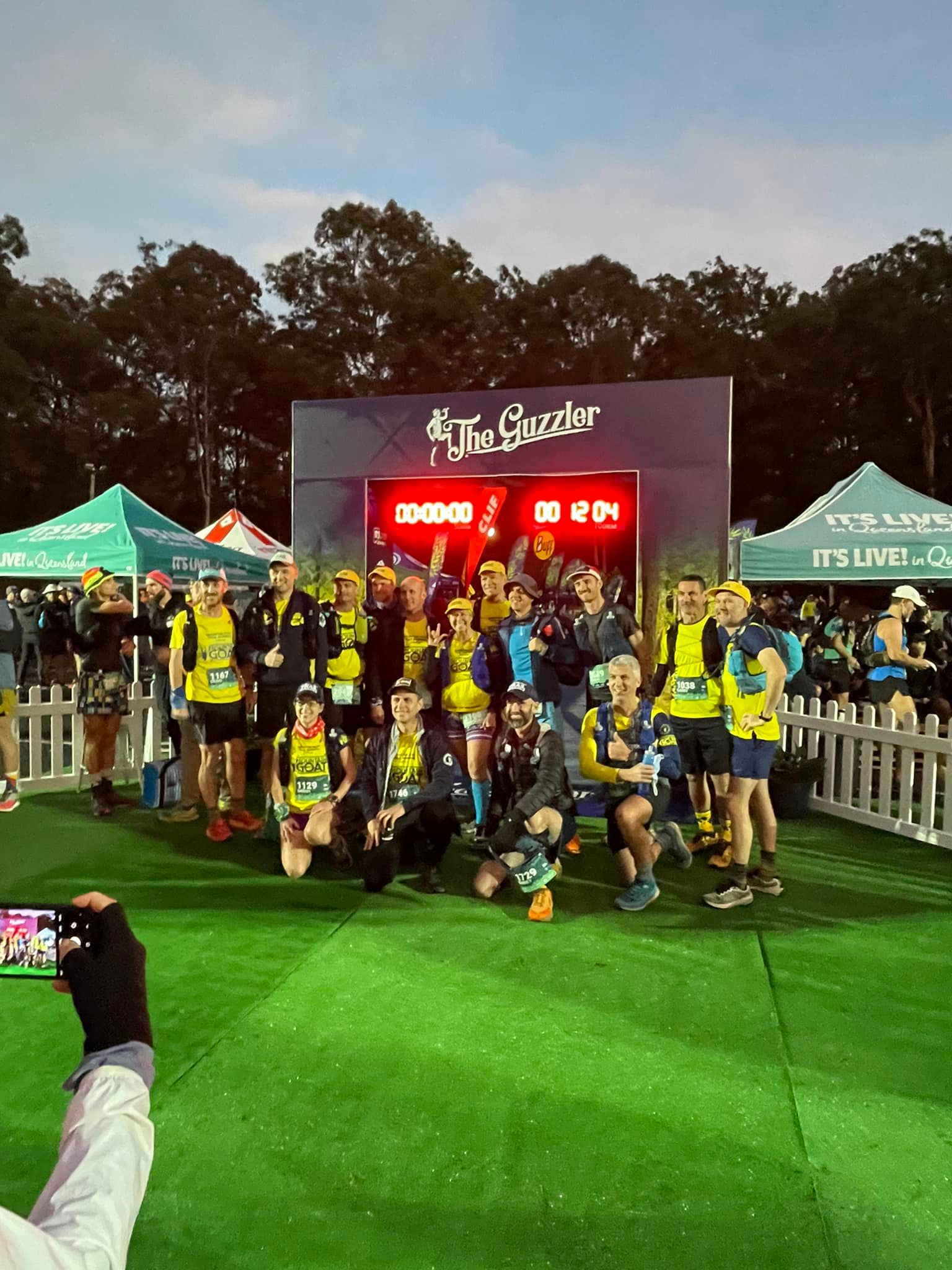 A new course start location - and a course I knew like the back of my hand - there was going to be nothing new. Just had to keep a moderated pace and get through the adreniline rush of the first first 20kms and then take it from there.
About 15km into the Course feeling pretty good still.
First second creek crossings - and enjoying cleaning my shoes and trying to keep my feet / body cooler.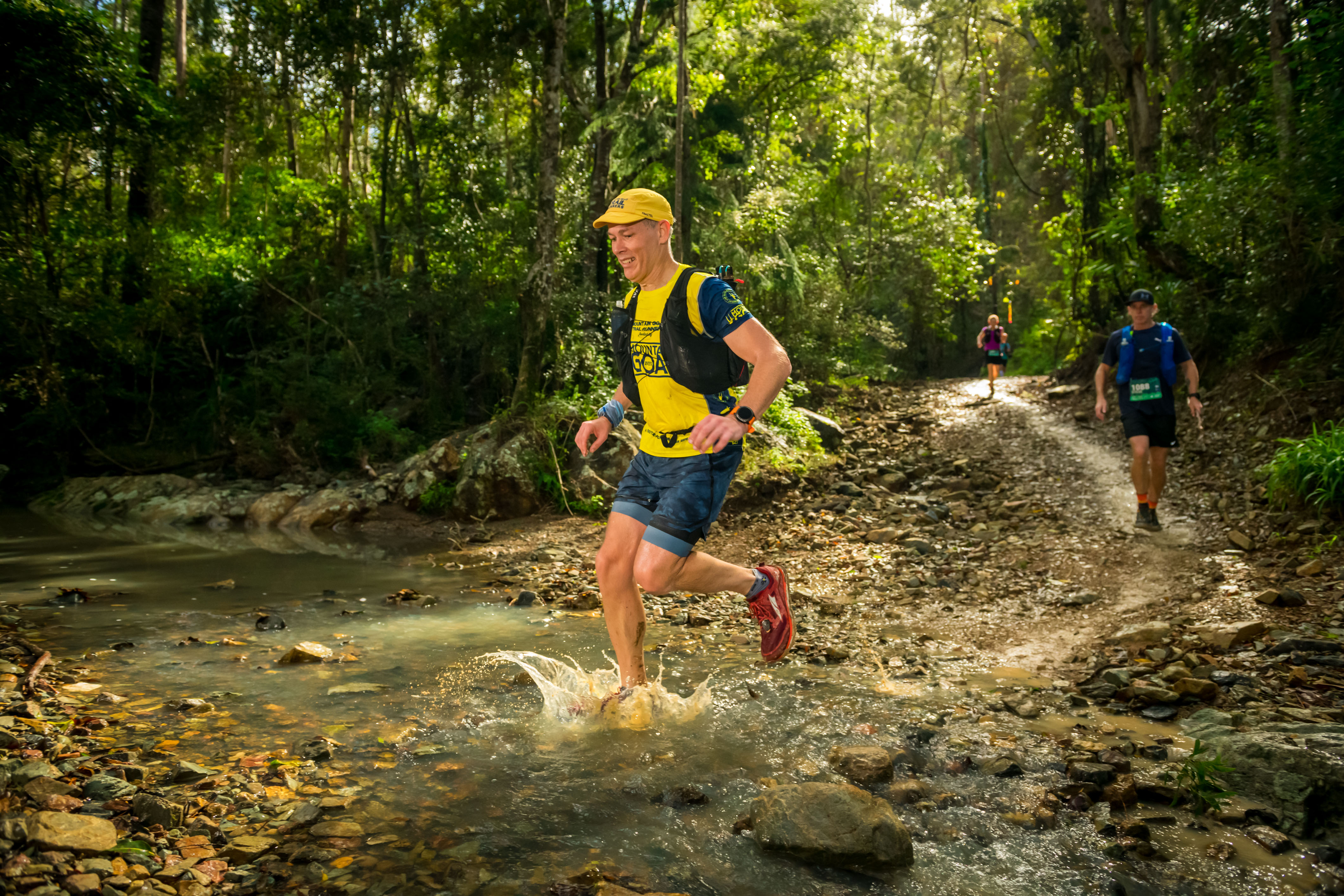 After venturing up Hell Hole and feeling pretty good - then down South Boundary Rd to the Gold Creek Loop. The loop itself was pretty muddy in sections and alot of slip and slide. I should have got the poles out for this - but I thought it would end soon and I wouldn't need them. I had the same thoughts for about 4km of the 6km loop. Near the end of the loop - I slipped down one of the declines and triggered my hamstring muscle into a nice little cramp. It probably took me another 10 kms for this to subside - and I was pretty much forced to walking - albiet I was going to be walking back out of Gold Creek and along South Boundary Road again anyway - but the leg wasn't going to let me try and run.
So finally getting to Kokoda Hill, it was ok. Having known the Kokoda inclide sneaky side tracks and overall length - it was a known entity. Except for the annoying lady at the top with the degrading comments for people who were going slow. Not in the spirit of trail running. I just ingored her and kept going... back along Litchfield and down Mahogony. Feeling sorry for the 100kms were heading back up on their 2nd loop. Oh wait this was going to be me soon.
Was soo good seeing everyone at the half way mark, as all the 50km finishers were there and lots of support. After a fuel top up and some love from the familiy - back out to do it all again.
After some nice cramping at the 60km mark, I thought I only had to get to Walkabout Creek checkpoint and get some serious salts into me. This was probably the worst section, as I wasn't going overly fast and the kms were going far too slow.
Just before the 2nd time through Walkabout Creek Checkpoint - had another moment to stop and appreciate this guy.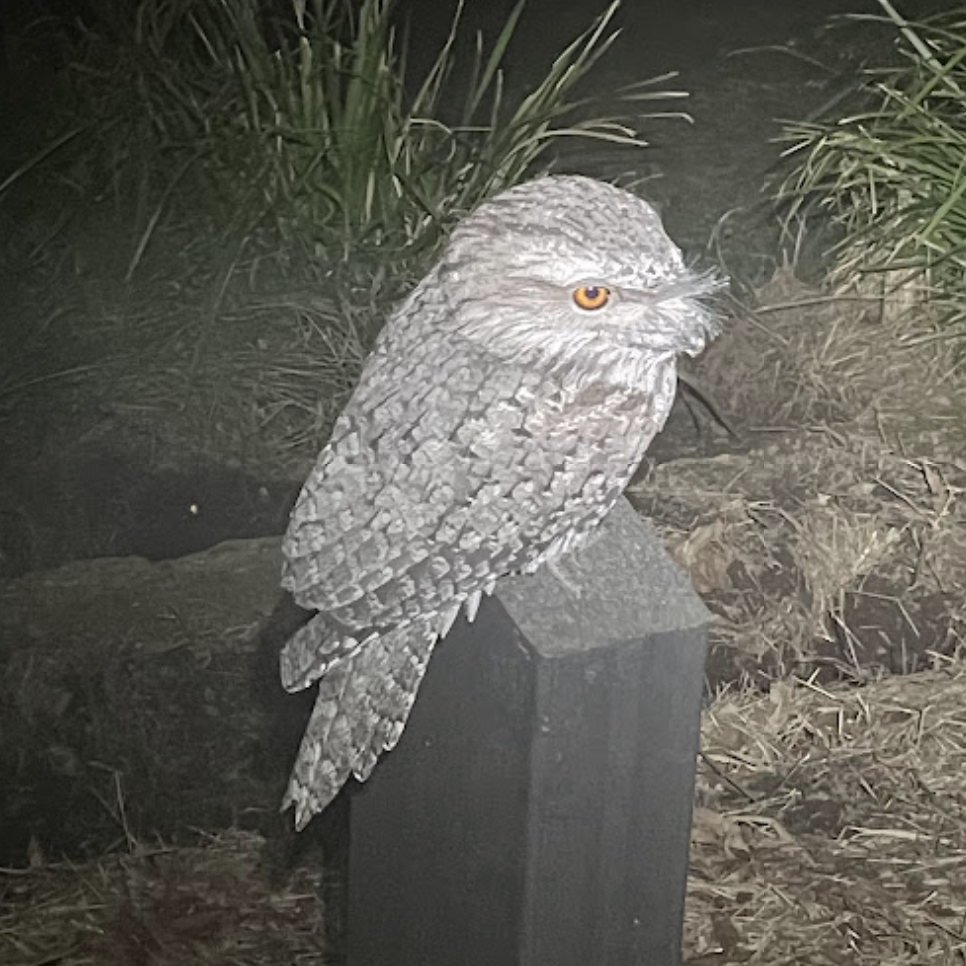 Fortunately, I had a great cheer sqaud and suprise at this checkpoint.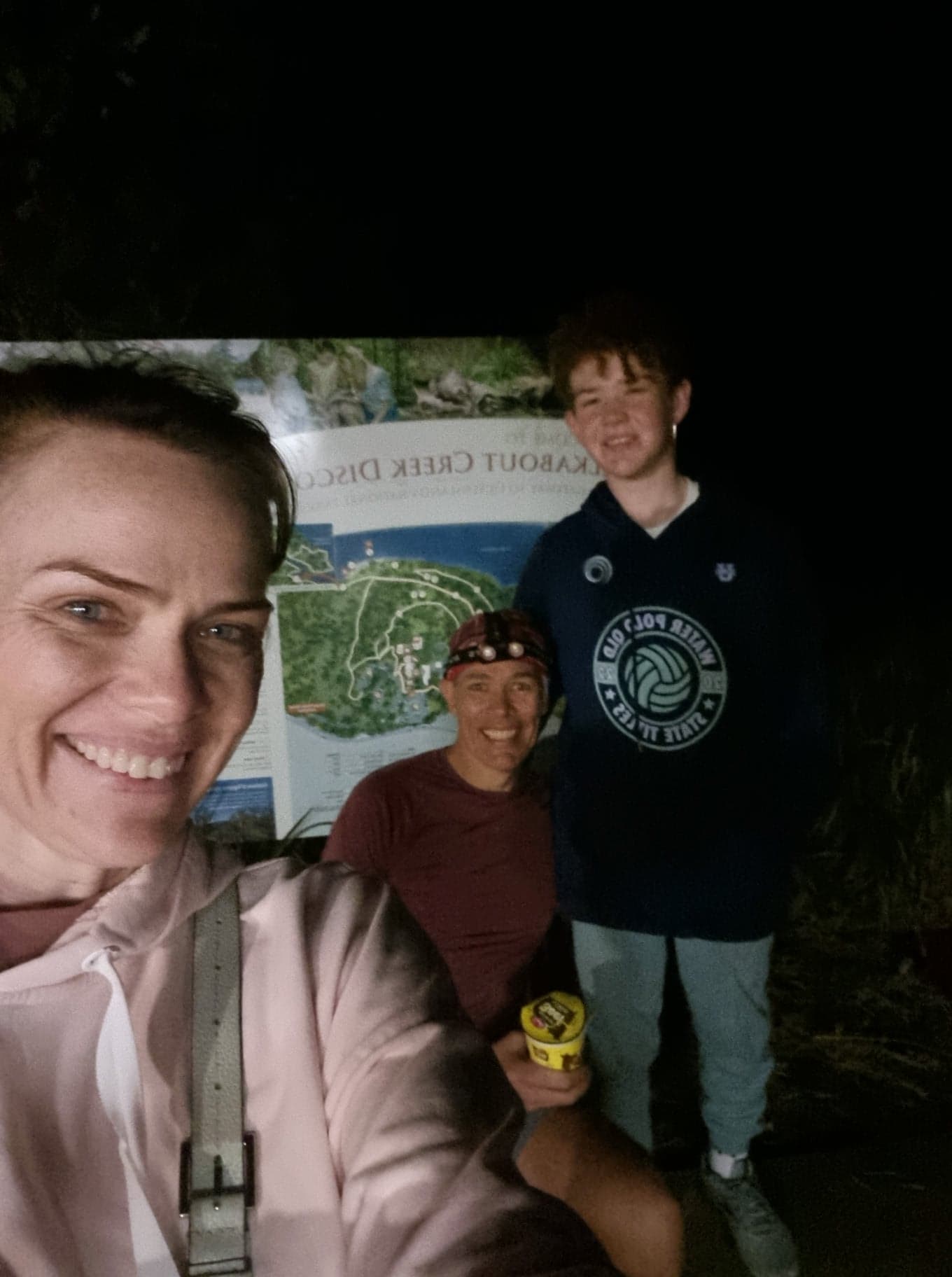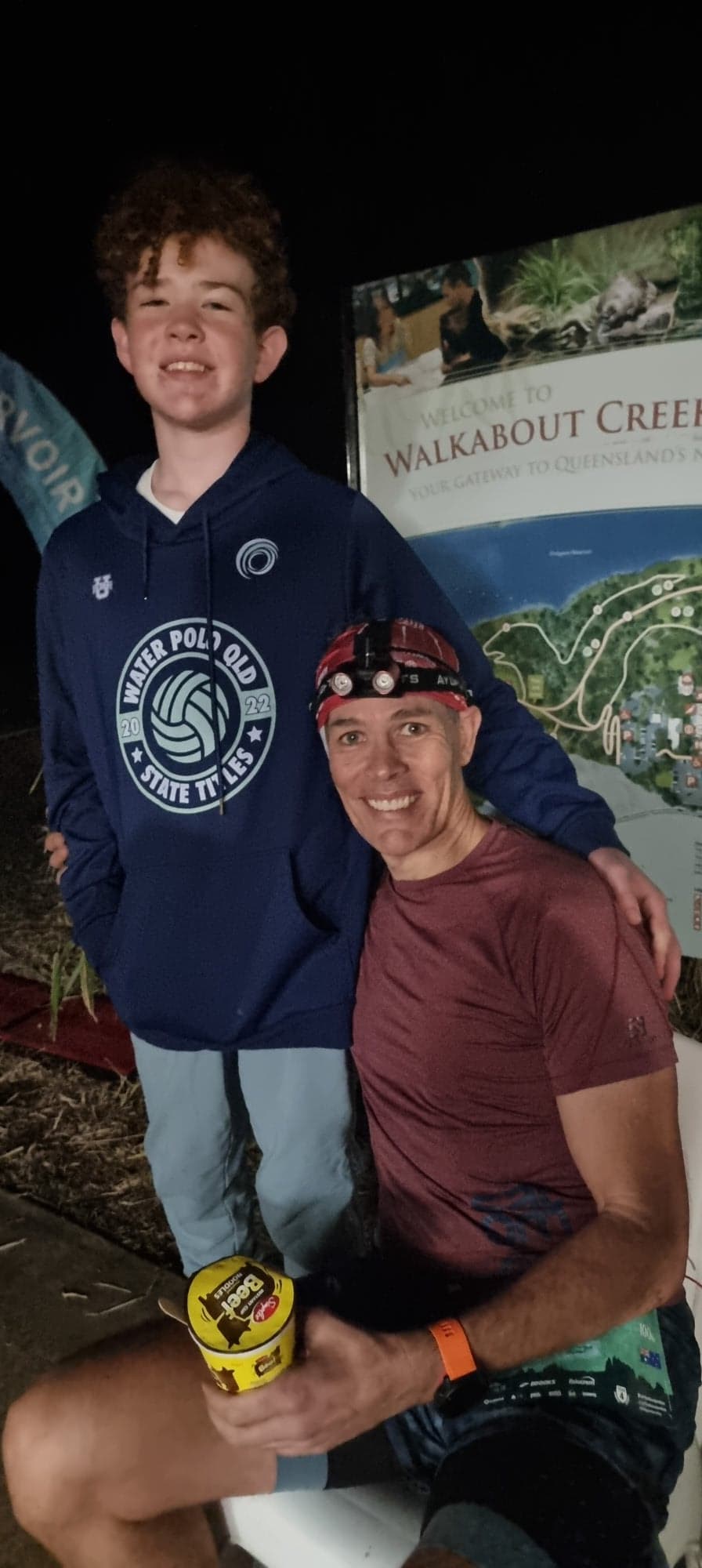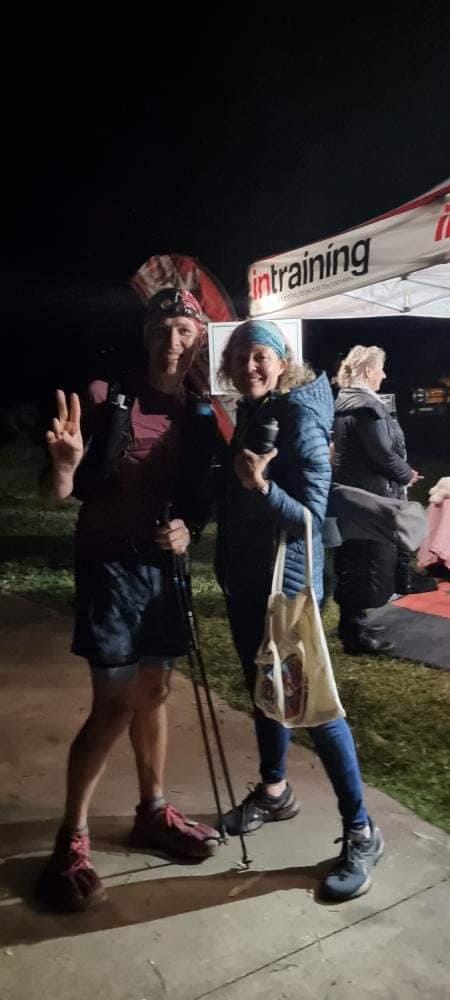 So after a couple of cups of noodle soup - craving the salts, and the checkpoint crew managed to convince another runner to get to the next checkPoint - we were off. Always good to have someone to talk too, and could have possibly been in more pain than me. This was the large climb section and with the magi noodles (with the salts), I felt alot better and was actually starting to get some speed back up.
Up at Jollys Lookout, i was well looked after by the Brisbane Trail Runners crew, and Andrew Moore who unselfishly decided to be my support crew (I didn't even ask or plan it :) - but giving me a nice warm blanket and some more noodle soup - I was soon on my way.
Actually starting to feel better, heading down Hell Hole and back up wasn't too bad - similiary with the leg down to Gold Creek Dam - slow but a little trot was enough for me.
It was great seeing Tom at the Gold Creek Checkpoint. A good little catchup and some usual tough love - probably what I needed to get around this loop with some attempted speed. The loop around Gold Creek was very isolated after having done the first loop (where we had all the 50km runners as well) - and the sloppy mud seemed to have dried out abit - or I didn't care and just trodded through it - this time with poles in hand.
Venturing back up out of Gold Creek was the occasional runner who was coming back down - an attempted cheery hello and each would keep on pushing to get to the end!
Getting back on South Boundary Rd, was a delight and a feeling of the home straight. 15km roughly to go. Was dark and isolated with no one around in either direction, until I heard shouts of panic. Getting around the corner was another runner in his fluro jacket running towards me with no light and in a panic.
He was heading the wrong way and was lost! Admittily there hadn't been markers for a bit, but having convinced him that I was going the right way, he turned around and came with me - sharing my light. By this time I was power walking the hills up and going a respectible pace (in my mind) and started to leave him behind pretty quickly. So I gave him my spare headlight (still need to get it back) and I continued.
Finally getting to Gap Creek Rd crossing, and seeing Andrew again was a welcome delight. I stopped and chatted for a minute or so - but was keen on getting up Kokoda and finishing!
So Kokoda again actually felt easier this time. Seeing anotehr runner at the top wa a good motivation to catcha nd possibly have a chat on the way back. I caught him at the top, but he wasn't in state to chat, so I powerwalked / ran along Litchfield Track counting down the kilometers to the finish.
Finally hitting the last section, I was running again and made it to the finishline with a small but close group of friends who came to see me finish! Awesome to see Susan, Andrew again and Lisa - who also got the priviliege of putting the medal around my neck and driving me home. A certain blessing as it would have been a slow journey otherwise.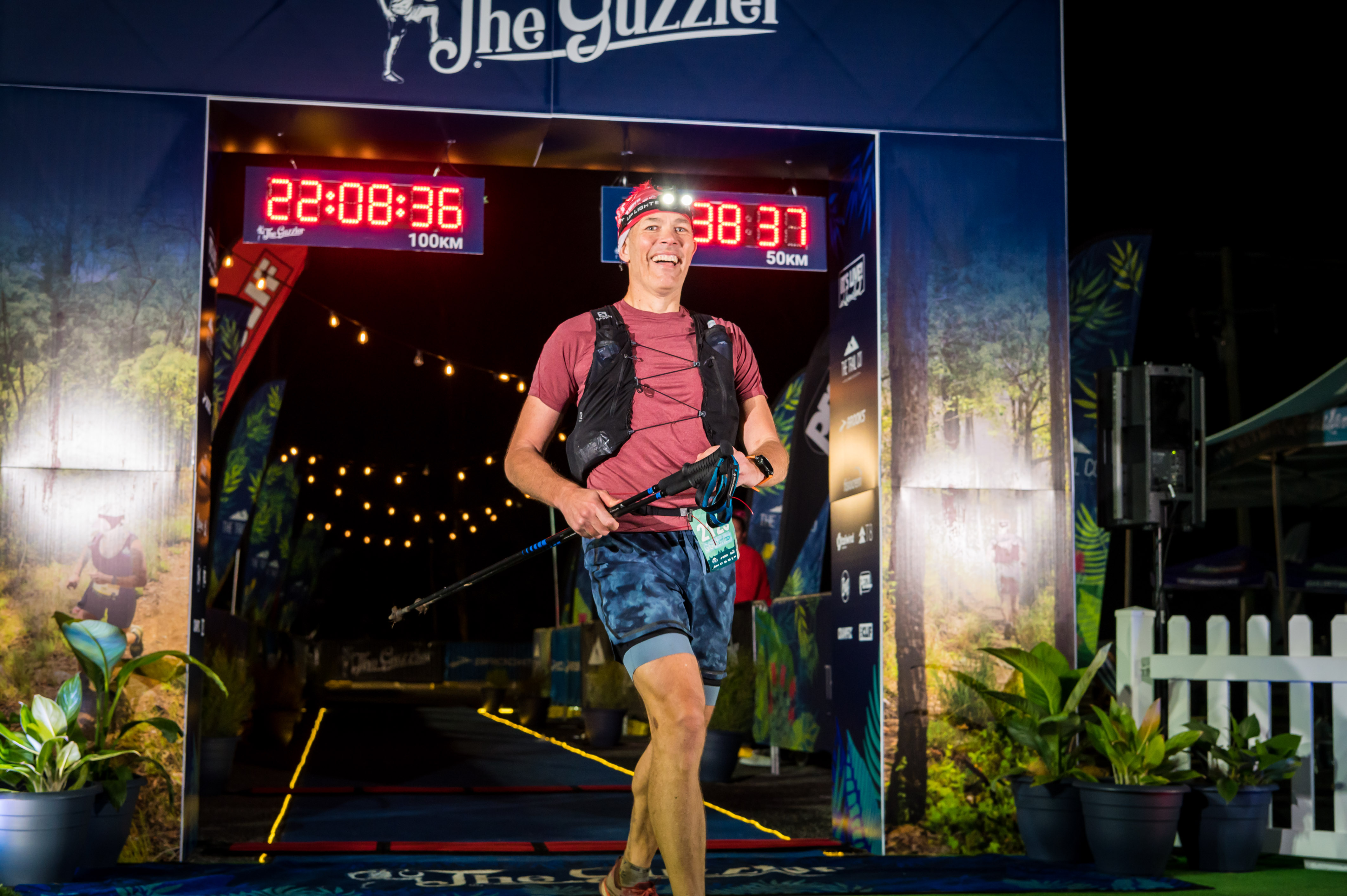 Overall, the biggest takeway from this, and the biggest test was the Nutrition. I needed alot more salts, and I think the miso soups which I have since appreciated more recently should have been part of the plan.
Still a long day, and happy its done.
Gear:
Shoes - Altras - Lone Peak 6
Pack - Salomon - 12 litre