2022 Blackall 50km
Having fond memories of doing the Blackall 100km back in 2019, and being offered a ticket from Luke KD at a Long Lunch, I jumped at the opportunity at a relatively last minute entry to the Blackall 100 (50km).
Having a last minute entry, I opted for the easy accomodation option of staying in the dorms - not the best nights sleep putting 8 guys in a small room - there was a good chance we would have a snorer - and we did. But fortunately I had a relatively a good week sleep leading up to this. Was also awesome to catchup and share some recent adventures with the BTR crew the night before as well - as they were there in force with the Check Point duties.
Pre race was all smiles. With the Mountain Goat Trail runners and the Beacon Hill Runners.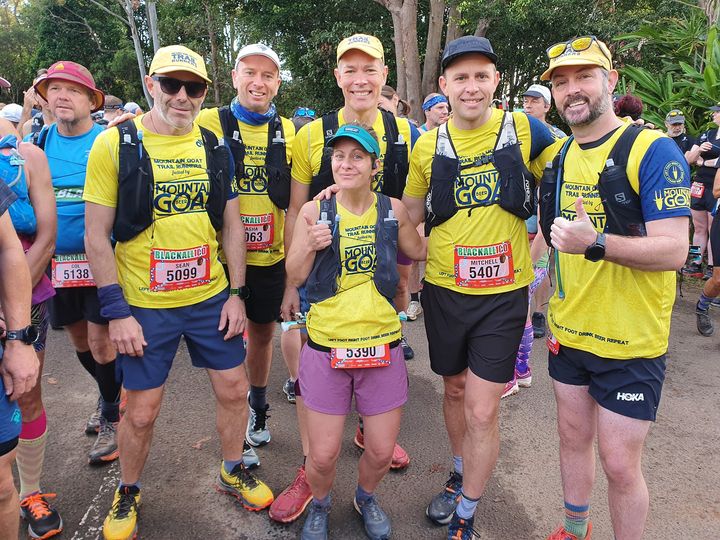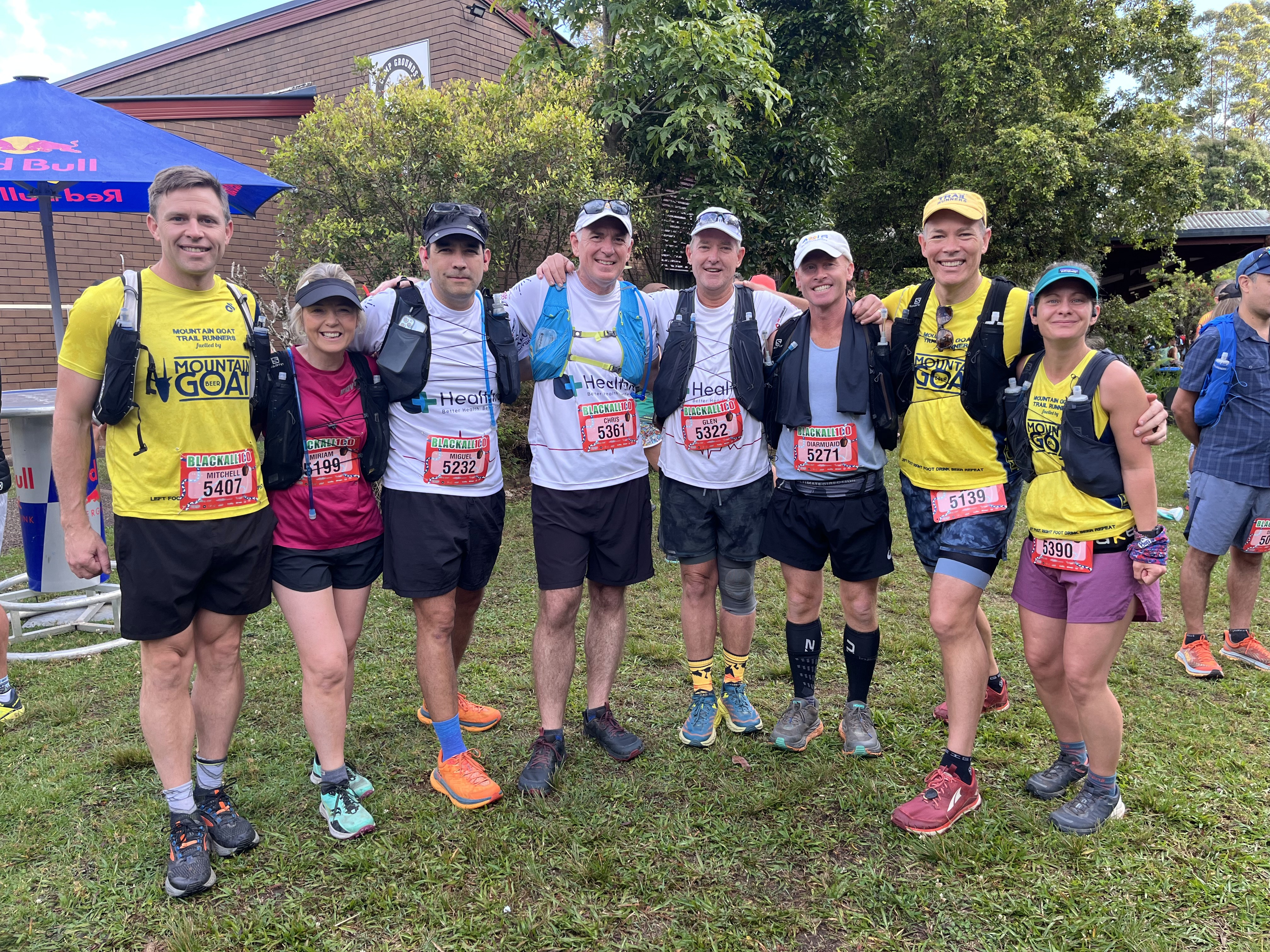 Also great to see Steve and Ross at the Startline (hopefully will get to catchup over the next few hours of running):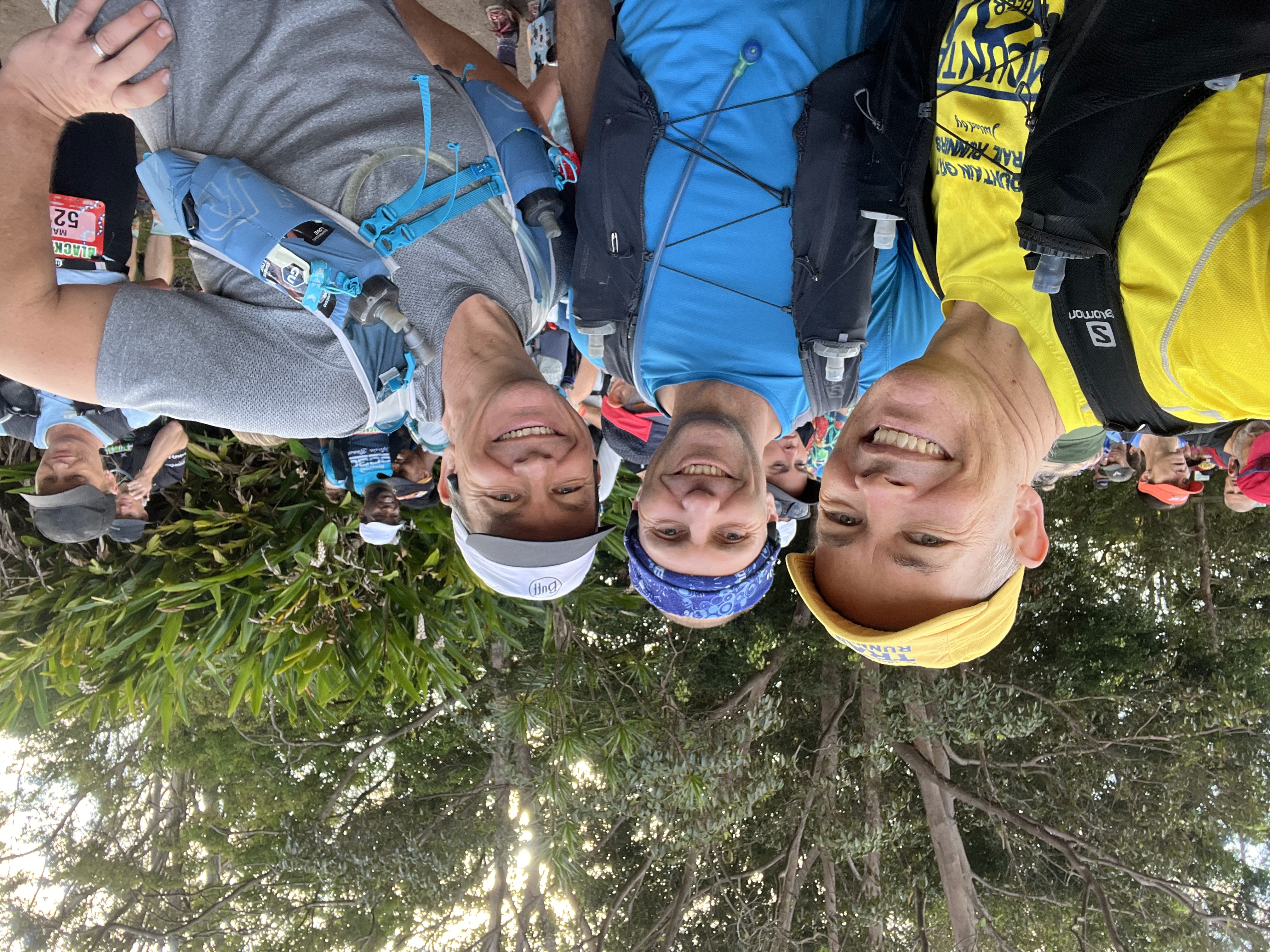 Starting off - I had 2 things to try and focus on:
Start slow and try to stay slow until after the bluff at about 22km
Try to be consistant with my nutrition, and experiment with my new plan of sodium replacement.
So with the actual starting of the event, making sure I was at the back, and with a few of the other MGTRs we all started off with smiles as usual - and admiring all the cheering of all the supporters.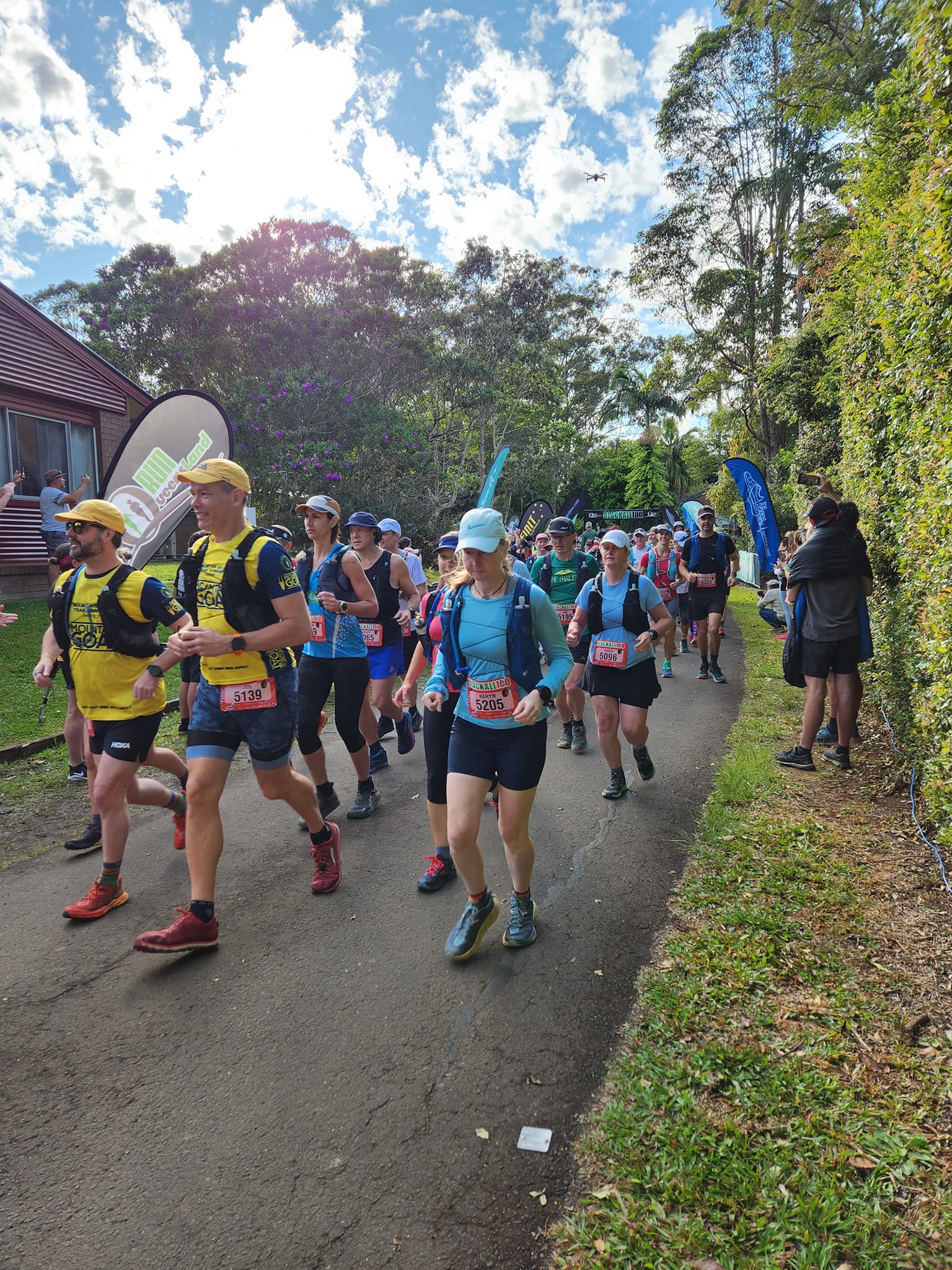 After about 3kms of road and breaking up the runners, we back in the lovely Blackall Range in the lovely Sunshine Coast Hinterland, with about 7kms of rolling downhills. I was running a similiar pace to Adele, so we agreed to run together for as long as felt ok for both of us. More about the pace and appreciation of the course - and someone else to take photos :) Although the photographer snuck this one in...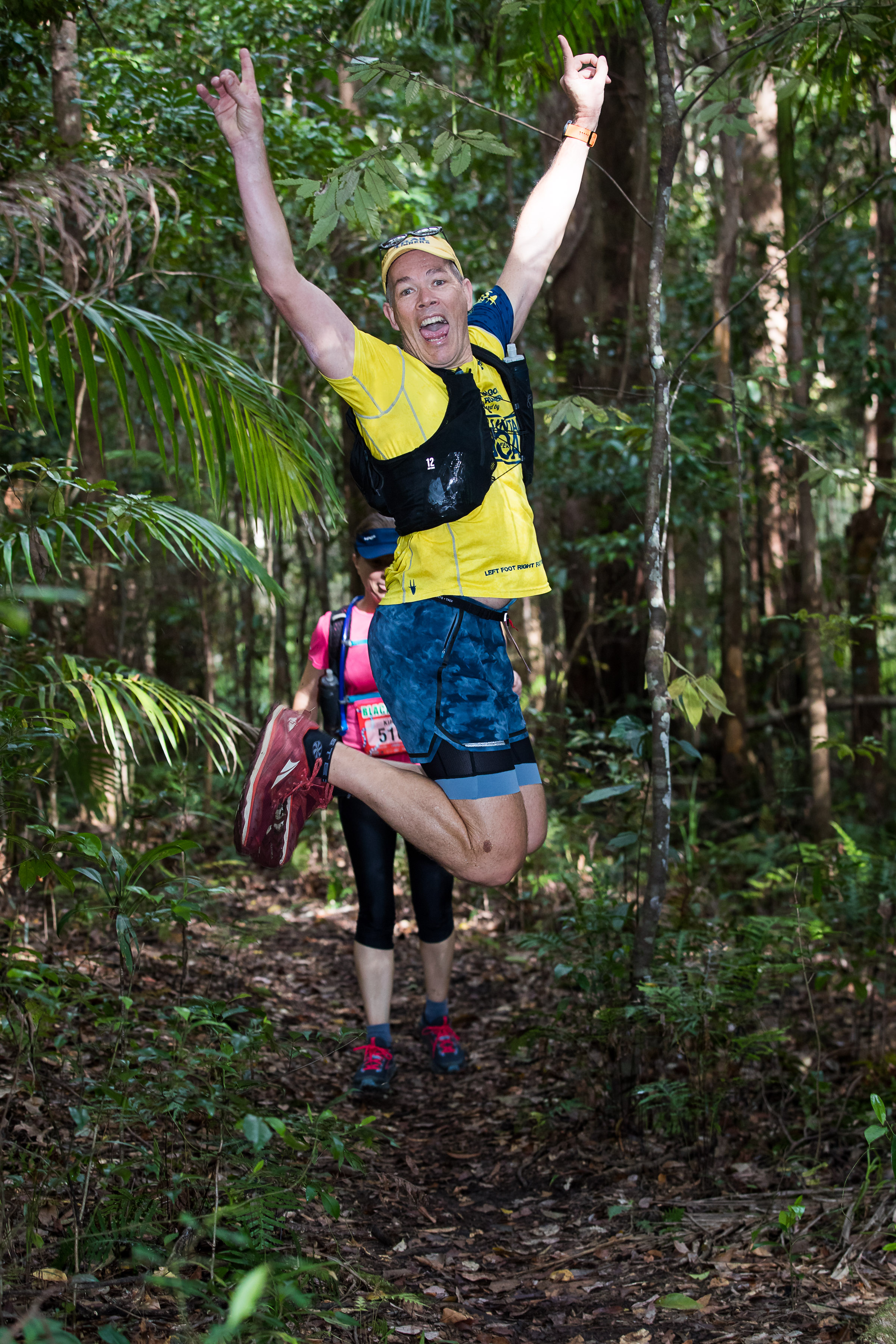 Aat about 19km was the first main checkpoint, stopping for a little soaking and a water top up as we were about to venture up The Bluff.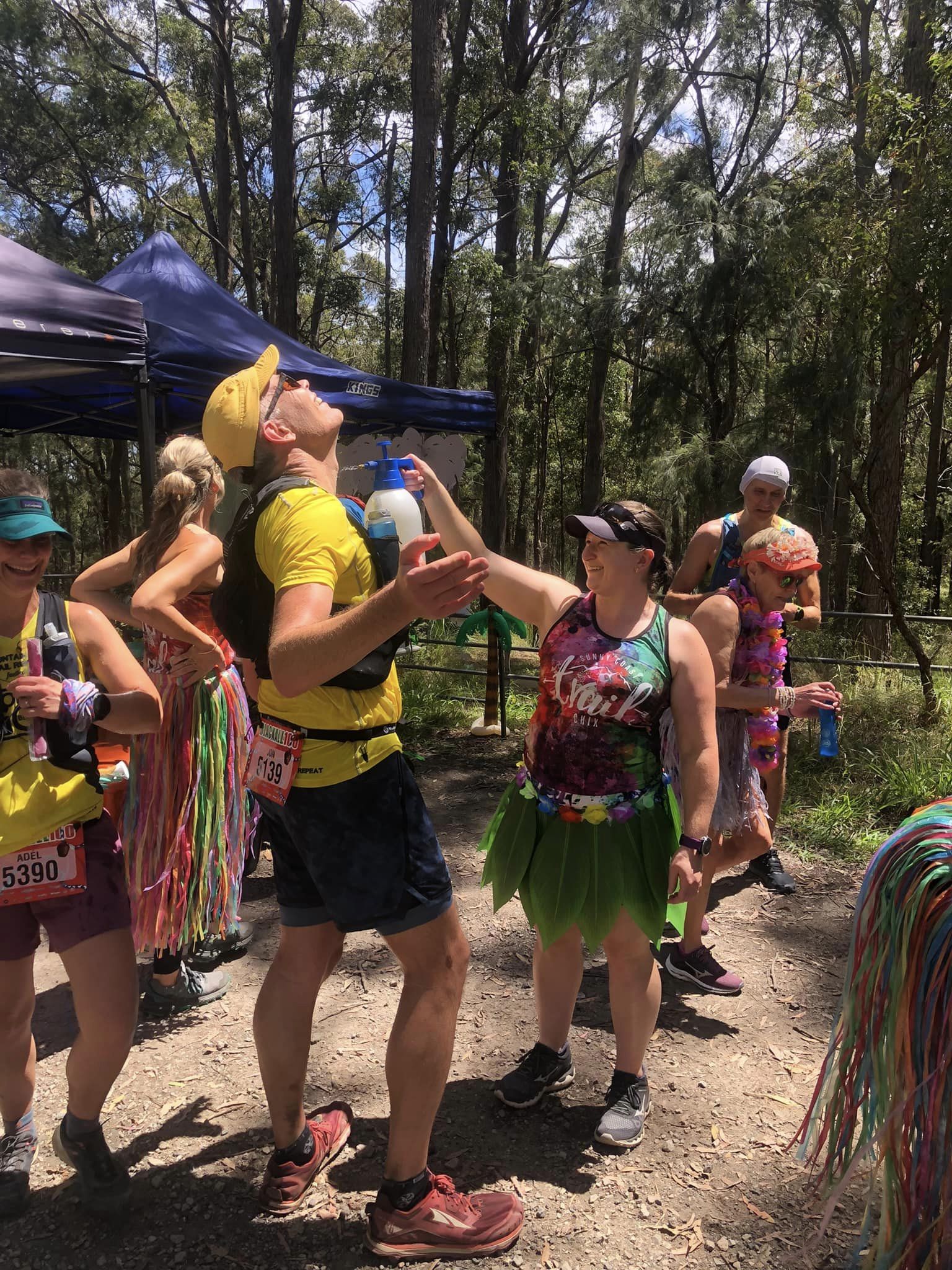 The Bluff - about a 400m climb was managable - after some advice from Mitch to take it easy and enjoy the few flatter kilometers after it, it was smart to save some energy at the top. Also had to save some energy for the photos.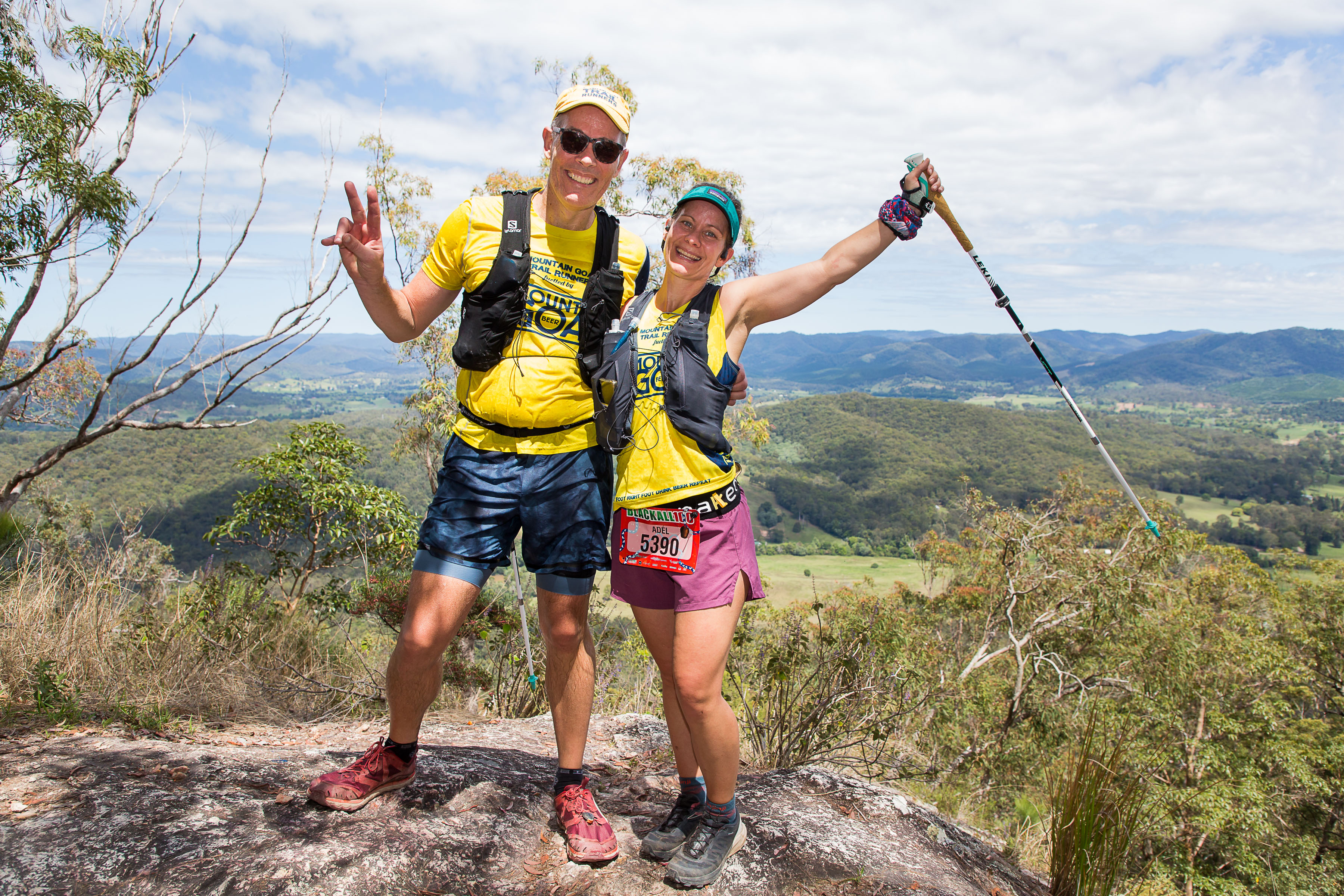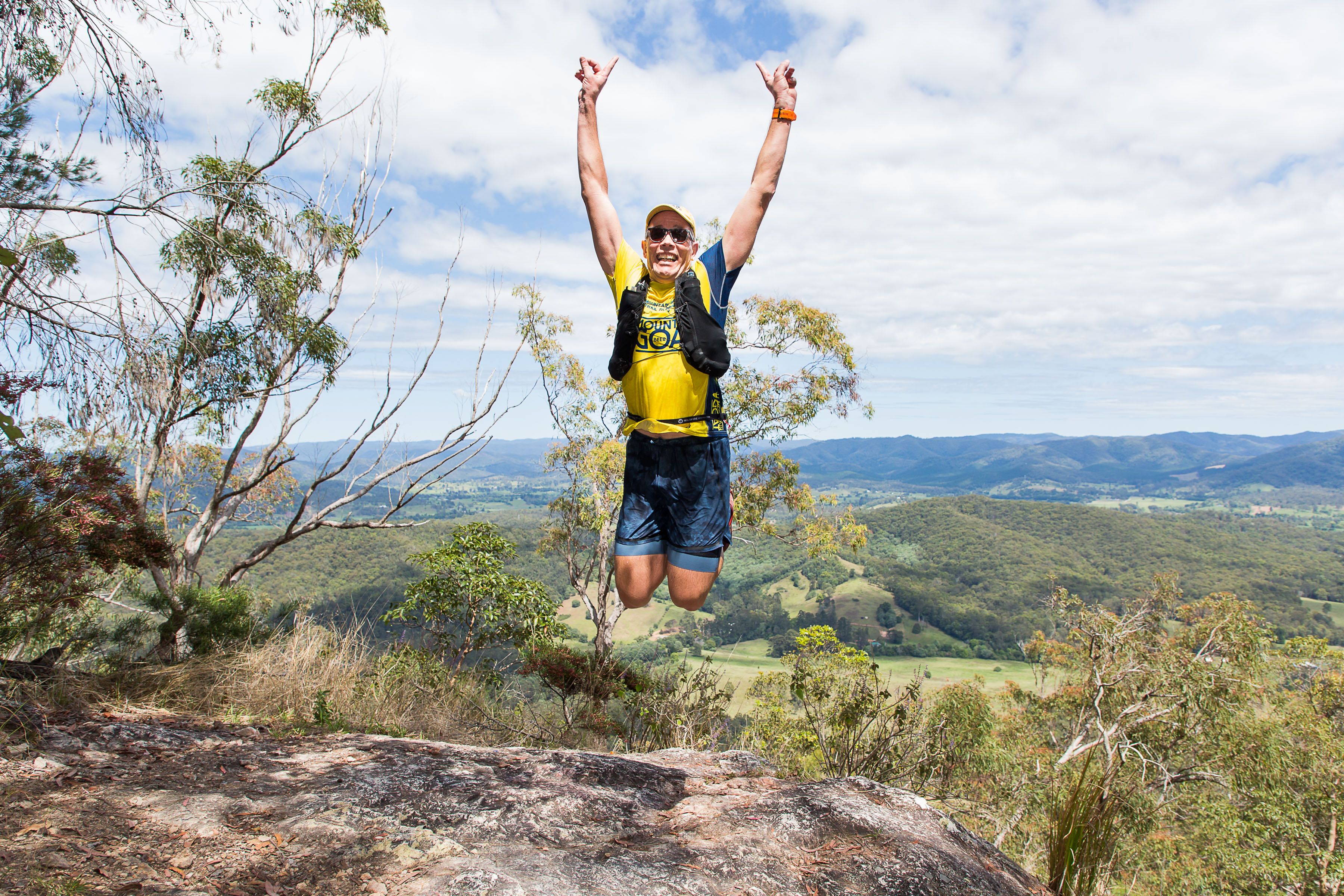 At our 3rd checkpoint at about 26km, we topped up water. I had about 1 litre on me, which for 13kms - which I thought would be enough. Probably should have been 2 litres - given the heat and the mini bluff we also had to climb.
Such a lovely section of the trails - and was also made more exciting as we also had a couple of the 100km lead runners pass us.
At about 35km was a nice downhill firetrail - and after a quick check of my watch (at pace), I tripped and landed pretty heavily on my hands and hip. After a minute or so - I was running again, but taking it abit easier (and feeling some new pains)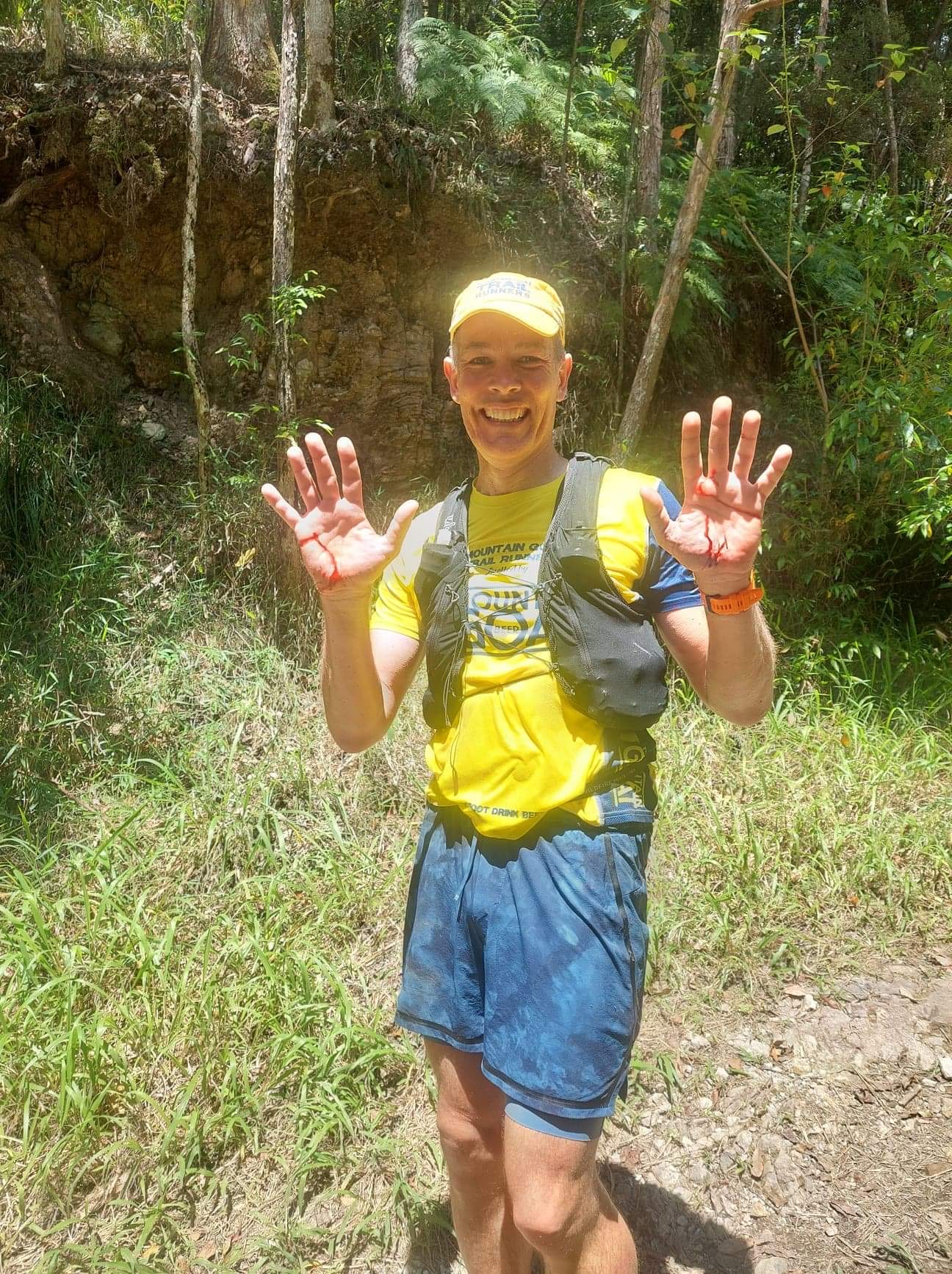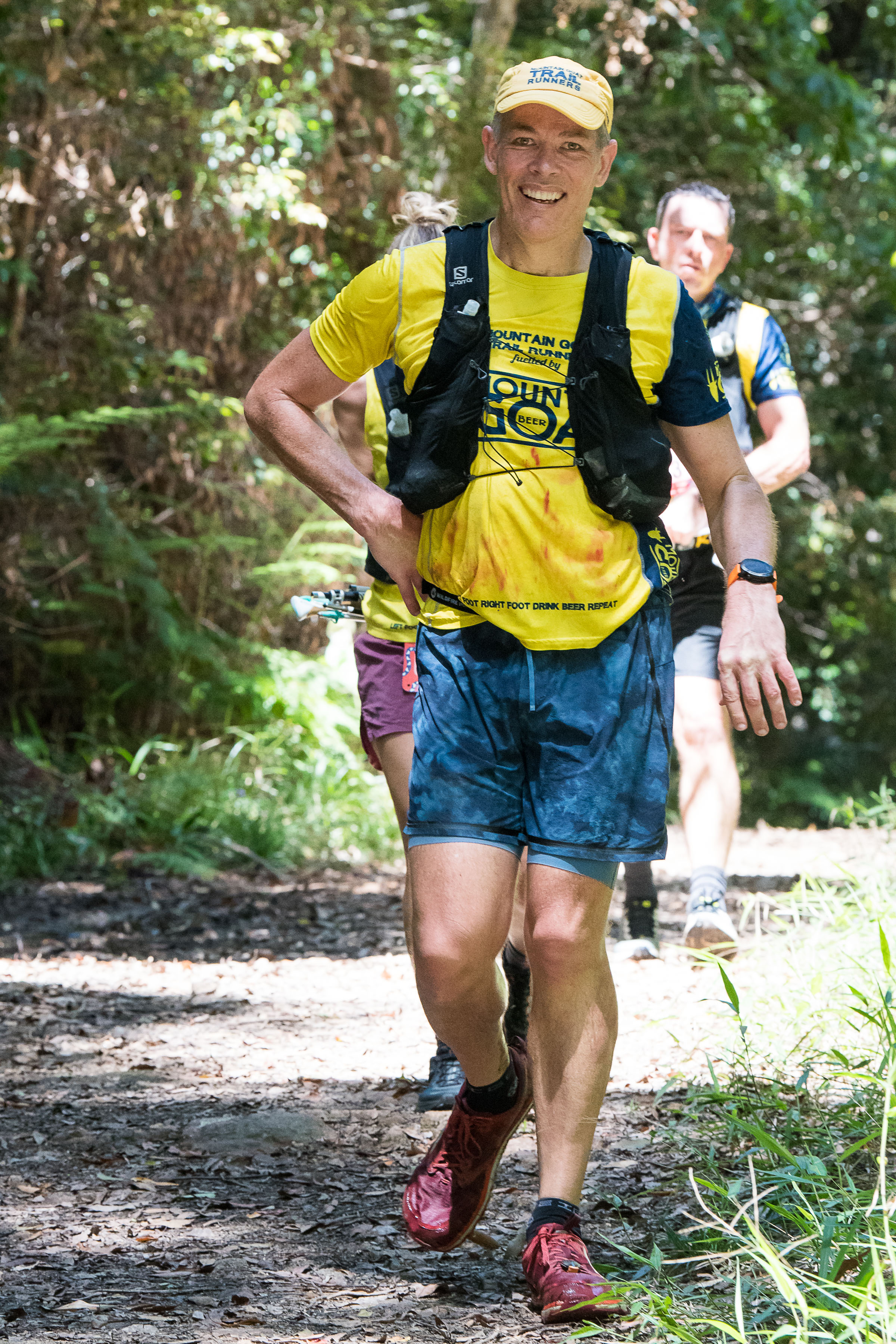 At the 38km water stop - we were all out of water, so it was a welcome top up. Knowing there was only 12km to go, It was Adele who kept going at the same pace (where I would normally start to really slow here) - but was awesome to have her lead and keeping momentum. With a quick stop at the Brisbane Trail Runners checkpoint (as awesome as always), and some face feeding.. I was off again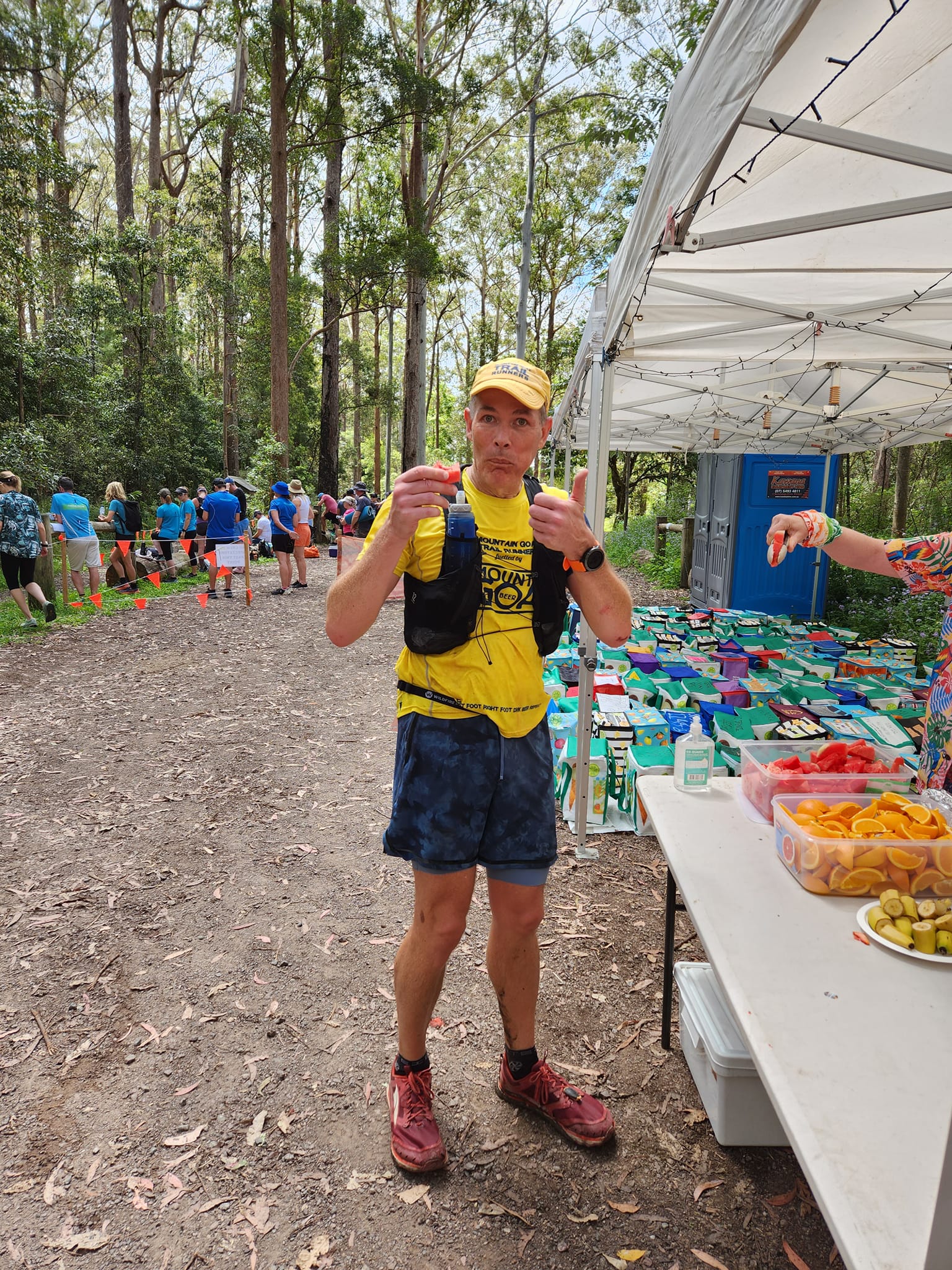 So getting though the last sections, albiet lovely trails - I was running sore but we got there.
Super big thanks for Adele, for staying with me for the last 3 kms - and it was great to have run the 50km together!
Finding a final wind for the finish line - Managing once last jumpshot.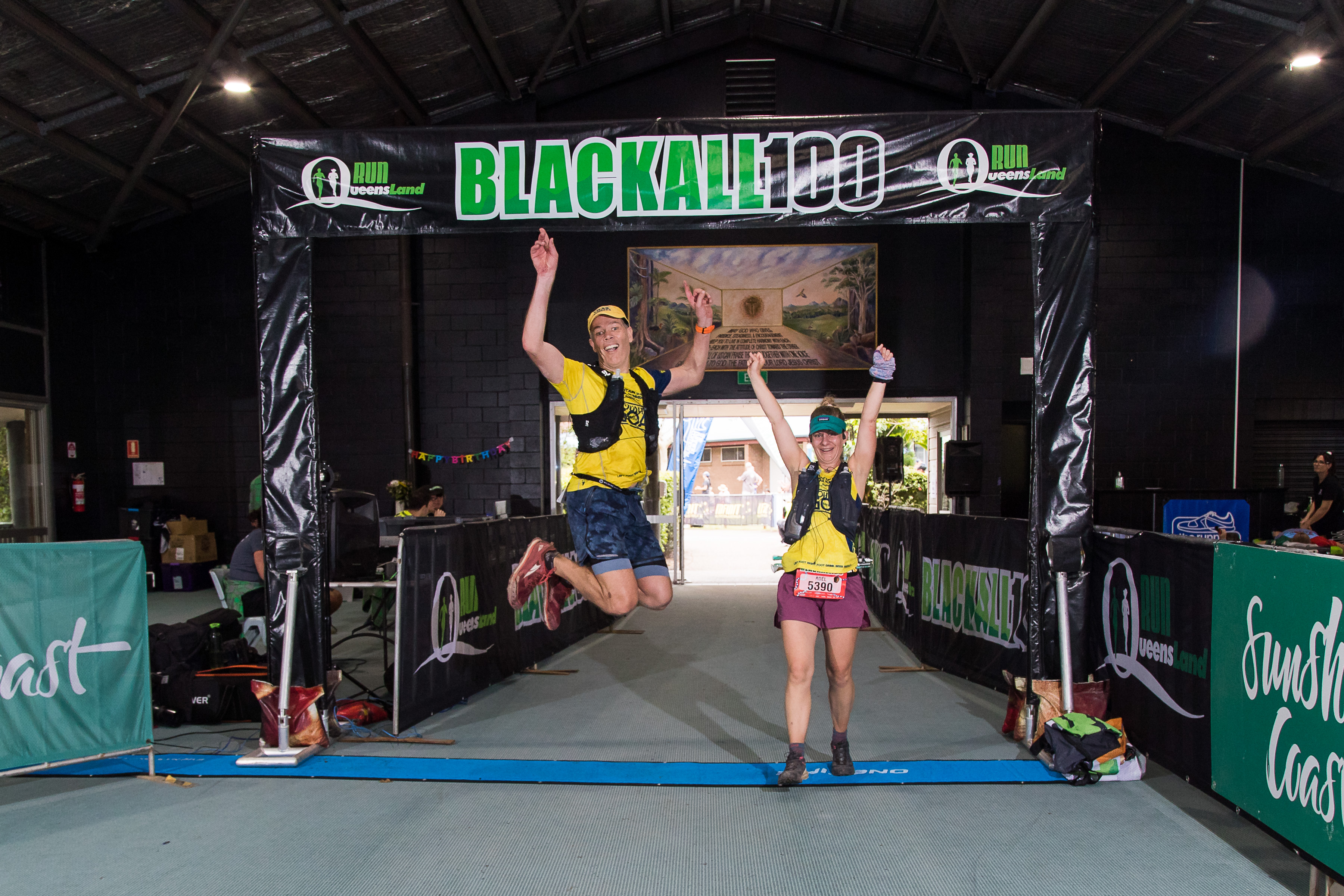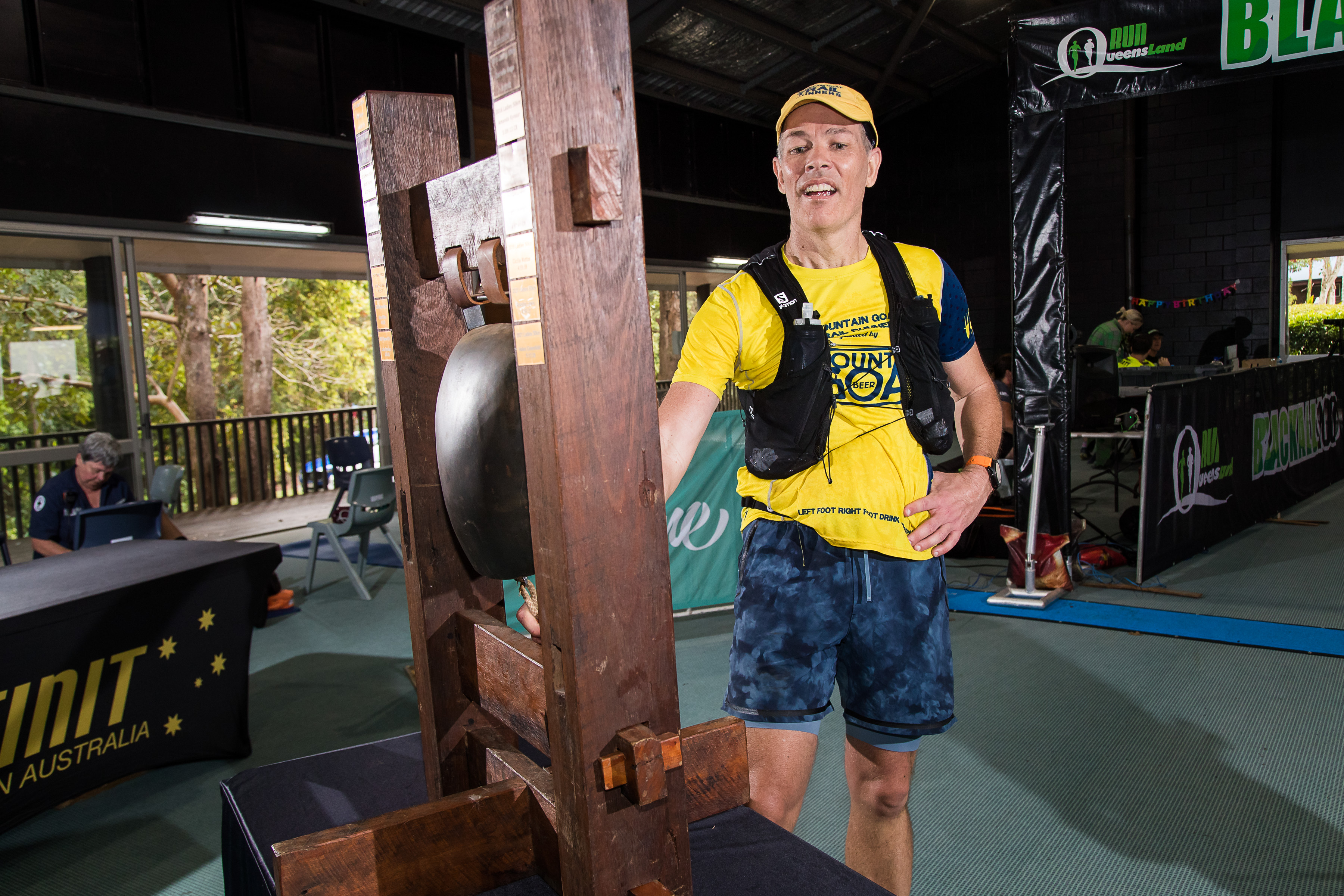 Nutrition:
Premade Infinit Custom Blend hand flasks - 6 (went through them all) + 2 water top ups.
Mauten Gels - 4 - Still not 100% sure if helped.
2 Miso soup sachels with some water in a 200ml flask. This was about 1800mg sodium - and I think is a game changer for me. No cramping niggles and also better energy though the whole 50km.
The Miso sachels were the only difference to my nutrition to the Guzzler recently where I was cramping from 30km.
Gear:
Highly recommended course! Great organisers and such a good community feel run!
Full course description here