2023 Guzzler 100k
Another year back on the Guzzler Course. With the ticket purchase 1.5 weeks before the event and deciding to do it as a make up to last years less than stellor run - but with some new found knowledge, I was keen to try it out over the 100kms. I'll go into these tips a little later.
This year, everything seemed to line up before the event. My body was feeling good with no niggles, some newish shoes from TheTrailCo which actually had grip and a new found nutritrion strategy that worked previously at Tarawera 100 Miles back in Febraury.
The night before the event, I discovered ultraPacer, which gave me a good breakdown of times for me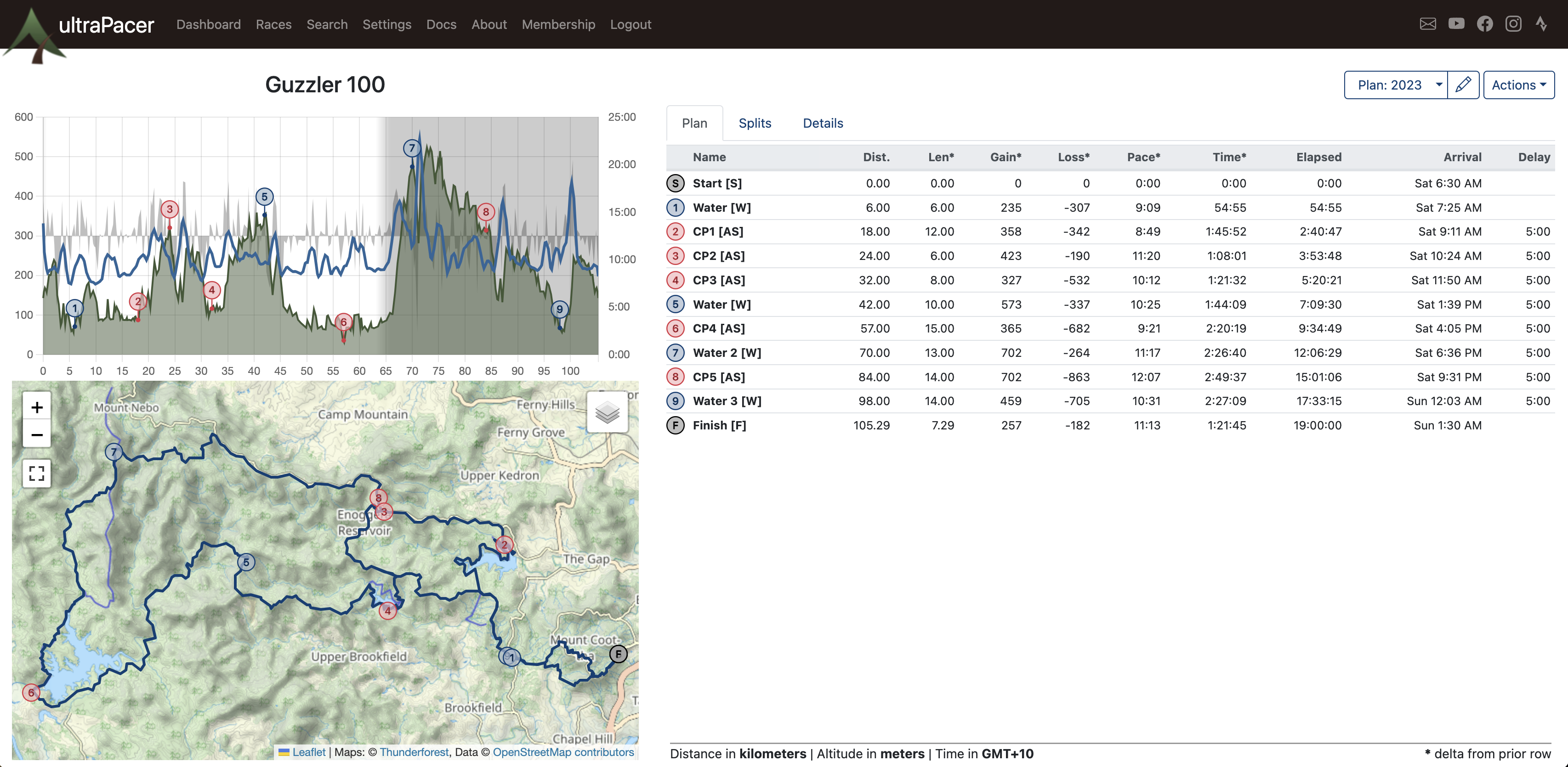 The start line, was a social session - lot's of excitment and keen runners to get going. Such a great start line venue at the Car Park and super easy to get to.
Once the starter gun was off, I made a consertive effort to be in the back 1/4 of the runners. Happily power walking up the hills of Mahogony for the first 2.5kms. Was also a good chance to catchit with Josh and Bridget - as not sure when I would see them again.
Sticking to the strategy of powerwalking the reasonable inclines and steady walking of the steep bits and running the flats and the downs - this is a tried and tested survival approach that has got me to the end of all of the events I have done.
Coming down Reservior Trail - was awesome to see the Beacon Hill runners doing their Saturday loop and bit of cheers, also managed a good jump for them, and another for the official photographer.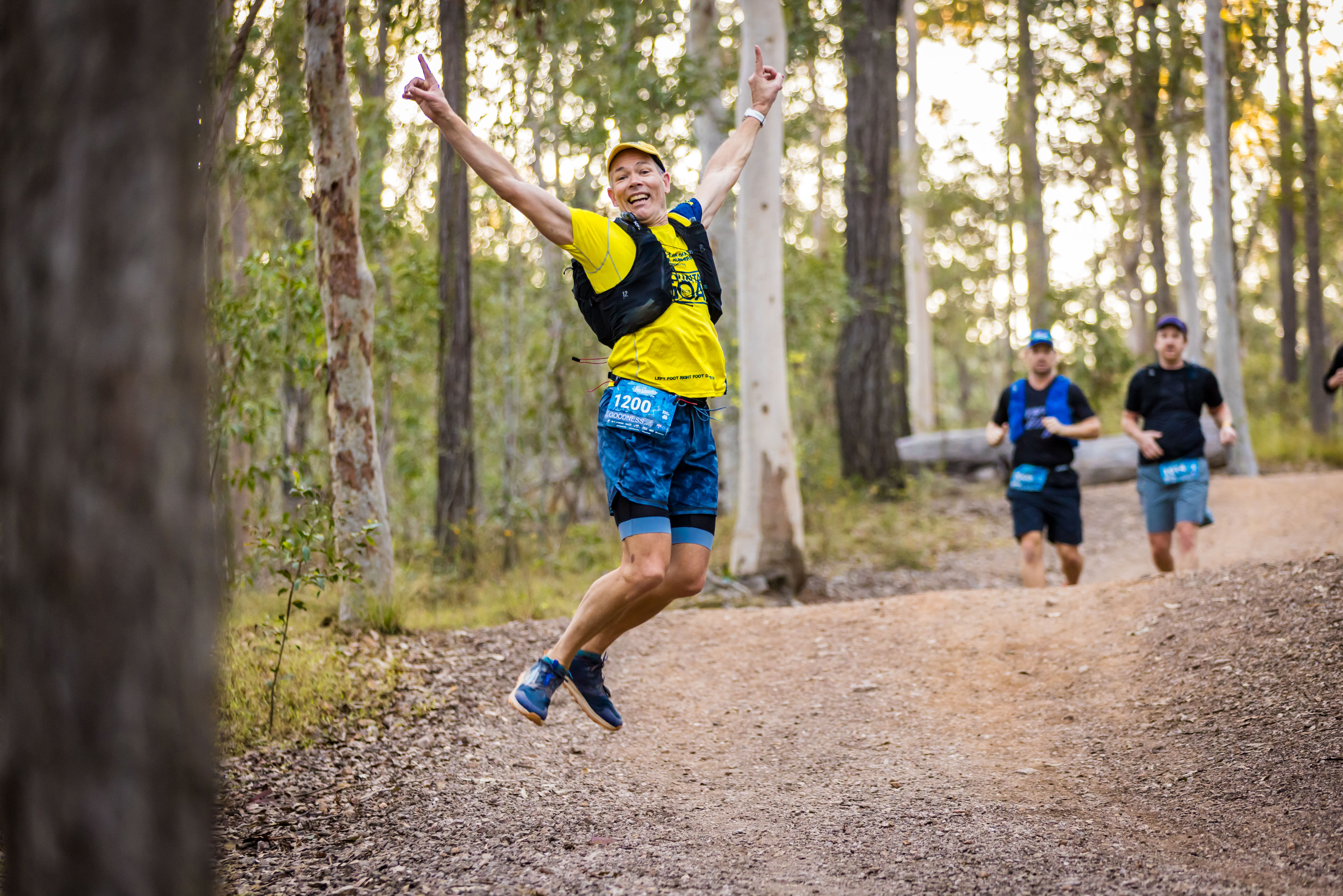 Coming down towards the Gap Creek Waterstop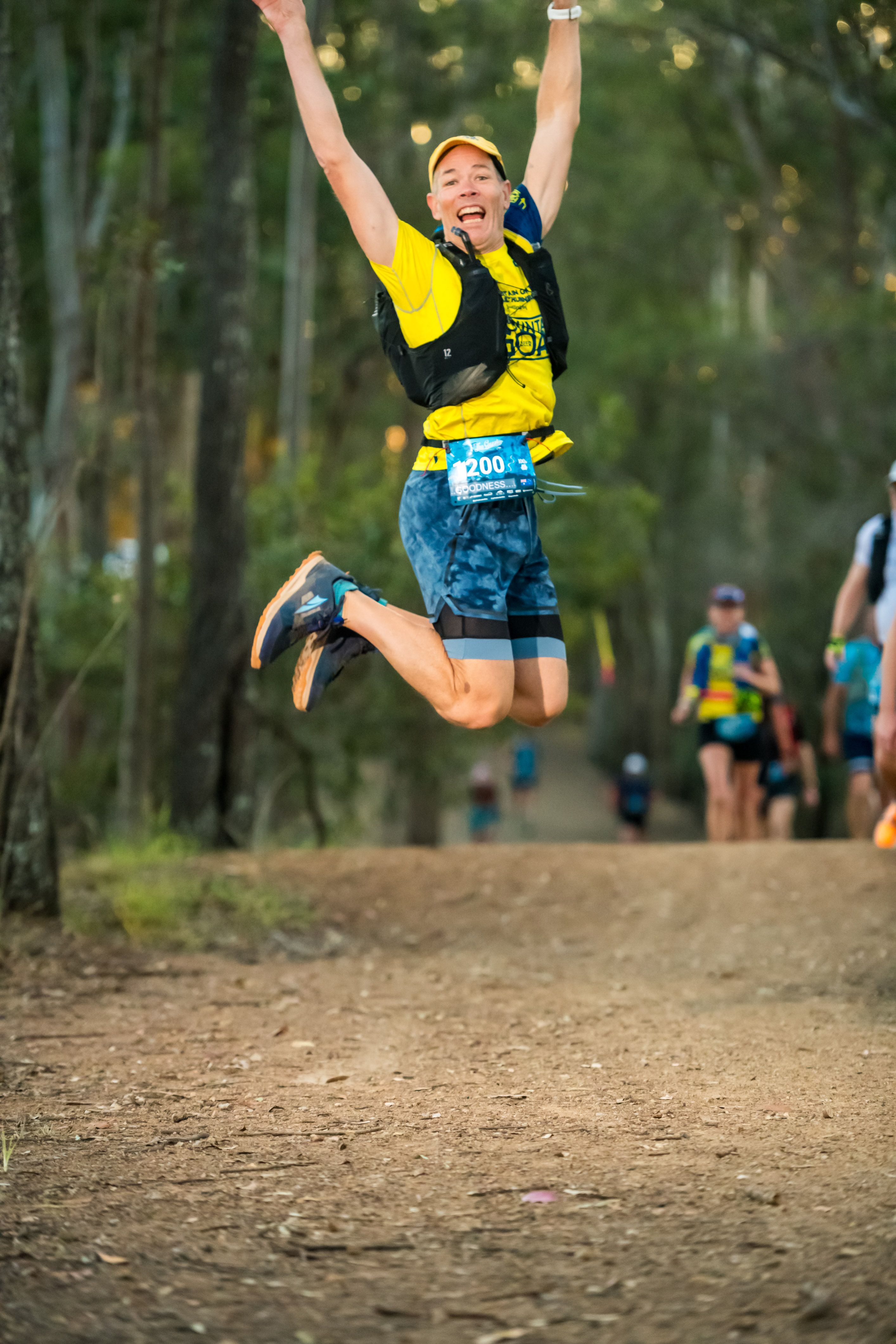 Looking around the Enoggera Dam provided some good socials, and alot of the 50km runners were starting to overtake us, given we only had a 30 min headstart, it was only a matter of time before the trails got really busy around this section. Keen to get to the first aid station at 18km, and top up the water and have a snack or 2 - only had a banana some jelly lollies and a slice of watermelon.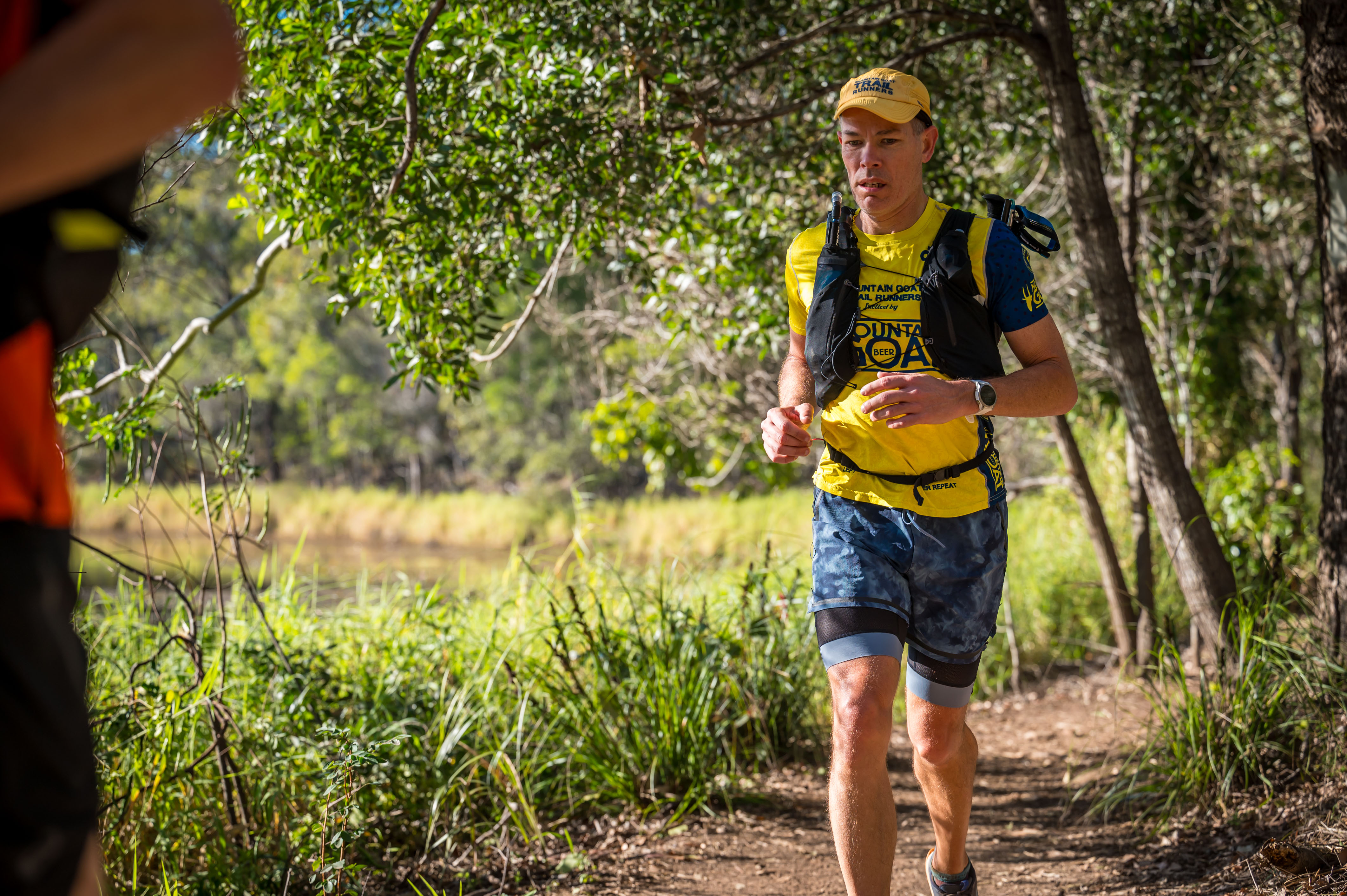 Nice slog up Mt Nebo Break, then always awesome to Jollys Lookout Checkpoint and the standard gear check (Bandage this year - but was also good chance to catchup quickly with Deb). then some solid nutrion (Banana and Cakes) Love the Brisbane Trail Runners check point and Jodie and team for co-ordinating it! Especially when you ask them, will I see you next time around - and it's the typically.. yes - I am here until 6am! Massive effort.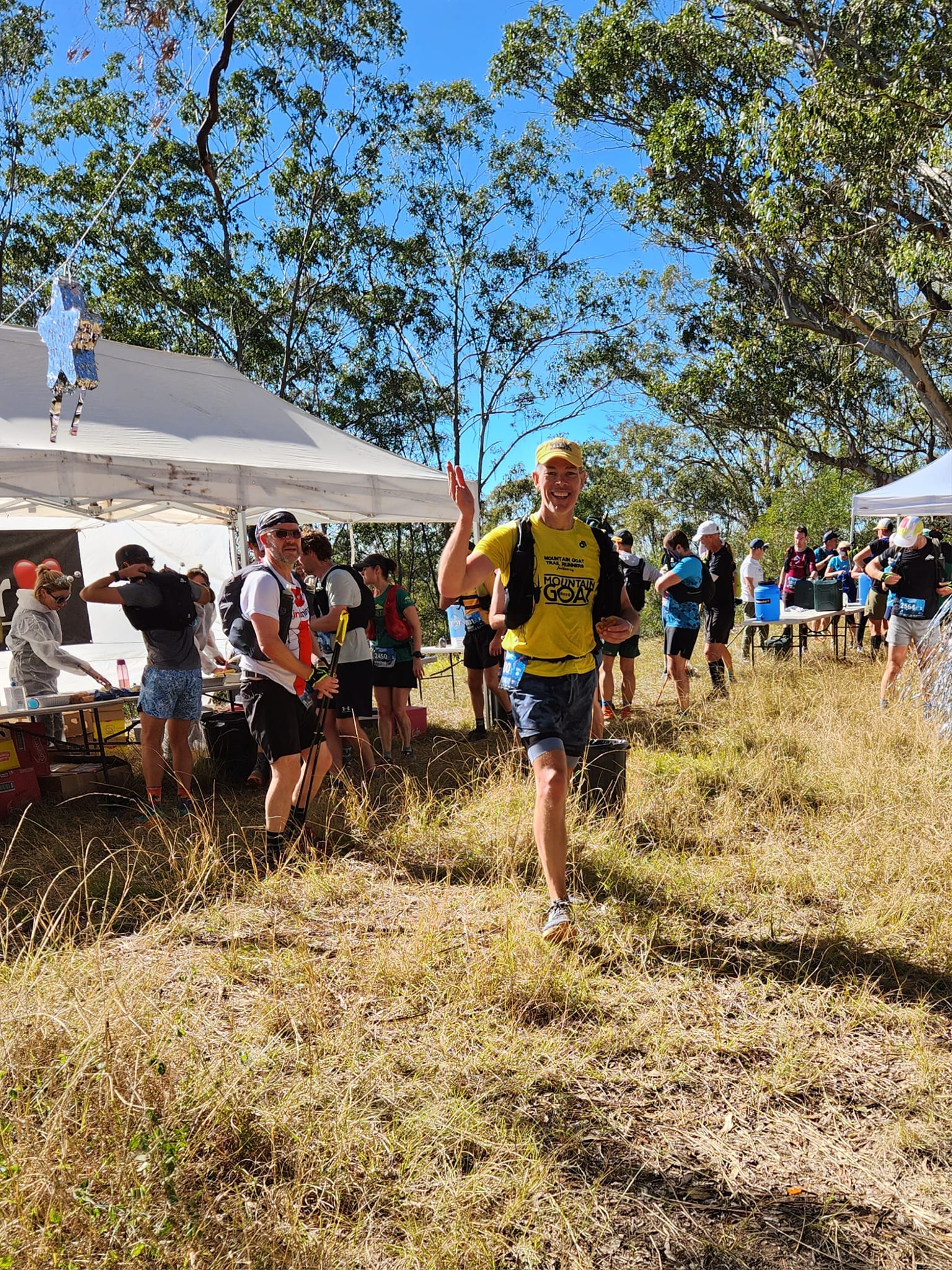 Took it easy going down Hell Hole, and then back up to South Boundry Road.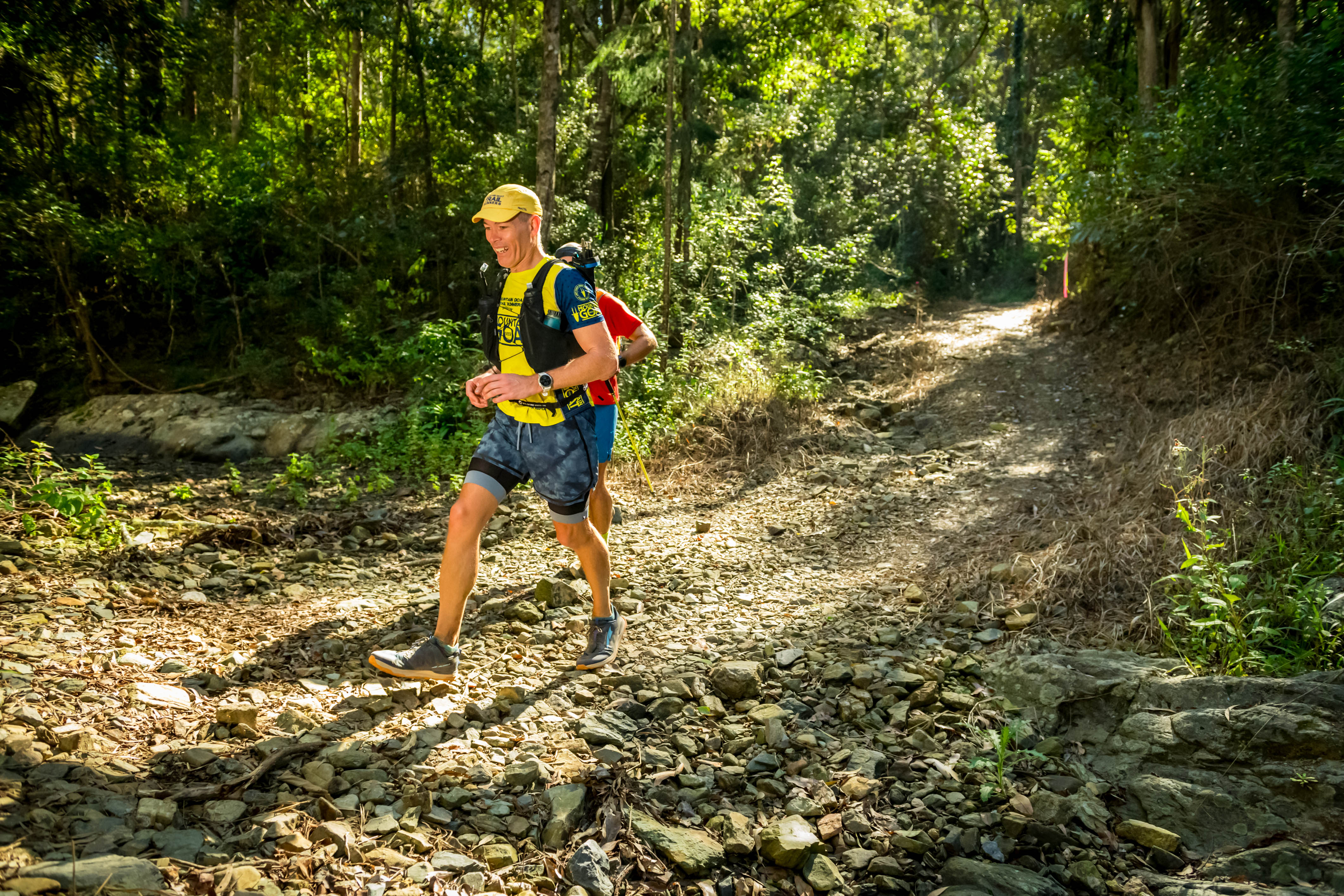 Coming back on South Boundry Rd and down Gold Creek, spend most of this talking to another runner from Tassie. Was good to share stories of different events around the country - certainly made the kms go alot quicker.
Coming into Gold Creek checkpoint, expecting to see Lisa and Rupert - I couldn't see them anywhere once I arrived, albiet I was 20mins before I said I should be there. Thanks to Felix who looked after me, refilling water and getting drop bags etc - and then I was off - abit devo not to see Lisa, but as I was going up to the Reservior - I saw them drive in. Fortunately Moorey was there and I asked him to tell them to go to the top of the Reservior to say hi. Saved me chasing them driving. Anyway got to spend a few minutes with them and pose for a few photos - and I was off again - around Gold Creek and towards Lake Manchester.
This section took forever, lots more hills than I remember, but also some good runnable flats - which i was still feeling good and well hydrated.
Coming into Lake Manchester was a super crowd and a good spot to have a seat, swap the socks and have some noodle soup, and some pumlkin soup, and some cake and some lollies and some bananas and some other things I can't remember. Coming out of the aid station was great to see the Mountain Goats cheering me on, and just as I was about to take off, I heard Lisa - so I turned and was unexpecting but delighted to see them. After a few minutes for some more photos - and works of envouragement - I was off.
Coming out of the Lake Manchester Checkpoint - expecting the Job 6 hill to be soon - it seemed to take ages... but got a few sneaky photos in just on sunset.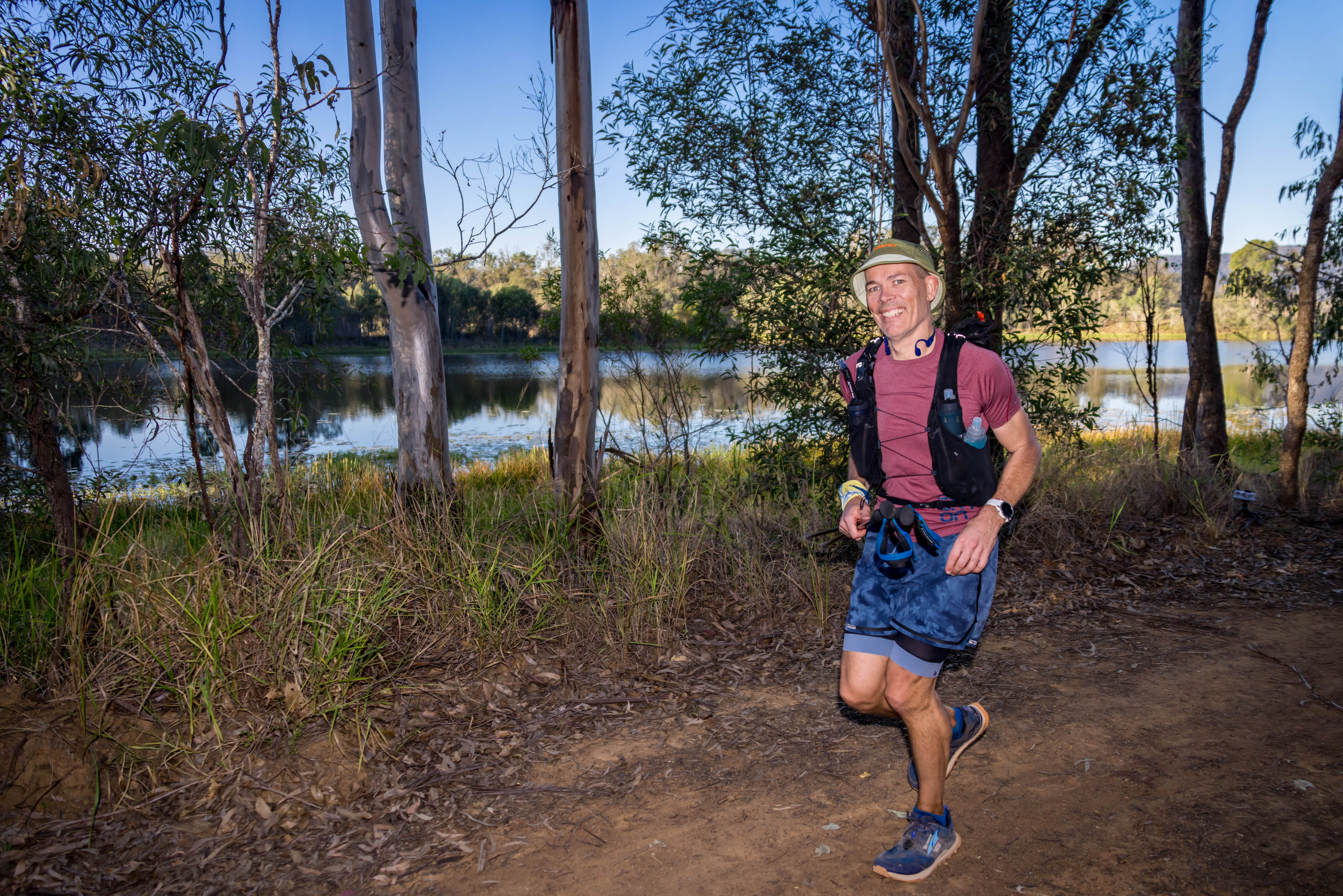 Lake Manchester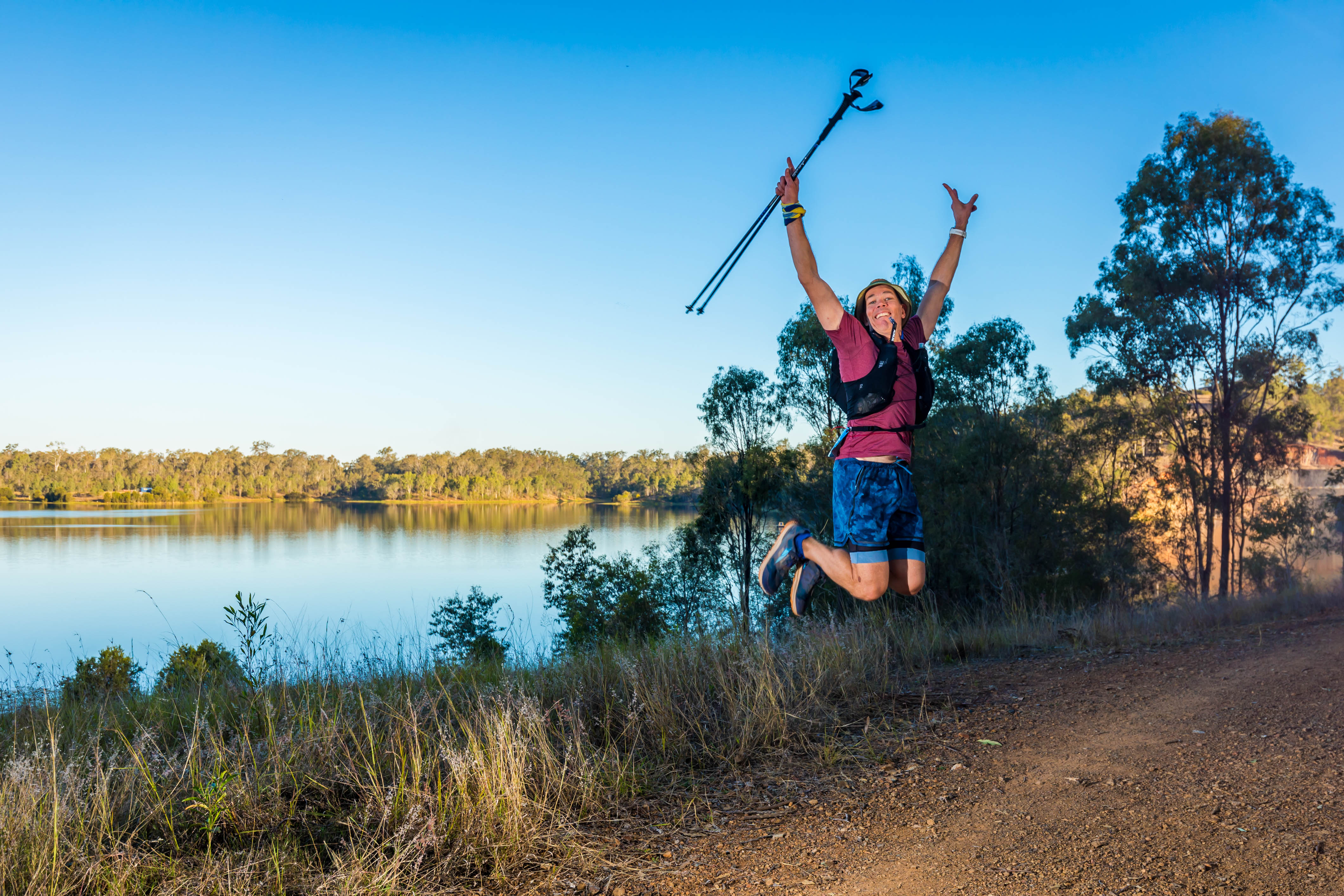 Coming into Job 6, the sun dropped to darkness and it was the slog up to the top. For the first time, I put in the headphones, played my usual running tunes and before I knew it, I was at the top at the bush camp. Although maybe it was the smorgasboard I had at Lake Manchester, I felt sick - after a few mins to cool down and a cup of noodle soup, I felt alot better and was on my way again.
This time down Township Break, it was a lot more trees down than when I did it a couple of weeks before with Lauchlan, but was great to have done it recently and remember how good it is. Especially the climb out. I managed to keep moving, constantly rehydrating and loads of cabs. Once at the top, it was a really long slog (12kms) to the next Checkpoint. Because it was alot of ups and downs it was hard to find any rythem on this section, plus the single trails were abit more technical.
Once back at Jollys lookout, seeing the Brisbane Trail Runners again, and even sitting next to the heater and sharing a few laughs, I could have stayed alot longer - but I wanted to get it done. So taking off, it was back down Hellhole and onto South Boundry Rd.
Finding a couple of others who were "running" (loose term at this stage), I tagged along with them and then finally hitting Gap Creek Rd, I thought about the 20 hour cutoff, so thanks to another runner, we powered up Kokoda and along Jacksonia and down Mahogony to scrape in under the 20 hours and get the silver medal (finishers under 20 hours).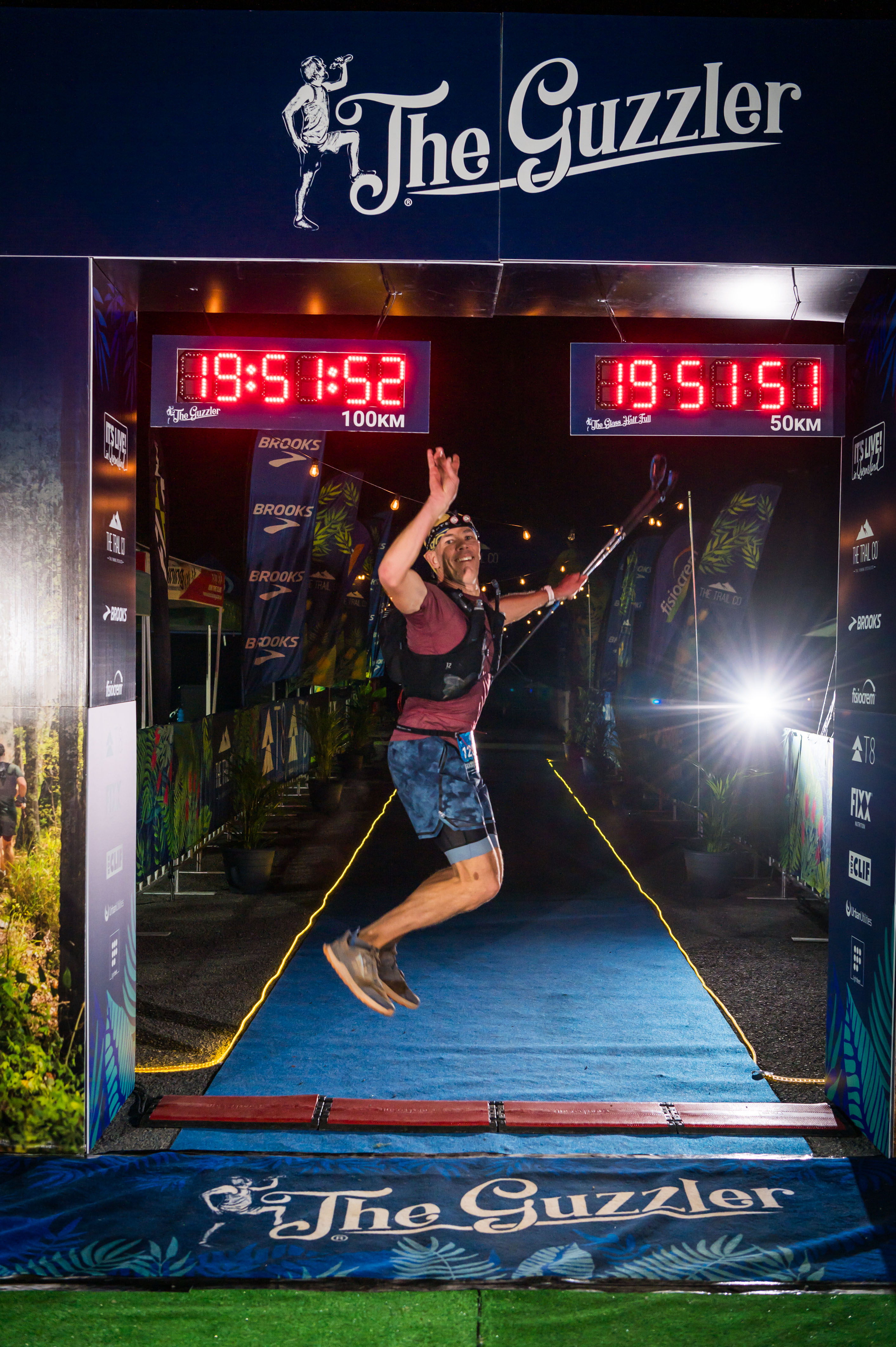 Nutrition:
I know it sounds alot, but it was needed;
Every hour have close to 600ml water (with 4 Sports Hydolyte tablets)
Every hour have close to 60gms of Multodextrin (premixed with Ginger Beer cordial) in 600ml of water.
I had the Multodextrin for base carbs, and lollies + check point food to top up.
I think in the end I had about 12 litres of liquid, quite a few pit stops in the first 50kms for a wizzer, but after than and the sun went down the water intake slowed and the so did the toilet stops.
Gear:
Shoes: Altras - Lone Peak 7. Loved the grip and feel. I was getting some hot spots on the outside of my big toes. Also after the event, quite sore on the top of the foot where the laces are.
Pack: Standard Salomon 12l. With lots water bottles, rotating between 2 the whole way for Hydrolytes and swapping in prefilled ones for the Multodextrin (and Ginger beer) as part of the drop bags.
Special shout out to the awesome runners out there who had a chat - especially the teaming with the Mountain Goat Trail Runners.
Also to Molly (Physio) and Katelyn (Nutrition) from Inspire who kept me ready to do this at short notice and prevent any niggles. Love your work!
Was so good to finish this event running to the end, feeling good the next day (besides tired) and celebrate with others who did a stellar job out there!
Such a good event - well done TrailCo!